Article
Our Town: News and Notes from the Community, May 2014
The battle over Big Pass, the history of downtown's U.S. Garage Building and more community news.

Vintage Sarasota
The U.S. Garage building was constructed in 1927 and was used to store cars—often belonging to snowbirds who had headed North for the summer. Storage was on two levels, hence the hoist at the building's side entrance, which still exists today. Later iterations included a Ford dealership and a carpet store; in 1986, local architect Frank Folsom-Smith restored the building and turned it into office space. Among the businesses now there: Sarasota Magazine—which actually was one of the original tenants in 1986, then moved to two other locations before returning several years ago.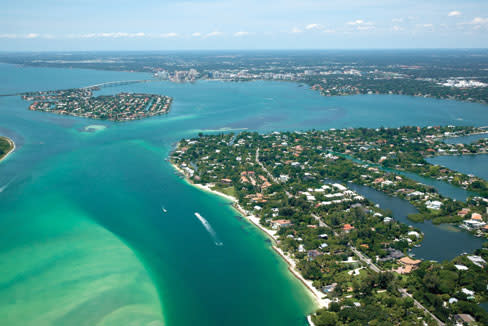 Sandstorm: The Battle Over Big Pass
The U.S. Army Corps of Engineers wants to dredge 1.1 million cubic yards of sand from Big Pass, the inlet that divides Lido and Siesta Keys, and dump it onto Lido Beach. The Corps proposal also calls for constructing three groins at the southern tip of Lido. Advocates of the project say Lido is critically eroded; opponents say it could lead to erosion along Siesta Key's north end, potentially damaging Siesta Beach, the region's No. 1 tourist attraction.
"The Corps is getting ready to dredge a natural pass that has never been dredged before. The potential for erosion of the Siesta Key shoreline at the north end and the destruction of South Lido Park is quite high."—Rob Patten, president, Coastal Dunes Associates
"The federal government's intention was to go offshore. We spent a lot of time and effort, a lot of city and federal money to look for sources offshore. Those were negative results."—Milan Mora, project manager for the U.S. Army Corps of Engineers, Jacksonville District
"Longboat has done the very same thing. Longboat shares sand with the city, dredges New Pass and built a terminal groin, and that did not make any change to how Lido behaves."—Alex DavisShaw, City of Sarasota Engineer
"This sand is part of a system. You can't argue that you can take the sand and put it on Lido Beach and it's going to make a dramatic difference but that the hole you dredge in the pass [will] make no difference at all."—Jono Miller, environmental studies professor, New College of Florida
"On an average day, Lido Beach visitors spend $224,500. [That's] injected into the [local] economy. That leaves a residual of $14,100 of state and local sales taxes every day." —Walter Klages, CEO of Research Data Services, hired by Visit Sarasota County to analyze Lido Beach's economic importance
Just Sayin'
"The lack of concern for those who are in poverty, or almost, is [a] major issue. Is everything we have in life from now on going to be determined by how much money you have? Is education? Is health? What is society's responsibility?" —Joe Newman, the 101-year-old independent congressional candidate challenging U.S. Rep. Vern Buchanan
For more Sarasota community news, click here to read our Hot and Happening blog. >>
This article appears in the May 2014 issue of Sarasota Magazine. Like what you read? Click here to subscribe. >>