Article
Educator Neil Phillips of Bradenton's Visual Men Academy on Kids, Leisure and Longboat Key
The co-founder of Bradenton's Visible Men Academy shares why he and his family moved to Sarasota.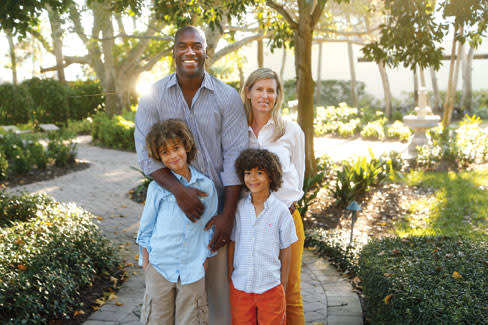 Neil Phillips, co-founder of Bradenton's new Visible Men Academy, a charter elementary school for disadvantaged boys, was a school administrator in Bethesda, Md., before moving to Longboat Key in 2011 with his wife, social worker and VMA administrator Shannon Rohrer-Phillips, and two young sons. A Harvard grad and former pro basketball player (for teams in Australia and Jamaica), Phillips named the academy in a nod to the Ralph Ellison novel, The Invisible Man. "There are untold stories of success right before our eyes," he says.
WE TAKE VISITORS TO
"Our beach on Longboat Key. And we absolutely must take them to Kilwin's. They remark so enthusiastically about the area's calm and quiet."
WE'RE HUGE TENNIS FANS
"The first time I came to this area was for an adult tennis program at Bollettieri [now IMG] Academy. The more time we spent here, the more we became enamored. The D.C. area will always be home, but we were eager for something smaller, slower, warmer."
BIGGEST SURPRISE
"The diversity of personal histories. The first word that comes to mind when you think of Sarasota isn't diversity, but when you think of it in broader terms than skin color, you uncover very varied backgrounds. [Sarasota] draws from all over the world and for all kinds of reasons."
FAMILY TIME
"It's a great place to raise a family. It has [so many] things to do, and yet you aren't overwhelmed by those. We love immersing ourselves in nature. We have a kayak, we love to sit on the beach. Part of what you can do is nothing… taking walks, riding bicycles. Doing nothing is so wonderful and so elusive."
THE VISIBLE MEN ACADEMY
"There's so, so much to get right. We spend a lot of time immersed in challenges. When we step back we're really, really pleased. We have this school full of kids who are so bright; there's laughter all the time and great energy."
Click here to read past "My New Hometown" interviews. >>
This article appears in the April 2014 issue of Sarasota Magazine. Like what you read? Click here to subscribe. >>