Article
Party Girl: The Dish on USF's Hospitabull Evening
Behind the scenes at USF's annual dinner.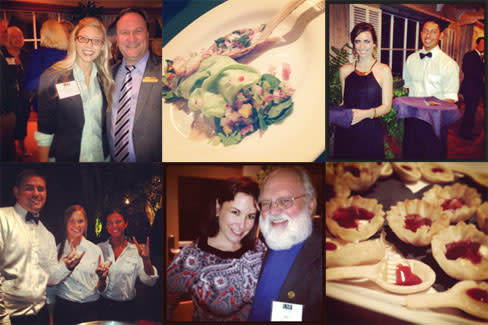 What makes people happy? If you answered "food," you're probably on the right track. On a Tuesday night in December, 64 students from the University of South Florida Sarasota-Manatee's hospitality management program earned a key to my heart with their annual Hospitabull Evening, an elegant dinner they planned, organized, cooked and served with proceeds benefiting education programs.
Naturally, the night began with passed hors d'oeuvres in the courtyard at Michael's On East, where guests like Renee Hamad, Phil King and Dr. Judy Genshaft, president of the entire University of South Florida system, mingled and nibbled. Lauren Walker and Jonathan Nieto, both trim, good-looking USFSM juniors, offered mini spring rolls and smiles and told me more about the program. While not attending a culinary school per se, the students are encouraged to learn every aspect of the industry, from basic cooking and service skills to leadership, finances and ethics.
When I asked Lauren what she enjoyed most about the field, though, she said it was "the atmosphere, that everybody is having a good time."
She and her fellow students made sure we all started the night off right with more small bites, including scallop ceviche, pulled-pork baguettes, gazpacho shooters and baked brie with raspberry on phyllo crisps shaped like little spoons. Adorable and tasty.
Dr. Cihan Cobanoglu, the jovial dean of the College of Hospitality and Technology, reiterated the experiential nature of their program. "It's a perfect balance of theory and practice," he said. "We believe good managers should know the back of the house also, and our students here have a unique advantage because they live in the heart of the industry. I wanna see some burns on their arms when they graduate!" he joked, underscoring the importance of gaining experience in the field before looking for a job.
Bob Kirscher, a guest at the event, understands the value of work in the field. He recently sold his three Broken Egg restaurants in Sarasota after more than 15 years at the helm. I met him while chatting with Anne Weintraub, who gave him a big hug and gushed about his pancakes, even going so far as to share she used to skip class in high school to hang out at his restaurant.
I could see a genuine warmth and affection there. Come to think of it, some of my favorite people around town are chefs, too. There must be something about that belly-being-the-way-to-the-heart concept. Which should definitely be great inspiration for the students as well, seeing the real world impact of these relationships.
As we took our seats, I was pleased to see the students had taken pains to include offers for finicky eaters such as me, including gluten-free and vegetarian items. Ruth Lando, USFSM's director of communications and marketing, remarked on the Taiwanese influence in the menu, too, which, she explained, probably came from the nine students attending USFSM as part of an international student certificate program with Kaohsiung University, which is one of the most prestigious culinary schools in Taiwan.
After the obligatory addresses from everyone important, a line of students streamed from the kitchen to deliver our first course, a light salad with seasonal beets and dressing. The kids get an A+ on presentation. It was beautiful and delicious. The entrée was a choice of filet with a berry-bourbon glaze or pad thai with tofu, and I'm happy to give another unsanctioned A+ on flavor and taste—everything was delicious!
Next, of course, was an auction. But the program was short, with just three items, and auctioneer Michael Klauber kept it moving while the crowd did their part by freely placing bids, raising funds for even more experiential education for all these bright young culinary kids. One special package included a big dinner at USFSM's new Culinary Innovation Lab in Lakewood Ranch, a fantastic facility the university lucked into when the original owner could no longer afford the upkeep. Anne was at my table, and I watched her try to hold husband Sal back as he wound up in a bidding war with two other guests. At that point, Klauber pulled one of his famous splits and offered a dinner to each party, if they all agreed to pay the highest bid. They did, and the room erupted with cheers and applause.
Cobanoglu retook the stage for one more address, noting the amount of energy in the room before bringing out the source of it—all 64 students from the back of the house to the front of the house, and we roundly cheered them also. Dessert was served soon after, with an array of small bites in many tasty flavors, and I left not only full, but also satiated by a wonderful experience with the restaurateurs, hoteliers and maitre d's of tomorrow.
Follow Veronica on your social network of choice, including Instagram,
@veronicapastore. >>
Click here to see our party pix from USF's Hospitabull Evening. >>
This article appears in the February 2014 issue of Sarasota Magazine. Like what you read? Click here to subscribe. >>