Article
Why I Moved to Sarasota: Francis and Nathalie deWolf
Francis and Nathalie deWolf on south Sarasota's many charms.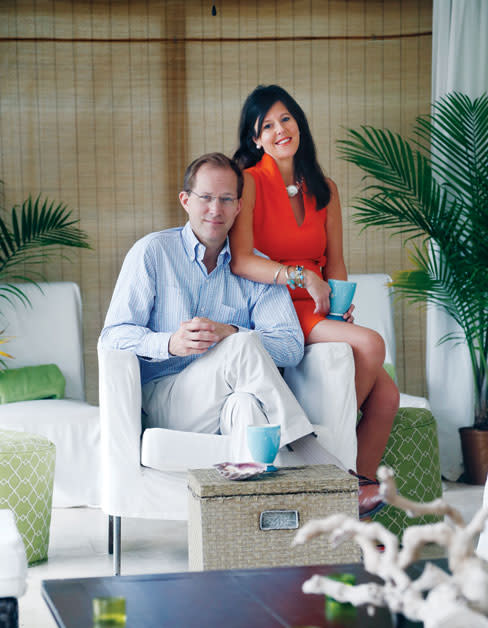 Merchant banker Francis deWolf, president of Colt Capital, and his wife, Nathalie, a management consultant and interior designer ("I'm both left- and right-brained," she says in her lovely British accent) moved to Osprey with their two sons to escape cold, gray Washington, D.C., winters. In between his frequent business trips to China and her occasional consulting work for the Gulf Coast Community Foundation, they've transformed a 1970s-era ranch-style home in Osprey into an elegant Old Florida cottage and grounds and jumped head-first with their boys, now 17 and 12, into Sarasota Crew.
SOUTHERN EXPOSURE
Nathalie: "We love to stroll down Venice Avenue and see the little shops and have tea at the Upper Crust. When I look at how cute and how small Venice is, it's incredible—festivals, art fairs. The Venice Symphony does a beautiful job and the Venice Theatre is lovely."
WE TAKE VISITORS TO
Nathalie: "Historic Spanish Point; I love Old Florida and the walks are wonderful. Cá d' Zan and the circus museum, of course. And my sons and husband ride the Legacy Trail. Not me; I'm horribly lazy."
ROWING RULES
Nathalie: "We discovered crew early on; our whole life is organized around rowing. If you'd told me four years ago I'd look forward to getting up at 4 a.m. to go to a regatta, I'd call you crazy. Rowing transforms lives, and we're very fortunate to have this nationally recognized rowing team here."
WHY SARASOTA COUNTY?
Francis: "We would come to Florida twice a year, mostly to the east coast. As we were considering moving around Easter of '09, friends offered us to stay in their apartment here and we liked it." Nathalie: "We said, 'Why don't we try a year in Florida?' but after six months here, my oldest son said, 'We're never going back, are we?'"
"Sarasota is a best-kept secret. As people visit us, they discover there is life beyond Washington, D.C."
Click here to read other "why I moved to Sarasota" stories. >>
This article appears in the February 2014 issue of Sarasota Magazine. Like what you read? Click here to subscribe. >>