Article
Mr. Chatterbox: An Exclusive Look at His Home and Collections
This month, Mr. Chatterbox gives us an exclusive tour of his home--and his extensive collections.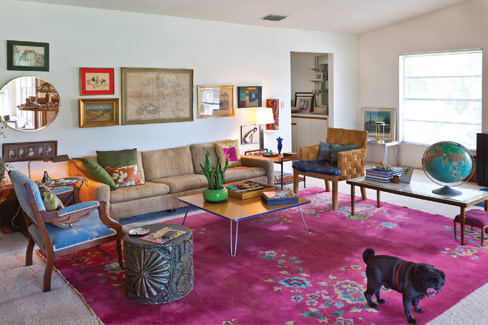 Like most people who are proud of their home and the beautiful things it contains, I have for years been lusting after one thing—publication. Well, it's finally happened. Oh, not in Sarasota Magazine. The editors here have always seemed a little blind when it comes to the elevated level of my taste. (Not surprisingly, considering the sad state of their own homes, with broken toys scattered about and a sagging couch covered with Granny's old afghan.)
No, it's taken the hip, trendsetting Herald-Tribune to finally recognize what I've done. Their top style writer, Marsha Fottler, recently completed a long, detailed article about my home, and it was featured on the cover of the At Home section. To say it caused a sensation would be putting it mildly—I've been getting all sorts of calls from readers, gushing about how lovely everything looks. True, one woman thought one of my paintings looked an awful lot like something that disappeared from her mother's home in Gulf Gate about 10 years ago and there was another call from the billing department at Sarasota Memorial, but all this only goes to show the power of publicity.
The focus of the article is on my collections of various things, how I acquired them, how I arrange them, and how much I paid for them. Yes, price is very important to me. In fact, sometimes I think what I really collect is bargains. That's the underlying theme. When I show people around I always tell them exactly what I paid for each item and how much it is really worth. For example: "I got this lamp at a garage sale for $50. It's easily worth $200. Or it would be without the crack."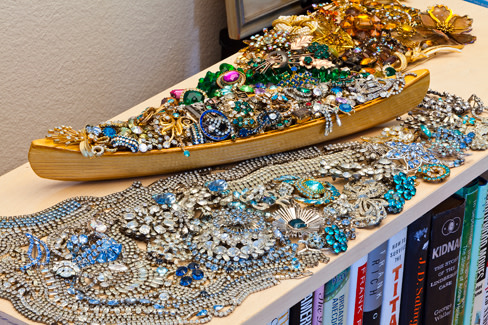 Other than price, my most important criterion is snob appeal. Forget about aesthetics or beauty or connoisseurship. I want people to be impressed. Every piece of furniture has a pedigree and, hopefully, a label. I have examples from Mies van der Rohe, Milo Baughman, Norman Bel Geddes, James Mont, Pierro Fornasetti, Christian Dior…it's like a design museum. Or perhaps a design high school project.
Fortunately, I don't agonize much about condition. I like things that are a little beaten up. My Brno chair, for instance, looks like it spent 30 years in a barn in Arcadia, which, as it turns out, is exactly what happened. How this gorgeous chair ended up in a barn in Arcadia is beyond me, but it just goes to show that the more you look around, the more you find the most interesting things. By the way, I paid $60. New—they still make them—it costs $1,700. And mine has age, patina…even a slight odor.
Now exactly what you do with all this junk is the downfall of many collectors, and I am well aware of the fine line between "collecting" and "hoarding." Marsha went out of her way to note the "ordered domesticity" of my home, so you can quit picturing me surrounded by piles of accumulation with little paths as the only way to get from one room to another. In fact, it turns out that I have a talent for arranging objects in pleasing and dramatic ways. In fact, Sally Schule once suggested that I might want to come work at Saks as a window dresser.
How do I gather all this stuff? Let me tell you, it is not easy. Luckily, now that I am retired, I have more time to devote to "hunting." It seems like every day I plan a little expedition. I might drive up to St. Pete and check out the stores on Central Avenue. (Forget Tampa. When it comes to beautiful things, that town's a dud.) The aforementioned Arcadia is worth a bimonthly trip, particularly in the summer when the desperate dealers slash their prices. Closer to home there are all the secondhand and consignment stores, with the Woman's Exchange leading the pack. Another rung down the ladder and you find the better thrift stores such as Habitat for Humanity and the Pines' Fabulous Finds. And finally, there's the Goodwill.
Ah, the Goodwill. It's very controversial. For me, the furniture is too shabby to merit regular visits, and when it comes to knickknacks, dishes, desk accessories and the like, the Goodwill's main value is showing you what not to collect. Yes, I've heard all the stories—how Deborah Blue found an amazing mid-century sofa, and how a Bradenton antiques dealer found a 16th-century painting. But for me, the Goodwill just isn't that good.
The most intriguing item in my collection? Is it the Mexican Colonial portrait of Mary Magdalene? ($300 but worth $5,000.) The cocktail table from the bar of the S.S. United States? ($40 but worth $1,500.) The Elsie de Wolfe nightstand from the home of silent movie star Hope Hampton? ($120 but worth $3,000.) Interesting pieces, to be sure, but they pale in comparison to my framed jock strap. Yes, you don't see these every day. I found it in an antique store up in St. Pete. It's framed with glass on both sides, so you can see the front and the back. It came with a manila envelope taped to it, which contained a photograph, like a college graduation picture, of a handsome young man circa 1960. Talk about a work of art that tells a story…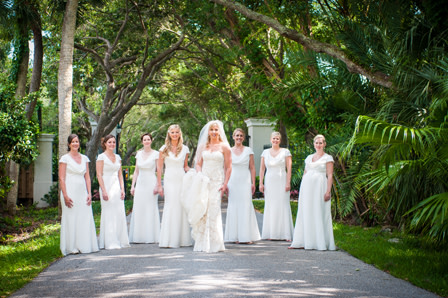 Who was he? Was it his jockstrap? Who saved it and framed it? And perhaps the most obvious question of all—who would actually buy such a thing and hang it on the living room wall? ($75 but worth…I'm still working on this one.)
Photos by Gene Pollux.
For more from Bob Plunket, click here to read his "Real Estate Junkie" blog.