Article
Freeze Frame: Tervis Tumbler
Glass act: Inside the manufacturing plant at Tervis Tumbler.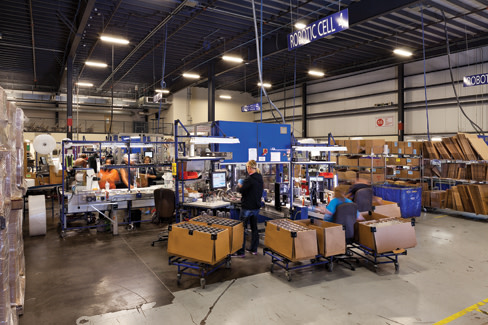 It may not rank up there with the invention of the light bulb. But the two Detroit engineers who in 1946 created a glass that could keep hot drinks hot and cold drinks cold have definitely improved the quality of modern life. Using the insulating power of air to bind together an inner and outer clear plastic glass, the Tervis tumbler is virtually indestructible. Owned by the Donelly family, Tervis relocated to Osprey in the early 1960s, and manufacturing moved to North Venice in 2005. Since then, the company has grown aggressively, pursuing licensing rights for thousands of different decorative emblems and expanding its plant by 50,000 square feet in 2011, allowing for production of 90,000 glasses a day, depending on demand. Each one is made to order, and some customers—"Tervo-maniacs"—collect dozens of different customized styles.
Factoids
It takes about one minute to produce a tumbler.
The factory runs 24 hours a day, five days a week; more on holidays and for hot market items. Baltimore Ravens Super Bowl Championship tumblers rolled off the production line a few hours after the game.
Applying decoration to a water bottle. Every piece of Tervis drinkware is custom-made and hand-decorated.
Tervis has 19 stores in 12 states; more are coming. Its products are also sold by 8,000 retailers and they're the only branded product sold at Disney parks.
Customers can choose from some 6,000 decorative emblems. The Cherry Blossom is the No. 1 seller.
Tervis has close to 750 employees, more than triple the number it had three years ago.
The computer shows all the information about each order, right down to where the emblem should be placed on the tumbler.
At Robotic Cell 3, workers weld, decorate and pack glasses.
Last year, Tervis asked customers for inventive ways to use the tumblers. Some of the best answers (sandcastle builder, fruit fly trap, balloon holder) are on its website.
See last month's Freeze Frame here.