Article
Health Report: April 2013
Health Report: Sarasota Health News, April 2013

April is National Autism Awareness Month
In public discussion, autism is most frequently associated with the diagnosing and nurturing of children with the condition. However, adults with autism face their own set of challenges, especially those whose primary caretakers—often their parents—have become unable to care for them, due to age or illness.
"Adults and teens with autism have difficulties in social situations and many may or may not have sensory problems as well," explains Kim Clark of Community Haven for Adults and Children with Disabilities. These difficulties can make it hard for them to be in environments we take for granted—work, a grocery store, a mall. They can have trouble making eye contact, a crucial skill for holding a job or building relationships. They may be passionate about something but not understand why their friends don't want to discuss it constantly; they have difficulty putting themselves in other people's shoes. "Depending on the individual's level of ability," says Clark, "they can have severe anxiety over an inability to communicate to peers, family, friends and employers."
To help lessen these anxieties and better integrate adults with autism into the general community, programs like Community Haven offer individual assessment for educational placement—whether it's post-secondary education or skills training—and careful monitoring and nurturing of each person's development. There are also group home options—often the ultimate solution for those whose caregivers can no longer care for them—that offer "a safe and comfortable environment while maintaining as much independence as possible," says Clark.
---
Listen Up!
"Being a caregiver is physically and emotionally exhausting. You've got to take advantage of little breaks. I used to go to TJ Maxx. That's two good hours of not thinking about the illness." —Lisa Niemi Swayze, widow of Patrick Swayze, who died from pancreatic cancer in 2009. (Click here to read our interview with her.)
---
10 Tips for Boomer Brains
Helpful advice from Sarasota Memorial Hospital's "Brain Trainer" Marcy Stern.
1    If it's good for the heart, it's good for the brain—eat right, exercise, watch blood pressure and cholesterol, etc.
2    Alcohol and illicit drugs kill brain cells. You want to hang on to every brain cell you've got.
3    Remember these three: Good sleep, socializing and physical exercise are all essential to good brain health.
4    Learn new things, stay interested.
5    Find ways to challenge your thinking.
6    Avoid falling into comfortable ruts, where you're functioning on autopilot instead of using critical thinking.
7    Listen to/play music.
8    Dance! Make the brain and body work together.
9    Use mnemonic devices (music, rhymes, etc.).
10    Use old tricks that work for you; everyone learns differently, so use what works.
---
Nutrition Know-How
March is National Nutrition Month, and amid the near-daily news of diet breakthroughs and revelations, can you navigate nutritional info when there's no label there to give a "percentage of daily value"? Can you put a coffee drink with 77 grams of sugar into the proper dietary context? Dietary needs vary widely from person to person, but even ballpark nutritional guidelines can help you make more informed decisions and clear up questions you may have about, say, the reported calories in your restaurant meal or the amount of fat in your ballpark frank. Here's a rundown of some of the FDA's daily recommendations, based on a 2,000-calorie diet.
Total fat: 65 g
Saturated fat: 20 g
Sodium: 2,400 mg
Potassium: 3,500 mg
Total carbohydrate: 300 g
Dietary fiber: 25 g
Protein: 50 g
The FDA does not recommend how much sugar people should consume daily, but most sources cap it at 40 grams.
---
Did you know?
According to the FDA, the percentage of daily value for protein is not required on a label unless the product makes a claim about protein or it's intended to be used by infants or children under four years of age.
---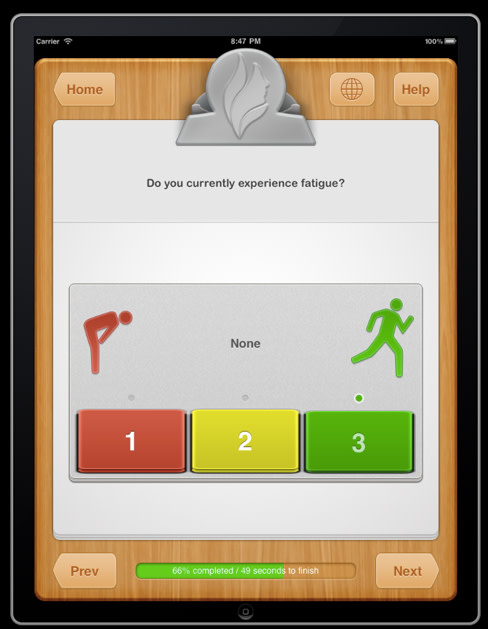 Physicians: Make Your Forms Fun
You know the refrain: "Here to see the doctor? Fill out this form." But a new iPad app is livening up those tedious, photocopied clipboard questionnaires you have to fill out for virtually every doctor's appointment. The Tonic Health app helps medical providers turn their data-collection forms into colorful, patient-friendly iPad interactions. Not only does it take the tedium out of filling out medical forms, Tonic Health also organizes and files the information into the doctor's database, while remaining secure and HIPPA-compliant. (There are even customizable, waiting room-themed games.) For more information, go to tonicforhealth.com.
---
Lessening Lymphedema
A lymphatic obstruction, or lymphedema, is a frequent problem associated with breast cancer. Standard practice for breast cancer treatment has long been to remove cancerous nodes under the arms, with the aim of keeping the cancer from spreading or recurring. As a result, lymphatic fluid may accumulate in the skin, producing swelling that can be uncomfortable or, in some cases, debilitating. (Radiation can also cause lymphedema.)
In addition to seeing lymphadema therapists, patients who experience lymphadema—which may be as much as 65 percent of women who have breast cancer surgery—can wear compression sleeves and be taught self-massaging techniques to keep swelling down. (These compression sleeves, long available in skin tones, are now also being offered in bright colors and stylish designs.)
There's good news on the horizon: New studies suggest that total lymph node removal may not have an effect on the outcome or the chances of recurrence; scientists believe chemotherapy and radiation treatments may be enough to effectively eradicate the cancerous portions of the lymph nodes. If so, it's one more step in the battle against breast cancer.
---
Sobering Statistics
Not only is pancreatic cancer the fourth-deadliest cancer, but statistics for the disease haven't improved in more than 40 years. The Recalcitrant Cancer Research Act—signed into law in January—compels the National Cancer Institute to come up with a plan for addressing these diseases.
Average life expectancy after diagnosis: six months
Survival rate to five years: 6 percent
Click here to read Hannah Wallace's Health and Fitness blog.