Article
NOISEMAKER: State Sen. Nancy Detert
Republican state Sen. Nancy Detert heads back to Tallahassee with a new district but the same goals.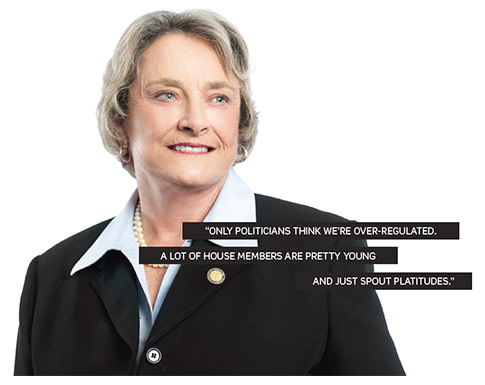 Nancy Detert's state senate district may have changed, but that doesn't mean she has.
This month, when the 68-year-old Venice Republican heads to Tallahassee for the Florida Legislature's regular 60-day session, she'll be speaking for a whole new group of constituents. The District 28 Detert was elected to represent in 2008 no longer exists—redistricting shaved off her portion of Manatee County and entrusted her with all of Sarasota County, plus a Gulfside hunk of Charlotte.
Not that it makes any difference.
"I've always taken the title 'state' senator seriously—what's good for the whole state's generally good for us," Detert says. She won't be shifting her approach because of those new district lines, she adds: "I'm pretty much me."
That "me" isn't afraid of bucking the party line. Over her 12 years in the capitol, she's carved out a reputation as one of Tallahassee's increasingly rare independent-minded conservatives. While some GOP colleagues kept busy introducing bills to bring back firing squads or to block Islamic law from taking over the state's court system, Detert used her authority to ward off some of the body's more extreme elements.
So while she's still pursued conservative goals—e.g., cutting the number of weeks of unemployment payments—she dismisses much of the right-wing rhetoric heard around the capitol since the emergence of the Tea Party.
Are Florida businesses burdened by stifling government regulations, for example? Nonsense, says Detert.
"Only politicians think we're over-regulated," she says. "Seriously. If you take a look at the House members, a lot of them are pretty young. I don't think they've owned their own business. They just spout platitudes."
She also rebukes the notion that state government should use tax money to lure companies to Florida—one of Republican Gov. Rick Scott's chief tactics. "It doesn't work anymore," she says. "I'm tired of outbidding Kansas. Just go there in February and see how you like it." She promises that the Legislature will instead explore some "revolutionary" new ideas for fostering job creation.
Detert may dismiss the GOP party line on taxes, call for a hard limit on campaign spending and oppose abortion restrictions, but she remains unapologetic about one vote: her 2011 "yes" that helped cut the number of early voting days from 14 to eight. The measure eliminated voting on the final Sunday before Election Day, which had been a popular day for African-Americans to cast their ballots. One study estimated that 49,000 voters in Central Florida alone were discouraged from voting in 2012 because of long lines on Election Day.
Nevertheless, Detert doesn't want to go back to the full 14-day schedule, saying those who support the extended schedule are guilty of "rounding up people who had no intention of voting" and "know nothing about any of the candidates."
But even Detert can't argue things ran smoothly. This is Florida, after all, where officials weren't able to certify its presidential results until two weeks after Election Day. "Thank God it wasn't us," she says with a wry smile. "Thank God it came down to Ohio instead of Florida."