Article
Who's in Store: Douglas Gourley
Who's in Store: Douglas Gourley of Sarasota's As Good As It Gets.
By Carol Tisch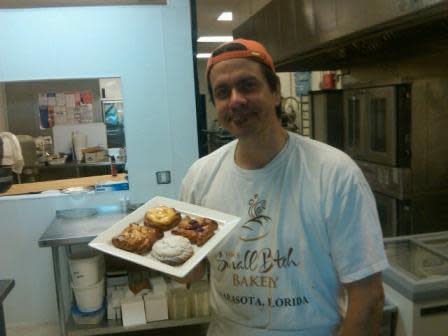 A former exec with Pitney Bowes and Imation, Douglas Gourley developed the taste of a gourmand while working overseas. "I was exclusively international from the age of 25 to 50, and with that came the opportunity to dine with boards of directors in Latin America, the Pacific, Africa—and most importantly in Europe," he says. "That's where my heart lies." And that's what led him to open a new specialty gourment shop, As Good As It Gets, on downtown's Palm Avenue.
"My greatest experiences were in France, Spain, Belgium and Italy, where I was exposed to the best restaurants on earth and developed a real knowledge of wine," he says. Wine is Gourley's hobby, and he's selected every one of the shop's 172 bottles (including champagne and port) for pairings with his irresistible charcuterie, pâté, cheeses, caviar and Swiss and Belgian chocolates.
"We can cater a dinner for two and a banquet for 12 with food, wine and service that would earn a Michelin star—all without having a kitchen," Gourley promises.
As Good as It Gets, 49 S. Palm Ave., (941) 373-1839
Shop Talk
Culinary Sampler: The idea is to taste a little (or a lot), become educated about the best of everything from prosciutto Pio Tosini to pure Kona coffee, Trebbiano white balsamic vinegar, and Tea Forté, "the best tea in the world," according to Gourley—and also Oprah. Sampler boxes are a great introduction to the brand's myriad choices in white, green, black and herbal teas.
What this town needs: "A dock with a panoply of great seafood restaurants like the ones in Key West, Fort Lauderdale and even Bradenton. Sarasota is on the Gulf of Mexico, and there's no dock. It isn't a great seafood experience when you're inland."
Can't live without: "Health, love, peace and joy, and the means to enjoy all of them."