Article
Mr. Chatterbox: January 2013
THIS MONTH: Celebrities like Manasota Key. I figure out why.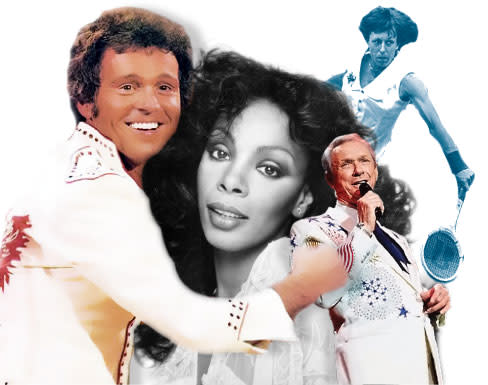 The most surprising thing about the death of disco queen Donna Summer was the news that she died at her home on Manasota Key. Donna Summer lived on Manasota Key? Yes, she did, along with Bobby Vinton, Mel Tillis and Martina Navratilova (although not necessarily in the same house or at the same time). Well, I've been to Manasota Key, and I didn't get it. What was I missing?
First of all, it's hard to get to. You meander through traffic-clogged Venice down to Englewood, get lost a couple of times, then finally find the bridge. Once on the key you drive down a narrow, not very well-kept road. It has none of the South-of-France glamour of its neighbor to the north, Casey Key, and none of the fun, vacation-y look of Siesta. Comparing it to Longboat is out of the question. It looks like a little, forgotten place that could, frankly, use a weed-whacker.
You get the impression that absolutely no effort went into it. There's no development (except in the southern half; we'll get into that later). There's no real landscaping, just whatever happened to grow. The beach is nice, but it lacks that bright white sheen that most Gulf beaches have. Even the homes that peek out through the trees are unexceptional. No important architectural statements here. Some of the houses are quite large, but they lack that "trophy look" that we're all so used to expensive Florida homes having. They ramble and show their additions and changes over the years. At least one is downright embarrassing.
And yet the place attracts major celebrities who could live anywhere.
Why?
First, a little geography. Manasota Key is in the middle of the long string of keys on the Gulf coast. Actually, it's attached to the mainland at its northern end (Venice), but there's no road there. I've just wasted half an hour on the Internet trying to figure out how long it is—let's just say 20 miles and leave it at that. The northern half is the part I've been describing, with the big homes and the secluded atmosphere. The very northern end is the most exclusive. It is, in fact, gated and virtually impossible to get into without an invitation, which I fished around for but did not obtain.
About midway down the key you cross over from Sarasota County into Charlotte County, and it's like a curtain dropped. Never have you seen a more dramatic example of the power of zoning. Forget everything I've just described. The southern portion, which is known as Englewood Beach, has condos, stores, restaurants, at least one trailer park, little vacation houses, teenagers hanging about. It also has about 90 percent less vegetation. I'll make no judgment about the wisdom of the conservation laws and edicts that have protected the northern half. In fact, Englewood Beach is a terrific little place—a cute old-fashioned Florida beach town. But Donna Summer living there—that would be a surprise.
Manasota Key was settled late, even for this area. Up until the 1950s there wasn't much there. It was a place you went to for fishing or the beach, usually by boat. Then, as was so often the case, some rich Yankees from up North decided to develop it, both for their own use and to make a little money. In this case the Yankees were rich indeed—a man still referred to by the old-timers as Bill Vanderbilt, and a guy named Sam Auchincloss, who was the brother of Hugh Auchincloss, Jackie Kennedy's stepfather. The Vanderbilts and Auchinclosses both had family compounds on the key, some of which are still there but belong to different families. (And no, Jackie never came to visit. I asked.)
Other Northerners began buying land and building vacation homes, and from the 1950s onward there was a little colony of rugged individuals who wanted to get away from it all. Hearing about them today, one is reminded of a John D. MacDonald novel. There was drinking and fishing and discreet carrying on, even a resident who shot and killed the handyman because he didn't like the way the guy trimmed his bushes. MacDonald himself was a big fan of Manasota Key. The story goes that he talked comedian Dan Rowan of Laugh-In fame to settle there, where the Rowan marriage promptly fell apart with recriminations over which partner would get custody of the wine cellar.
Today the leading character of the key is Nelda Thompson, a realtor whom the Herald-Tribune once referred to as "the queen of Manasota Key." Nelda handles most of the high-end properties out of her home, a relatively new bayfront coastal-style place that suggests Nantucket Yankee meets Florida Cracker. Nelda's inventory at the moment starts at a little place for $300,000 and goes all the way up to several beachfront properties listed at around three and a half million. Nelda maintains that the big comeback in prices for high-end real estate hasn't really reached the key yet, and there are bargains to be had—if you're the kind of buyer who appreciates the unique set of amenities—and anti-amenities—that the key offers.
In spite of the totally residential character of Manasota Key, two Southwest Florida institutions are tucked under the oaks. The first is the Hermitage Artist Retreat, a very prestigious artist colony where well-known artists, most rather avant-garde, go for periods of six weeks or so to work and create and live in the five little cottages right on the beach. As part of the deal they do community events, like reading their poetry on the beach at sunset to the neighbors. It's run by Bruce Rodgers, who everybody in Sarasota has known for years. I keep sending Bruce my own poetry in hopes I'll get one of these gigs, and though Bruce has always been very polite, I'm beginning to suspect my verses don't quite measure up. But many of the artists fall in love with the place, and the famous Scottish sculptor Malcolm Robertson even created the piece that adorns the traffic circle down in Englewood Beach. And yes, those rumors are true—the Hermitage did use to be a nudist resort. But that was back in the 1930s, when there was nothing on the island, except naked Swedes and Germans.
The other institution is the Manasota Beach Club, one of those great old-time WASP-y resorts that still, miraculously, exists. It is also composed of little cottages and a few houses and is all American plan, meaning you get all your meals. It reeks of charm and authenticity and is very expensive. It also serves as a sort of social club for the residents. Check out its reviews on TripAdvisor. You'll be impressed.
It is assumed that Donna Summer's house will be on the market soon. Whether it will go to another music legend hiding from the world or a hedge-fund CEO who has five other homes is anybody's guess. But whoever it is, it will be someone who appreciates the Gulf beaches, seclusion and total lack of pretension the key offers. You don't have to show off here. In fact, you can't. And if you're rich enough—and world-weary enough—that may be the biggest attraction of all.