Article
Step Inside the SunCoast Blood Bank
Why the SunCoast Blood Bank is so important.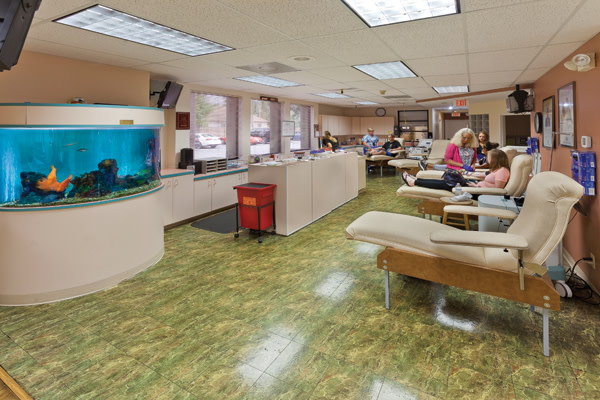 SunCoast Blood Bank (SCBB) turned 66 this year. But like many other Sarasota seniors, it's more vital than ever. Last year, through five donor centers and more than 1,300 community blood drives, the blood bank collected some 47,000 units of blood and platelets. Those products help treat cancer patients, trauma victims, newborns in crisis and people with blood disorders in Sarasota, Manatee, DeSoto and Charlotte counties and Bayflite 2 emergency helicopter transport. And in June, it became the first blood bank in the country to provide pathogen-reduced platelets, significantly reducing the risk of transfusion-transmitted infections. To learn more, go to scbb.org.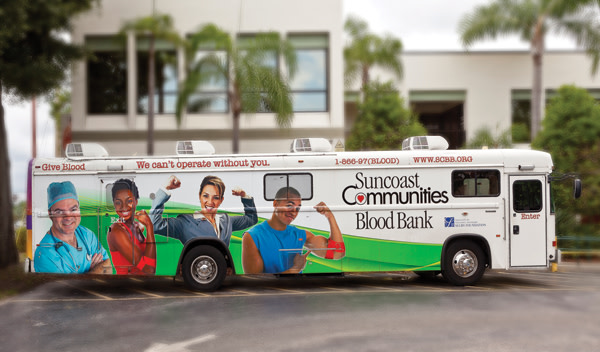 Factoids
O negative: The universal donor blood type is in high demand.
1 donation can save up to 3 lives.
Donors can watch TV or listen to CDs; some read books or chat with fellow donors and staff.
The fish tank was donated by a local Rotary Club in the 1980s.
45-60 minutes; 90 minutes
Time it takes to donate whole blood (usually a pint); time to donate platelets
photography by gene pollux
Donations funded the $300,000 purchase of a new bloodmobile.
All blood goes through 13 tests for infectious diseases, a safety procedure costing $1.5 million a year.
Kevin Smith, the bank's top donor, has given 137 platelet gallons, starting in 1972 when he was 19 and his mother needed blood to fight cancer.
43,000 pints of donated blood are used each day in the U.S.
Donors range in age from 16 to 90-plus. 25 percent are high school students.
The donor center was built in the 1980s, when pastel colors were "in." "We would love a facelift," says CEO Scott Bush, "but there are so many other priorities it will have to wait."
Donors can give whole blood, double red cells or platelets. "Red cells are needed more than any other blood component," says Bush.