Article
Jewelry Designer Rose Gonzales Relocates to Sarasota
Jewelry designer Rose Gonzales on natural treasures.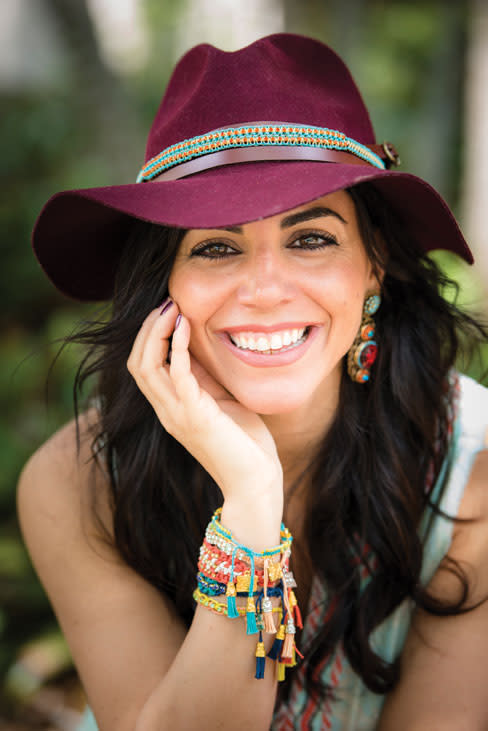 In just one year, jewelry designer Rose Gonzales' new line of resort-inspired bracelets and headbands has made it into 400 retailers nationwide and drawn the attention of celebrities like Vanessa Hudgens, Katy Perry and Rihanna. Gonzales and her husband moved to Sarasota with their three children from her native Michigan, where they'd been home builders. The former art student calls her jewelry collection "a rebirth. This found its way back into my life last January and it's been awesome." When not at trade shows in New York, Las Vegas and other hotspots, Gonzales stays active with her family.
WE GO TO UPPER CUT BOXING
"We take the kids two or three evenings a week. We like to exercise with our children, so when they're older, exercise is a lifestyle, not forced."
WATER WORLD
"All three kids go to Pine View. With their hectic schedules and heavy curriculum, on the weekends we enjoy what Sarasota is all about—the water. We love boating; we spend a lot of time at the Sarasota Yacht Club, and I go paddleboarding right from our dock."
I LOVE THAT SARASOTA FEELS SAFE
"What do they say, 'A small town with big-city amenities'? I love that. It's quiet here and awesome."
OUR VISITORS LOVE
"Boating to the yacht club or to Egmont Key; it's to die for. And St. Armands Circle or Siesta Key for shopping and ice cream."
BEST PLACE FOR PEOPLE-WATCHING
"Biking, walking or jogging at Bayfront Park. I never get over how breathtaking it is, watching people painting, taking photos, weddings, circus people, musicians."
Click here to read past "My New Hometown" columns. >>
This article appears in the May 2014 issue of Sarasota Magazine. Like what you read? Click here to subscribe. >>