Spirits of Sarasota
Drink of the Week: The Office "Selfie"
Vodka, pomegranate liqueur and lime juice, topped with "blue foam" (?!).
This week: The Selfie at downtown Sarasota's The Office Bar
The drink: Vodka, pomegranate liqueur and lime juice, topped with "blue foam" (?!). Bypass the cocktail straws on this one—the base of the drink is pretty tart, but that's why you need to sip straight from the glass to get a taste of the foam, too, which is a product of Bols, the ever-present brand of cocktail flavor agents. The "blue" foam flavor (I'd guess it's a take on blue curaçao, especially since the website shows it next to a tangerine, but it's not specified) adds sweetness, not to mention texture, to the cocktail.
The bar: Well, it's the kind of place with a TV in the floor and a cocktail called "The Selfie," but it's also spacious and welcoming, with a long bar lined with big, cushy bar stools and seating areas with large leather chairs, plus a jukebox, pool table and the requisite bowling and golf video games. For when professionals want to kick back and maybe get a little crazy.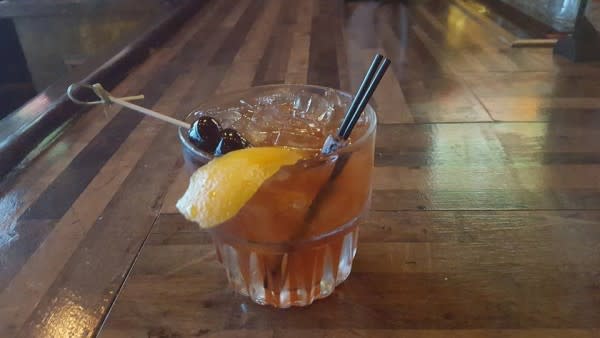 Food: 'Fraid not.
Other notable potables: The lengthy cocktail list is broken down into categories (specialty margaritas, martinis, etc.), especially heavy on a variety fruity flavors. Give special consideration to anything with ginger beer, like the "In Fashion," a take on an Old Fashioned featuring Maker's Mark, sweet vermouth, bitters and ginger beer.