Eat This Now
The 5 Best Things We Ate This Week - 12/17/15
Our panel of experts share their top picks on the local dining scene this week.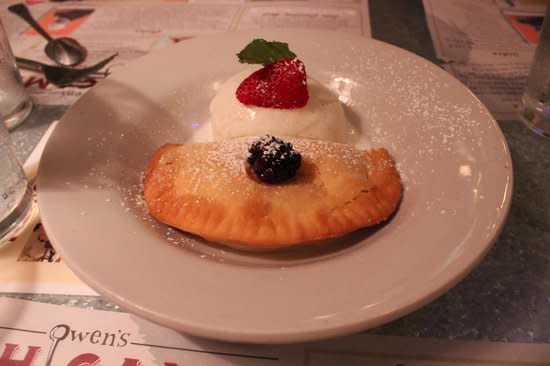 We love Owen's Fish Camp for many reasons—but one of them is especially sweet, and that is the apple pie with vanilla ice cream ($7.99). The crust is crisp, flaky and just-sweet-enough, while the apple filling is warm, syrupy and cinnamon-y. Best of all, the whole thing is topped off with a giant scoop of creamy vanilla ice cream. You can order it to split, but you may not want to share.
Fish and eggs? It may sound unusual, but the pairing works to perfection at Anna Maria Island's Gulf Drive Café. The restaurant offers a platter that pairs a hunk of grilled mahi-mahi with a couple of eggs cooked your way ($14.99). The fish itself is fine, nothing special. Coating it with oozing yolk elevates the seafood to greater heights. On the side, pick a bowl of dense and chewy oatmeal enlivened with brown sugar.
For discriminating burger lovers, we recommend the house hamburger at Libby's Cafe + Bar ($15). The meat is juicy and flavorful and the bun is light but substantial enough to absorb all those delicious juices. It's topped with a thin layer of melted Swiss cheese, a caramelized sweet onion mixture and a slice of fresh tomato, and served with hot salted and Parmesan-dusted fries. Delicious.
While you do have to cook it yourself, the prime flat brisket from Fresh Market is beyond fork tender—there's beautiful marbling, and if you slow braise it, you'll have enough for an open-faced sandwich the next day as well. It's pricier than regular brisket but much less expensive than prime rib—and your dinner will definitely be five-star.
Carmel Kitchen is offering a new appetizer: the Capri basil-feta crostini is made of whipped feta, basil and cracked pepper, and it's served with house-made Pomodoro sauce and served with crispy Parmesan crostini. (Full disclosure: We've been known to eat it with a spoon once the crostini run out.) It's $5 at happy hour; get it with one of the restaurant's 9 oz. wine pours (also $5) and you're good to go.
For more Sarasota dining and restaurant news, click here. >>