Article
Spirits of Sarasota: Siesta Key Toasted Coconut rum
This week's top drink on the bar scene.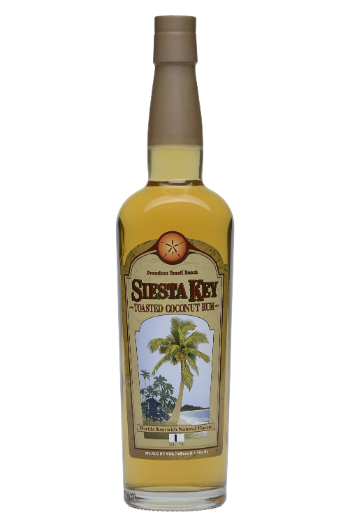 This week: Siesta Key Toasted Coconut rum by Sarasota's own Drum Circle Distilling
The drink: Golden and sweet, but not cloyingly so. The hint of honey serves to highlight the fresh coconut flavor, which also blends with the heat of rum itself for a buttery smokiness.  Drum Circle's Troy Roberts insists on using only real ingredients (instead of chemical imitations), so this is basically an adult version of granny's coconut cake—and it's amazing. Not that you have to take my word for it. Though the coconut rum was released last year, it can still be a treasure hunt to find a bottle. Hordes of Drum Circle fans clear the shelves in a flash, so like Siesta Key Rum on Facebook or make friends with your liquor store clerk to get the skinny on deliveries.
The bar: Well, the bar in this case was my apartment (which does attract a lovely crowd), but plenty of local establishments have it on hand. Visit drumcircledistilling.com for a list, or head straight to the source: The distillery (in Northgate) has its own cozy tasting room.
Other notable potables: If you haven't heard, all the Siesta Key rums (coconut now joins silver, gold and spiced) regularly win international recognition, and I'm sure they've introduced countless people to the joys of rum on the rocks—but of course, they're great for cocktails, too. (This Christmas, try putting the Siesta Key Spiced Rum in your egg nog; you can thank me later.)