Article
Grove Ladder Farm Sells Pasture-Raised Poultry
Tim and Chelsea Clarkson sell pasture-raised chicken and meat rabbit on their growing farm.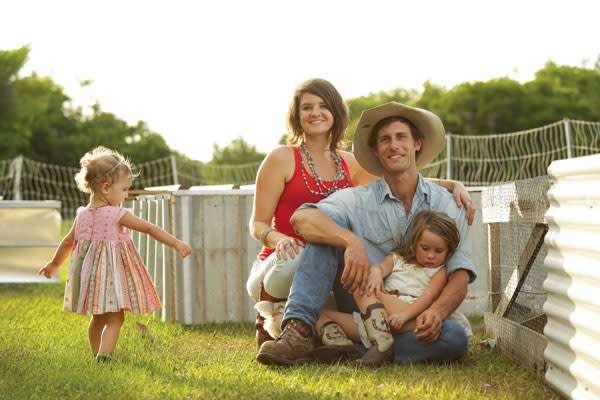 The chicken or the egg. Chelsea and Tim Clarkson both grew up in Sarasota, attended Booker High School and got married after Chelsea graduated from college in Virginia. "I was into this radical homemaker thing," she explains, "and I kept saying, 'We have to keep chickens!'" They started with some egg-laying hens in their back yard, then moved on to raising chickens for their meat, drawing on Tim's experience in 4H and FFA. Before long, the Clarksons found themselves with a thriving chicken membership program and 40 birds running around their half-acre property in in east Sarasota, which they call Grove Ladder Farm.
Flying the coop. As the demand for their birds grew, Tim and Chelsea realized they needed to expand—so they connected with Roger Musgrave, a dairy farmer who owns 600 acres of land in Manatee County. Now the Grove Ladder Farm chickens live on floorless pasture shelters on Musgrave's property, which Tim moves daily so the chickens always have fresh grass. "They get so much exercise," Tim says. "They're using their legs and building muscle." And that, he says, makes the birds more flavorful, too.
Circle of life. Grove Ladder Farm gets its chickens when they're just one day old; the Clarksons brood them on their property for two to three weeks and then move them out to Musgrave's pasture for about two months. They're brought back to the Clarksons' property for processing, although Tim is working with a Sarasota County agriculture extension agent to find funding for a mobile slaughterhouse. "The transport is inevitably stressful, and if you can take the unit to them, why not?" he says. Every bird is inspected carefully; a Grove Ladder Farm chicken is $5 per pound, with most birds hitting the four-and-a-half-pound mark.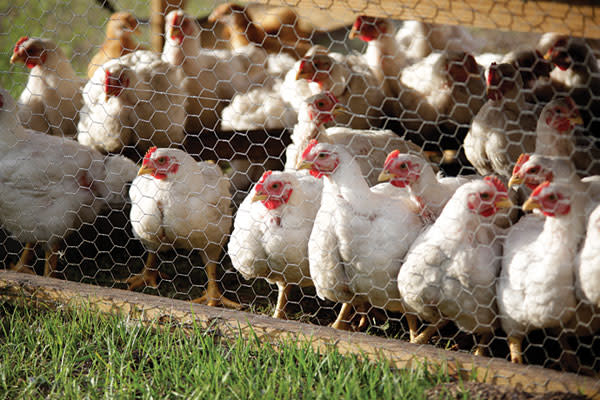 Factoids
The Clarksons' chickens are raised on certified organic soy-free chicken feed, and theirs is the only farm in Sarasota and Manatee with a permit that allows them to sell their products directly to consumers.
Grove Ladder Farm also offers meat rabbits, and Tim and Chelsea hope to have turkeys available for Thanksgiving. They also eventually want to sell pasture-raised boar, and "beef is the ultimate goal," Tim says.
Visit groveladderfarm.com to place an order, as well as for recipes and tips.