Article
Polpo Pizza Co. Opens for Business in Sarasota
Fans of Neapolitan-style pies are flocking to Polpo Pizza Co.'s truck.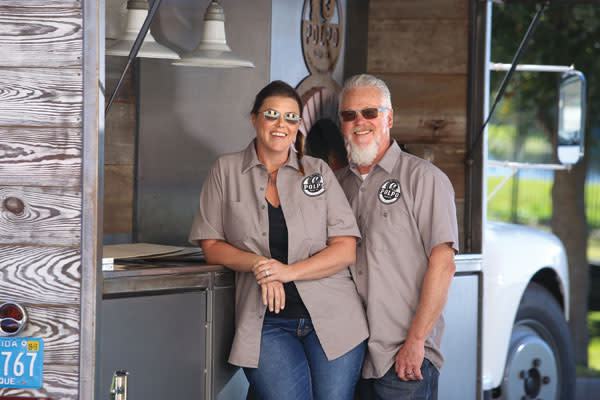 That's amore. What do you get when a food stylist and a fine-art photographer who are also passionate cooks acquire a vintage truck with a built-in wood-burning oven? You get Polpo Pizza Co., the brainchild of former New Yorkers Danni Bleil and Tom Baril. What began as a passion project now has a devoted local fan base thanks to Neopolitan-style pizza so good that people are willing to wait in line for half an hour or more. They encountered Tom Grim's famous Nomad Pizza truck while on a motorcycle ride through the country roads of New Jersey. "[When we ate there], I just got it," Bleil says. "Tom and I had been talking about the next chapter of our lives, and we thought [a pizza truck] would be good for us." So in 2013, she and Baril moved to Sarasota, and on Oct. 13, 2014, Polpo Pizza Co. opened for business.
How about that truck? Polpo Pizza Co.'s truck is a refitted 1951 farm truck with a distinctly vintage vibe. "Tom spent a long time searching for the perfect truck of the right weight to support the oven," Bleil says. Once Baril found the truck, they began the long process of building it out.
Fresh and local. Polpo's pies are made in the Neapolitan style, and Bleil did a lot of  research before launching the biz, including consulting with Grim and spending 10 days in New York with the head of the Neapolitan Pizza Association. Then she began developing recipes, including her dough—which yields a puffy crust laden with air pockets and charred in spots—and her house-made mozzarella and ricotta cheeses. She also uses organic tomato sauce and, whenever possible, sources her produce from local farms. "Quality is the No. 1 priority," she explains.
Factoids
Though you'll only find pizza when the truck is out and about, Polpo Pizza Co. is also a licensed caterer and offers an expanded menu for a variety of events.
To find out where the Polpo Pizza Co. truck will be on any given week, head to its Facebook page at facebook.com/PolpoPizzaCo.
Danni Bleil says Polpo's Bee Sting pizza—with spicy tomato sauce, fresh herbs and garlic, house-made mozzarella, Calabrese salami and hot-pepper-infused honey—is her most popular, but that the Greek pizza—"essentially a Greek salad on top of a pizza"—is gaining momentum.