Article
Recipe: Healthy Turkey Meatloaf from Sarasota's Get Fit Fuel
Plus, a new kind of workout from Koko Fit Club.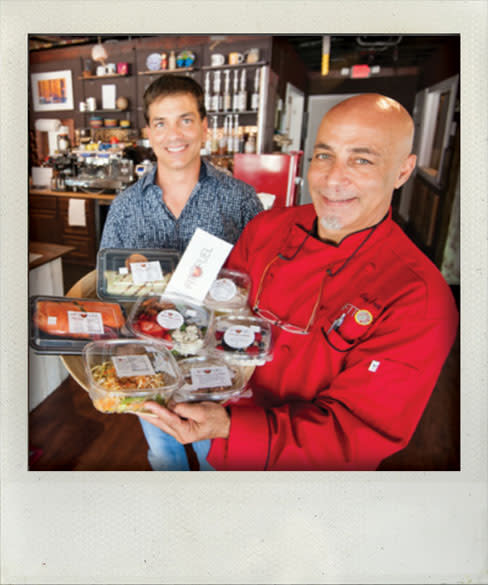 Healthy Meals Made Easy
Regardless of your activities, your body is a machine. In order for it to run (or walk, bike, box or just concentrate at work), it needs a steady supply of energy. Nutrition is the science we all know but usually refuse to follow—often, understandably, because of time constraints, not to mention our own unpolished cooking skills.
Enter Sarasota's Get Fit Fuel, which creates a menu of healthy meals, all pre-prepared, refrigerated, labeled (gluten-free, vegetarian, vegan, raw and/or paleo), in a variety of cuisines and styles (think paella, pad Thai, spaghetti, scampi or chili), ready to be scooped up at a moment's notice by on-the-go, health-conscious consumers. Headed by founder Greg Gentile and chef Dan Noble, Get Fit Fuel serves up scratch-made entrées, sides, snacks, juices and even cleanse programs from its three locations on Siesta Key, Lakewood Ranch and now downtown Sarasota on Washington Boulevard.
Of course, you can still create your own healthy meals when you have the time. This meatloaf recipe from Gentile and Get Fit Fuel chef and culinary instructor Craig Chasky is gluten-free and includes essential oils along with lean natural meats and flavorful veggies.
Grass-Fed Bison and Free-Range Turkey Meatloaf
Feeds 4 to 12
1 pound of ground, grass-fed bison
2 pounds of ground, free-range turkey
Can of tomato paste, divided
1 teaspoon sea salt
1 drop doTERRA brand oregano oil
2 tablespoons grape seed oil
Fresh cracked pepper
1 each, organic red pepper, yellow pepper, carrot and red onion, finely diced
3 omega-3 free-range eggs
1 tablespoon Italian seasoning
2 tablespoons maple syrup
Preheat oven to 365 degrees. Mix ½ can tomato paste with maple syrup and set aside. Mix all remaining ingredients in a bowl until uniform. Shape into a loaf and place in a nonstick casserole pan. Spread tomato/maple mixture evenly over top. Bake for 45 minutes until internal temp is 165 degrees in center.
Workout 2.1
There's no shortage of "new" fitness plans; some really are unique. Consider Koko Fit Club, a precise, computer-guided and wholly personalized setup.
Just opened this fall, the Lakewood Ranch location is headed by Dr. Josette Grice and her husband, Doug. "I'm so excited about it, especially as a physician," Grice says. "People like their own, quantifiable information to follow." Here are a few ways it's different:
Each client receives his or her own USB "Koko key," which automatically updates your activities and body measurements via the machines you use at the club. (If you miss a workout, the computer knows which parts of the body to work on.)
A BMI machine, which uses an imperceptible electrical current to measure your body's fat percentage, tracks fat loss and muscle gain as frequently as you like.
Treadmills and elliptical machines come with audio feedback that can provide motivation or distraction.
Adaptable strength machines offer more than 150 exercises, plus screens demonstrating form and guiding the pace for each rep.
Workouts last no longer than 30 minutes.
Fit coaches are on-site to monitor and correct form as needed.
Workout plans are customized based on individual body specs and goals, as well as protocols for conditions like arthritis, breast cancer recovery or back pain. Plus, short-term "breakout sessions" prepare you for, say, an upcoming ski trip or even your wedding.
Diet plans are based on your daily metabolic rate and goals, including specific recipes, shopping lists and even pantry organizational tips.