Article
Drum Circle Distilling Creates a Local Rum Empire
Troy Roberts has created a rum empire with his Drum Circle Distilling and its award-winning spirits.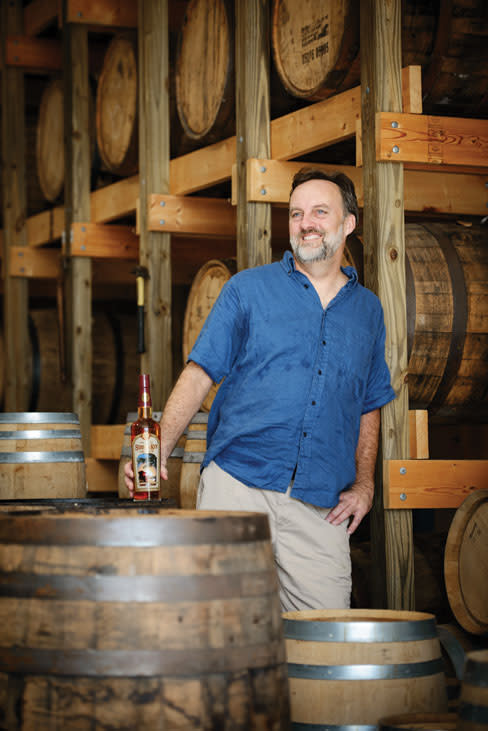 A man and his still. Roberts worked in the dot-com biz prior to opening Drum Circle Distilling, but in 2007, he decided he wanted to do something "more tangible, that involved more creativity." He liked to bake, especially rum cakes, so he briefly considered starting a rum cake company. But after a little research, he realized, "I can make the rum myself—forget the cake!" A few months later, he bought a still, and Drum Circle Distilling was born.
Ingredients matter. Roberts is particular about the ingredients he uses, from molasses made from Florida sugarcane—"I buy the highest grade you can get"—to the flavorings. Siesta Key Spiced Rum, for example, is flavored with honey and real spices as opposed to liquid flavorings; and an upcoming coconut rum, which Roberts has been working on for two years, is sweetened with honey and flavored with 100 percent real toasted coconut. (It's due to hit shelves at the end of this year.)
Award winners. Drum Circle Distilling produces several different varieties of rum, all of which have won awards, but its Siesta Key Spiced Rum has taken home the most prizes. In 2011, it won the prestigious "Best in Class" award at the RumXP International Tasting Competition, and it's been featured in publications like The Caribbean Journal (which named it one of America's 10 best rums for 2014), Wine Enthusiast, Cooking Light and more. And the company's first batch of "distiller's reserve"—only 300 bottles were produced—had people lining up at 5 a.m. "It sold as fast as we could ring it up," Roberts says.
Factoids
Roberts develops all of Drum Circle Distilling's recipes; he runs the business with his two partners, Tom Clarke and Ryan Adams.
Drum Circle Distilling is collaborating with Cigar City Brewing, aging spiced rum in beer barrels to develop unique flavors. Roberts hopes to partner with more local brewers on similar projects.
Want to try before you buy? Distillery tours start up again this month, and Drum Circle Distilling's tasting room is open several afternoons each week.
Drum Circle Distilling, 2212 Industrial Blvd., Sarasota | drumcircledistilling.com
Click here to read past Foodologist interviews. >>
This article appears in the October 2014 issue of Saraosta Magazine. Click here to subscribe. >>