Article
The Blue Rooster's Southern Pecan Pie
Chef Michael Yoder of Sarasota's Blue Rooster restaurant shares the recipe for his Southern pecan pie.
To accompany our July issue review of Sarasota's Blue Rooster, we asked Chef Michael Yoder to give us the recipe for the restaurant's delicious pecan pie. The secret to the house recipe, Yoder revealed, is Steen's cane syrup, which gives it that unique down-home taste. Pecan pie is a quintessential Southern treat—and now you can enjoy the Blue Rooster's version either at the restaurant or at home, whenever you like.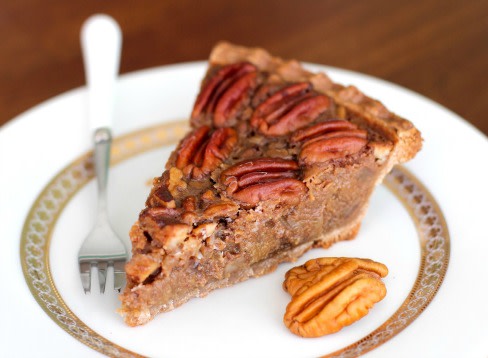 Blue Rooster's Pecan Pie
Start with your favorite homemade, buttery pie crust.
Refrigerate while making filling.
Ingredients
1 large egg
5 large egg yolks
2/3 cups Steen's cane syrup
2/3 cup light brown sugar
1/2 cup heavy cream
1/4 tsp. salt
4 oz. unsalted butter cut into small pieces
1 tsp. vanilla extract
1-1/2 cup pecan pieces
Whisk the egg and egg yolks together in a large bowl and set aside. Combine the cane syrup, sugar, cream and salt in medium sauce pan. Add butter and melt over medium heat. Once butter has melted, continue cooking the mixture until hot but not bubbling, about 1 minute. Whisk the sugar mixture into the egg yolks a little at a time, just until the bottom of the bowl is warm to the touch, then add the remaining sugar mixture. Stir in the vanilla and set aside.
Take pie crust out of refrigerator. Sprinkle the pecan pieces into the piecrust and pour the filling on top. Bake until center has a little resistance, like a soft-centered custard, about 30-40 minutes. Remove from the oven and cool for at least 1 hour before serving.
Best served with buttermilk ice cream.