Article
Chef Judi Celebrates National Cookie Day (With Recipes!)
Chef Judi celebrates National Cookie Day in Sarasota with some of her favorite holiday-perfect cookie recipes.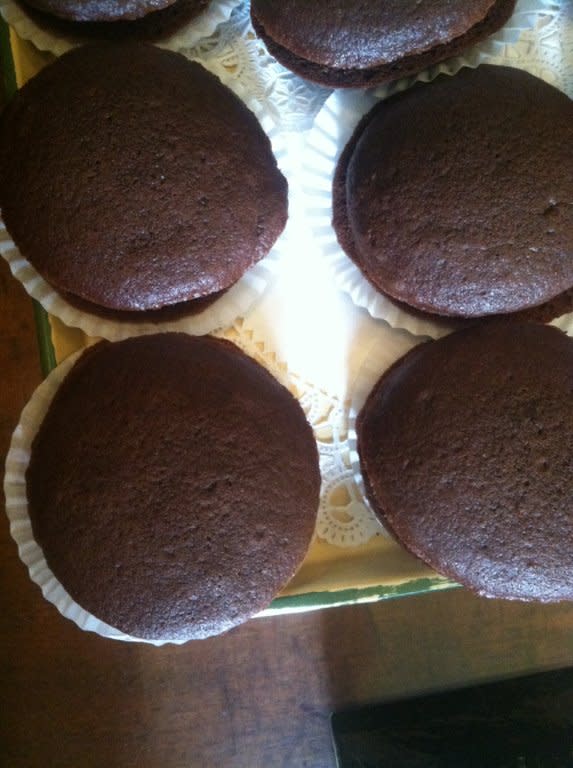 Some would argue that National Cookie Day should be every day! In fact, Sarasota Magazine online editor Megan McDonald is the princess of cookie making. Each year I try and be extra nice so my cookie stash from Megan will be over flowing on the plate.
I am a bit of a cookie know-it-all. I had a dessert company in Boston that focused on mostly cookies. Chewy, gooey oatmeal raisin and crispy, buttery chocolate chip were always in high demand.
[caption id="attachment_26665" align="alignnone" width="488"]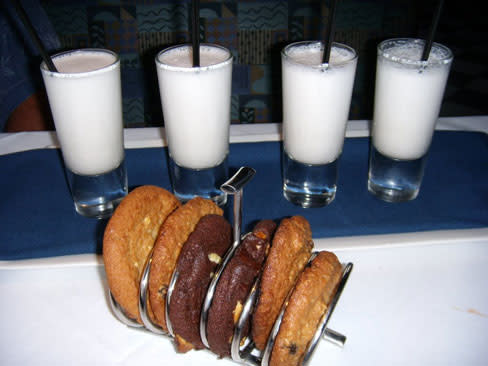 Grown-up cookies and milk.[/caption]
Now, it must be said that I am not a sweets fan, but once a year a pecan sandie can send me over the moon. Tate's in the Hamptons sells its crispy, buttery chocolate chip cookies at Fresh Market. Remove from bag, place on plate and leave flour in a mixing bowl and a few cookies on cooling rack to make it look authentically your own batch!
[caption id="attachment_26666" align="alignnone" width="488"]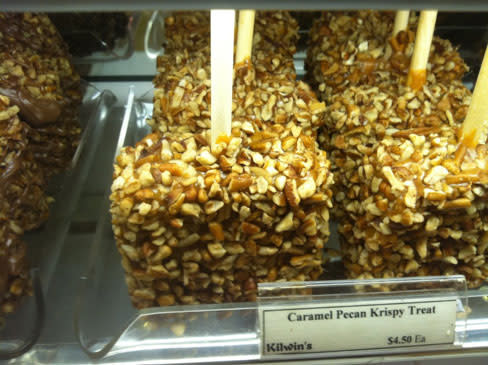 Do Rice Krispie treats count on National Cookie Day? If they are from Kilwin's they sure do![/caption]
So in honor of this festive sugary day of baked goodness I am sharing some special recipes--sorry the oatmeal raisin cookie recipe goes in my will and last estimate to my son, also a chef. I hope you will all share favorite cookies recipes with me, and who knows--you may win a special gift certificate or batch of cookies from me in return!
French Macaroons with Bittersweet Chocolate Ganache
3 egg whites
1 1/4 cups blanched whole almonds (about 7 oz)
1 1/2 cups powdered sugar
1/4 teaspoon salt
1/2 teaspoon Betty Crocker® red gel food color
3 Tablespoons granulated sugar
Ganache
1/4 cup whipping cream
1 teaspoon light corn syrup
2 oz bittersweet or semisweet baking chocolate, finely chopped
1 Tablespoon butter, softened
Fill small bowl half full with hot water. Place egg whites in custard cup or another small bowl; place in bowl of water, making sure water doesn't get into the egg whites. Let stand about 3 minutes or until egg whites reach 75°F. Line 2 cookie sheets with cooking parchment paper or silicone baking mats.
In blender, place almonds and 1/4 cup of the powdered sugar. Cover; blend on high speed 1 to 2 minutes, scraping sides occasionally, or until almonds are very finely ground. Place strainer over medium bowl. Using rubber spatula, press almond mixture through strainer into bowl. Return any almonds left in strainer to blender; add 1/4 cup of the remaining powdered sugar. Cover; blend on high speed 1 to 2 minutes, scraping sides occasionally, or until almonds are very finely ground. Press almond mixture and remaining 1 cup powdered sugar through strainer into bowl; set aside. Discard any remaining large almond pieces.
In another bowl, beat egg whites, salt and food color with electric mixer on high speed just until foamy. Gradually add granulated sugar, 1 tablespoon at a time, beating on high speed 1 to 2 minutes or until soft peaks form. Using rubber spatula, fold about half of the almond mixture into egg white mixture until completely incorporated. Fold in remaining almond mixture.
Spoon batter into decorating bag fitted with 1/2-inch plain tip. Pipe batter in 20 (1 1/2-inch) circles onto each cookie sheet about 1 1/2 inches apart. If tops have a peak, wet fingertips lightly on damp paper towel and press down to flatten. Tap bottom of cookie sheet on counter a few times to flatten cookies. Let stand uncovered at room temperature 30 minutes to allow a light crust to form on tops.
Heat oven to 300°F. Bake one pan at a time 17 to 18 minutes or until tops look set. Cool on pan on cooling rack at least 10 minutes. With metal pancake turner, remove cookies to cooling rack.
In 2-cup glass measuring cup, microwave cream and corn syrup uncovered on High 1 minute. Stir in chocolate and butter until chocolate is melted. Let stand about 30 minutes. Cover; refrigerate about 30 minutes or until spreading consistency.
For each sandwich cookie, spread about 1 teaspoon ganache on bottom edge of one cookie. Top with a second cookie. Store tightly covered.
Chocolate Mexican Wedding Cakes
1 cup butter, softened
1-3/4 cups confectioners' sugar, divided
1 teaspoon vanilla extract
1-1/2 cups all-purpose flour
1/4 cup cornstarch
1/4 cup baking cocoa
1/2 teaspoon salt
1-1/4 cups finely chopped pecans
1/2 teaspoon ground cinnamon
In a large bowl, cream butter and 1 cup confectioners' sugar until light and fluffy. Beat in vanilla. Combine the flour, cornstarch, cocoa and salt; gradually add to creamed mixture and mix well. Stir in nuts.
Shape tablespoonfuls of dough into 1-in. balls. Place 2 in. apart on Ungreased baking sheets. Bake at 325° for 12-14 minutes or until set.
In a small bowl, combine cinnamon and remaining confectioners' sugar. Roll warm cookies in sugar mixture; cool on wire racks. Store in an
airtight container. Yield: about 3-1/2 dozen.
Rugelach (my personal favorite)
2 cups King Arthur unbleached all-purpose flour
1/2 teaspoon salt
1 cup unsalted butter
3/4 cup cream cheese
1/3 cup sour cream
Filling
1/2 cup brown sugar
1 cup walnuts, chopped
1/2 cup raisins
3 to 4 teaspoons cinnamon, to taste
Water for brushing dough
To make the crust, place the flour and salt in the bowl of a food processor. Pulse briefly to combine.
Cut the butter and cream cheese into chunks and add to the bowl along with the sour cream. Pulse until crumbly. Pieces of butter and cream cheese about the size of green peas should still be visible in the dough.
Divide the dough into three equal portions. Wrap well in plastic wrap, pressing each gently into a disc. Chill the dough for at least 2 hours, or up to overnight.
To make the filling, process the sugar, walnuts, raisins, and cinnamon in the food processor until finely chopped and well combined. The filling should feel slightly moist to the touch.
Remove the dough from the refrigerator. Working with one piece of dough at a time, place it on a very lightly floured surface. Roll it to a 10" circle and brush it lightly with water. Use your fingers to spread about 1/3 of the filling onto the round. Press the filling down into the dough gently to anchor it.
Using a pizza cutter or sharp knife, divide the dough into 8 equal wedges. Roll each wedge up, beginning with the wide end and ending with the narrow end. Place the rolls point-side down on a parchment-lined, rimmed baking sheet. Repeat with the remaining two pieces of dough.
Bake the rugelach in a preheated 350°F oven for 25 to 30 minutes, or until golden brown. As the rugelach bake, the butter will lightly fry the bottoms, yielding a crunchy crust and caramelized base. Serve warm with tea or coffee; or cool and dust with confectioners' sugar before serving. Yield: 24 rolls
Yield: 24 rugelach
Alton Brown's Gingersnap Cookies (I thought my own recipe was good until I tried the master's version)
9 1/2 oz. all-purpose flour
1 1/2 teaspoons baking soda
1 tablespoon ground ginger
1/2 teaspoon ground cardamom
1/2 teaspoon ground clove
1/2 teaspoon kosher salt
7 oz. dark brown sugar
5 oz. unsalted butter, room temperature
3 oz. molasses, by weight
1 large egg, room temperature
2 teaspoons finely grated fresh ginger
4 ounces finely chopped candied ginger
Preheat the oven to 350 degrees F.
In a medium mixing bowl whisk together the flour, baking soda, ginger, cardamom, clove and salt.
Place the brown sugar and butter into the bowl of a stand mixer fitted with the paddle attachment and beat on low speed until light and fluffy, 1 to 2 minutes. Add the molasses, egg and fresh ginger and beat on medium for 1 minute. Add the crystallized ginger and using a rubber spatula, stir to combine. Add the dry ingredients to the wet and stir until well combined.
With a 2-teaspoon sized scoop, drop the dough onto a parchment lined half sheet pan approximately 2-inches apart. Bake on the middle rack of the oven for 12 minutes for slightly chewy cookies or 15 minutes for more crisp cookies. Rotate the pan halfway through cooking.
Remove from the oven and allow the cookies to stay on the sheet pan for 30 seconds before transferring to a wire rack to cool completely. Repeat with all of the dough. Store in an airtight container for up 10 days. If desired, you may scoop and freeze the cookie dough on a sheet pan and once frozen, place in a resealable bag to store. Bake directly from the freezer as above.
For more Sarasota restaurant and dining news from Chef Judi Gallagher, click here. >>