Article
Three Champagnes for Summer
John Bancroft picks his three favorite champagnes fror summer.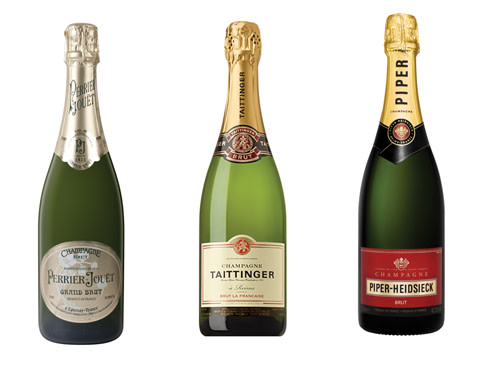 June is a moony sort of month, well suited to the plighting of troths (What a wonderfully antique way of saying I'm all yours, darling!) and the popping of corks in celebration. So let's survey three excellent mid-range Champagnes (with a capital C to distinguish the French treasure from other sparkling wines), each one with its own distinct personality but each one eminently toastworthy.
At about $35, my favorite of the three also is the least expensive. Perrier-Jouet Grand Brut, the very model of a brut, the driest style of Champagne, drinks as if it were more expensive than it is. Torrents of small, persistent bubbles rise in a pale platinum wine, producing a light bouquet of lemon and biscuit. The mousse of bubbles—which carry a lot of a sparkling wine's flavor as well as delighting the eye—delivers crisp, invigorating flavors of light citrus and buttered toast. It is admirably dry first to last, but the finish is downright flinty and ultra clean. This is a beautifully crafted sparkling wine.
Taittinger Brut La Francaise (about $49) is a truly classic and elegant Champagne: delicate, refined and balanced. In the glass thousands of nearly microscopic bubbles spiral up through a pale golden wine. Bubbles swarm the tongue at first sip, yielding a mouth-filling toastiness inflected with just a touch of crisp apple. This beauty finishes long, lively and dry. In addition to its usefulness in toasting newly minted couples, it's a fine companion to a wide range of foods.
Piper-Heidsieck Brut (about $39) departs a bit from the toasty purity of our first two Champagnes by introducing a more fruit-forward style. This golden wine's abundant bubbles burst on the nose with the requisite toast, but then lime and pear chime in. Toast is up front on the tongue, too, but right behind it are pear, lime and quince. The finish is long and buttery with a light note of pear reappearing at the finale. Overall, this is the creamiest of our choices and a good one if you will be serving it to guests just getting to know Champagne.
For more Sarasota restaurant and dining news, click here.