Article
Sarasota's Best Doughnuts
Our panel of judges put their blood sugar levels on the line to find Sarasota's best doughnuts.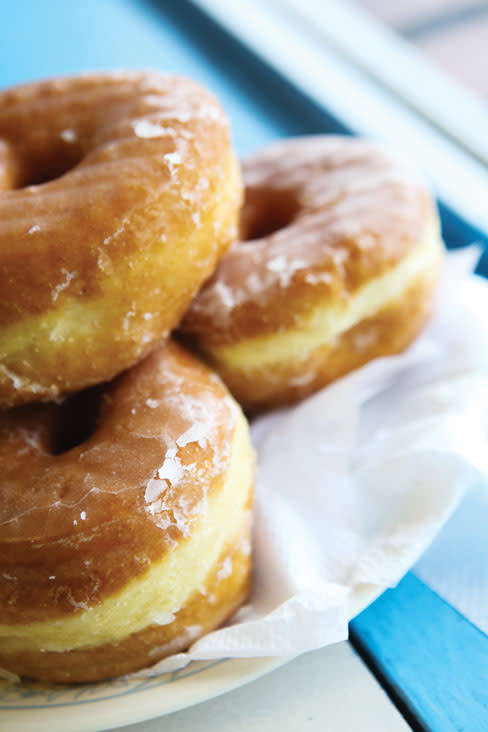 It might not win diet points, but we do love to start off our mornings with a sweet and doughy treat. We asked our 11,000-plus Facebook fans to nominate their favorite local doughnut shops and let our judges—contributing editor Cooper Levey-Baker, associate editor Hannah Wallace, editorial intern Katy Bryan-Beachler and web editor Megan McDonald—put their blood sugar levels on the line to determine Sarasota's best doughnuts.
Best Overall: Goldstar Donut Shop
With a flavor that took us straight back to beloved childhood treats, Goldstar's classic raised glazed doughnut took top prize thanks to its balanced texture, slightly deep-fried taste and smooth glaze.
Best Dough: Der Dutchman Restaurant and Bakery
Everybody exclaimed over Der Dutchman's thick-yet-airy dough. The flavorful doughnut, which has just a hint of spice, makes a perfect foundation for any glaze or topping.
Best  Specialty Flavor: Yummies Donuts & BBQ's Glazed Florida Orange Blossom
This ultra-local flavor puts a tasty twist on Florida citrus. Its tangy orange blossom glaze is the perfect adornment to an already delicious delicacy.
Best Toppings: Anna Maria Donuts
With a topping bar including 14 different choices that range from Fruity Pebbles to bacon, the possibilities for a delicious doughnut encounter are endless. It doesn't hurt that Anna Maria Donuts' cake doughnut base is delicious, either.
Click here to read past Sarasota's Bests, including cupcakes, burgers and margaritas. >>