Article
From the Editor: Bragging Rights
Some "bests"--and "worsts"--that our fair city has won in recent years.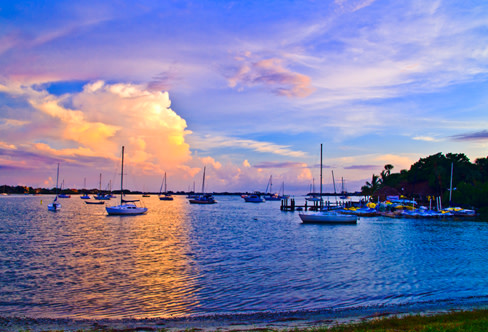 Civic pride is one thing, but here in Sarasota we take it a whole lot further. Consider this month's "Best of Sarasota" readers' poll. Thousands of you flooded our website with 3,366 nominations—a new record—in 72 different categories. In addition to your picks, our editors convened at Phillippi Creek Oyster Bar on a beautiful spring day to choose the "Best of the New." In that dazzling setting (imagine birds diving over aquamarine water and a table crowded with a guilt-inducing array of fried oysters, fish tacos, ahi tuna, steak salad, Key lime ice cream and more), we filled an entire notebook with 42 brand-new reasons to brag about this town. (You can see all the winners here.)
We see the same passion for this place on our Facebook page. A picture of the sun setting over Bayfront Park can spark more than 600 "likes" and get shared scores of time within the first hour after we post it, and fans in far-off cities love to tell us, "I'll be there soon—counting the days!"
Bragging about Sarasota is nothing new, of course, and Jeff LaHurd at the Sarasota History Center points out that most of that bragging has been done to sell real estate. Back in the early 1900s, way before readers' surveys and social media, boosters came up with slogans ("The Air-Conditioned City," " Land of Glorified Opportunity," "America's Winter Sun Parlor") designed to attract new residents. The chamber of commerce organized an annual Postcard Day, enlisting citizens to send cards with alluring local images to friends and relatives up North. The town's first radio station, WJBB, was actually a marketing arm of the chamber and would often broadcast from the circus winter headquarters. Depending on atmospheric conditions, the roar of the lions and laughter of the clowns could reach people in the Midwest and even farther.
Nowadays, we don't need to rely on locals to tell the world how great Sarasota is. The national media have come up with a zillion different ways to rate cities, from Best Place to Retire to Most Drunken City in America . Sarasota shows up in scores of those rankings (and if they're positive, which they mainly are, they then show up on scores of local realtors' web sites). Here's a look at just some of the superlatives our city has garnered in recent years. (Many individual places and organizations have also earned top rankings, including Siesta Beach, named "America's Best Beach" in 2011.)
---
2000
No. 1 "Best Small City in America," Money
2001
"Top 25 Terrific Places to Bring up a Family," Mothering magazine.
2007
Second-best of "Best Places to Start a Small Business," Bizjournal.
Third-best of "Best Mid-Size Cities," Inc. magazine.
Seventh-best of "Best Places to Retire Young," Money
2011
"Best Place to Buy Real Estate," Today show
"Best Place to Mix with Artists and Athletes," Men's Journal
2012
"Best Place to Retire," TopRetirements.com
No. 1 of "25 Best Arts Destinations," American Style
"Best Place to Buy a Second Home in the Western World," International Property Journal
2013
No. 2 of "10 Best Undervalued Places to Live," U.S. News and World Report
No. 2 of "Best Romantic Places in Florida," Trails.com
---
It's not all roses and plaudits, though. In the last decade, we've been zinged as the Meanest City Toward the Homeless (2006); the second-worst city for jobs (Forbes, 2012); the third-worst Hurricane Hotspot (2013, Sperling's Best Places); the sixth-most [economically] Miserable City in America (2011, Brookings). And a few months ago The Atlantic declared we're the very worst city for college-educated women to find a decent date.
Well, we all know that polls don't always come out as you'd hoped. I remember back in high school when we chose our Senior Superlatives. I would have killed to win "Most Popular" and would have even settled for "Most School Spirit." But much to my chagrin, I, along with the geeky guy with the big black glasses who always helped operate the film projectors in class, was forever stigmatized as "Most Intellectual" instead.
Read more of Pam Daniel's "From the Editor" columns here.