Article
The 5 Best Things We Ate This Week
Our panel of experts share their top five picks on the local dining scene this week.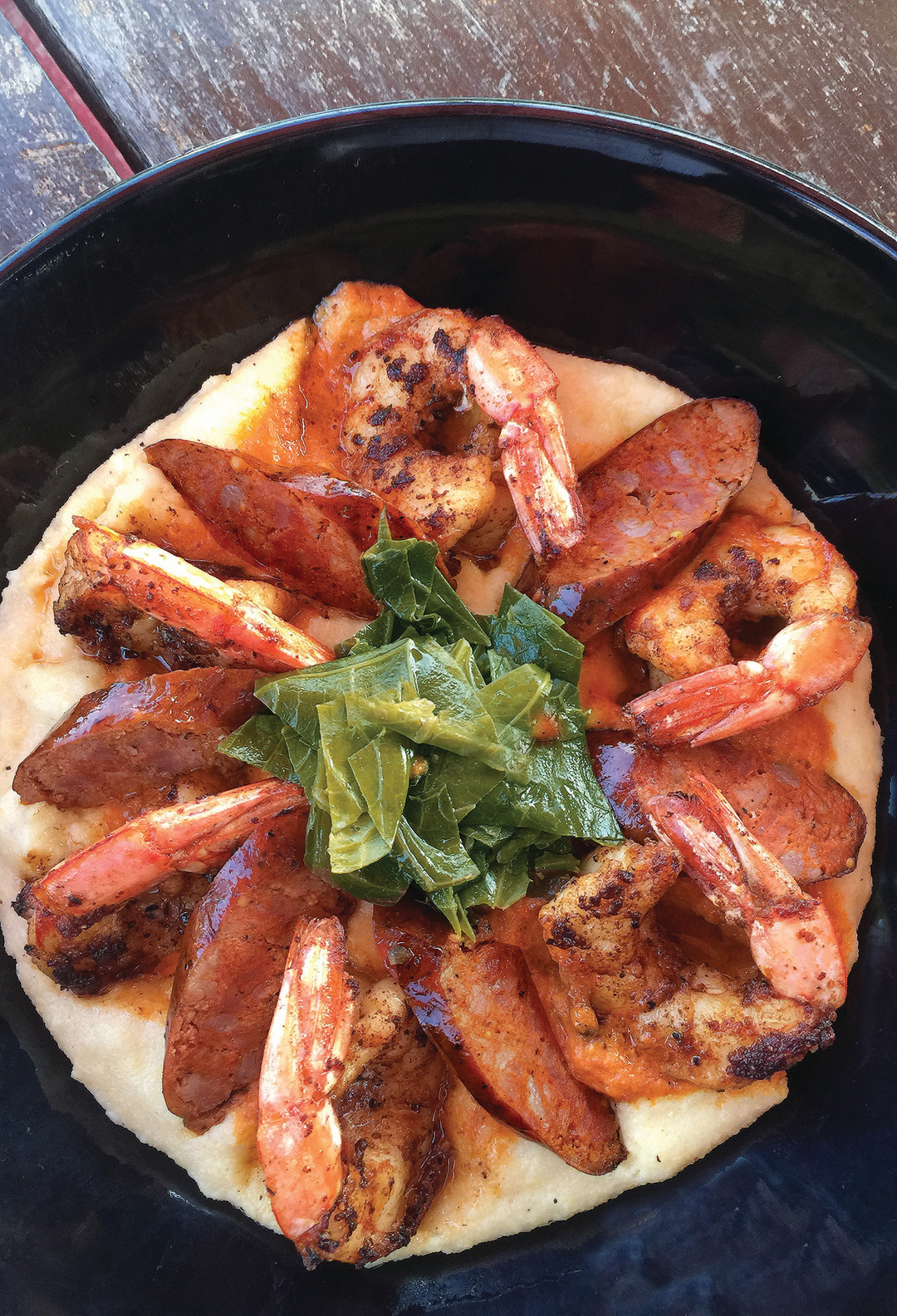 Our panel of food experts share their top five picks this week.
Shrimp and grits, a Southern classic (pictured above), is a Nancy's Bar-B-Q special on Friday and Saturday nights. Six moist, tender jumbo shrimp are sautéed to order, served atop creamy grits with local collard greens, then garnished with Texas hot link sausage, local collard greens and a splash of Southern red gravy w/ bacon.
Octopus is the trend seafood of the season and a variety of restaurants in the area do a great job with it, chief among them Pino's ($9.99). Chef Pino marinates the octopus in a special house blend, then steams it and finishes it on the grill for a bit of flavorful crustiness.  This octopus is fork tender and full of flavors such as garlic, oil, tangy spices and the tastiness of the octopus itself. It's offered as an appetizer and you could share it—but don't. You want this dish all to yourself.
The maple bacon doughnut from La Dona Donuts has become something of a cult favorite locally, and for good reason: it's a moist cake doughnut with maple syrup and bacon glaze, topped with chunks of real maple bacon. And good news for doughnut lovers: La Dona Donuts owner Chelsea Elliott just opened up a shop at 4567 Bee Ridge Road in Sarasota.
Macaroni and cheese might not be the first thing that comes to mind when you think of bar food, but it should be when you're visiting World of Beer on Main Street. Big enough to share, WOB's version has a perfectly browned, crisp top with a warm, gooey layer of spiced pepperjack cheese and shell-shaped pasta underneath. It's then topped with crispy bacon and herbed bread crumbs, and it pairs perfectly with hearty brown ale. $6.50. P.S. Keep an eye out for more great mac and cheese options in our October issue.
Patrick's on Main Street in downtown Sarasota is known for its burgers, and we're partial to the bacon cheeseburger, which is big and juicy and topped with lettuce, tomato, onion and pickles. And here's a bonus for burger lovers: Through the end of September, you can get a burger with fries or coleslaw for just $5 (plus $.50 for each extra topping) with the purchase of a drink. What a deal!