Article
Junior League Legacy Luncheon: Anna Quindlen
Thoughts on reading, writing and democracy from the bestselling author.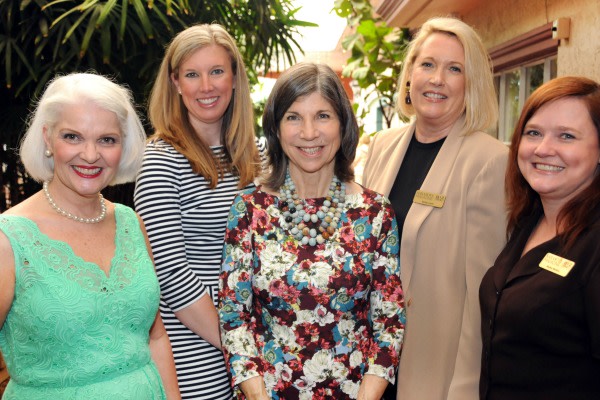 By Kay Kipling
Pulitzer Prize-winning writer Anna Quindlen delighted a packed room at a luncheon Wednesday with stories about her own career and her reasons for finding hope for democracy in the seemingly simple acts of reading and writing.
The 13th annual Junior League Legacy Luncheon held at Michael's On East (of which Sarasota Magazine was a sponsor) welcomed Quindlen, a longtime writer for The New York Times and Newsweek who has also had 12 of her books appear on The New York Times best seller list. Quindlen told the sold-out audience that her fascination with the written word started when, growing up in the 1950s and '60s outside of Philadelphia, she was "a wild and curious little girl who had no venues for her dreams," living in a neighborhood where all the men worked and had the power, while the women stayed home. In the seventh grade her librarian gave her Jane Austen's Pride and Prejudice, "the closest I ever came to a 'eureka' moment," she said, with a realization of the power writers—even women writers—could have in an era where one of her college instructors told Quindlen that Austen was a "second-tier" author.
Quindlen has immersed herself in reading ever since, with some of her other favorites literary giants like Tolstoy, Faulkner and Charles Dickens ("Every summer I reread a Dickens work, to appreciate again both his social conscience and his ability to tell a story)" and more modern names such as Russell Banks, Richard Price, Amy Bloom, Alice McDermott and Don DeLillo. "The people in books were more real to me than the people I knew," growing up, she said. "I lived within the covers of my books." And, of course, she eventually became an author herself, while admitting, "I hate to write. I have to force myself every day to sit down and write. In fact, that's the advice I most often give aspiring writers—'butt in chair.' I tend to be most productive between 9 and 3 every day, and whenever I stop for the day, I stop mid-sentence. I figure that the next morning, starting a whole new sentence or paragraph might be too much for me to bear, but I know I can at least finish a sentence."
Realizing that books can be "dangerous things," she adds, explains why the Nazis burned books and why it was forbidden to teach slaves before the Civil War to read. "Reading is the ultimate democratic act of a democratic nation," Quindlen said. "It's as dangerous to cut library budgets as it is to cut the defense budget. And please don't complain to me that your kids don't read if you don't. We all need to be librarians for the kids in our own lives. We have to bring kids to reading—for their good and the good of our country. By the way, the American Library Association's annual lineup of the books most frequently banned is a great reading list.
"Could I give up writing?" Quindlen asked rhetorically. "In a heartbeat. Could I give up reading? Never."