Article
RIAF 2013: Rocio Molina
Arts editor Kay Kipling on Rocio Molina's opening night performance.
By Kay Kipling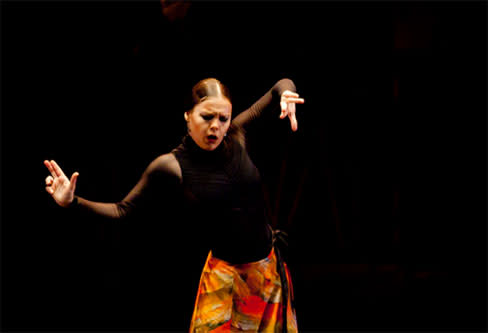 The fifth annual Ringling International Arts Festival (the last under the artistic direction of the Baryshnikov Arts Center) kicked off Wednesday night with a cocktail reception in the Ringling Museum's Gatehouse Patio (a new location for the event, just outside the Visitors Pavilion) and a performance by award-winning dancer/choreographer Rocio Molina.
Flamenco is the tradition under which Molina, who's accompanied by three musicians here, works. But she adds her own contemporary touches to this long-established art, as the pieces on display at the Mertz Theatre show.
The evening is titled Danzaora y Vinatica; the first is a word Molina made up to describe herself as a more expansive dancer than "bailaora," the more usual flamenco term. And Vinatica? Well, that relates to a frequently appearing glass of wine and the wine bottle attached to a leash of sorts she pulls around the stage early on.
In fact, Molina begins her performance as the audience is still filing in, simply by standing still, her back to us, with that glass in one hand and some very subtle, slow movements of her feet and hands. The first few minutes, indeed, feature no music and little enough movement of any kind, but just wait: There will be fireworks and yes (spoiler alert), that glass will get smashed by a well-aimed foot.
Molina does eventually move more into what most of us will recognize as flamenco moves, with much hand-clapping and foot-stomping as she's accompanied by singer Jose Angel Carmona, guitarist Eduardo Trassierra and hand clapper Jose Manuel Ramos. But in any case, she's telling stories here—perhaps semiautobiographical, perhaps not. Much of what you see is open to personal interpretation, but it's intriguing and often beautiful to watch.
There are moments when Molina dominates the stage with only her own body and a lit-up tambourine; there are moments when she engages in what seems a fierce competition with one or another of the male performers, as in a back-and-forth, tough-on-the-knuckles pounding on a pedestal—a sort of call-and-response with no vocals.
Through it all, Molina's passion and intensity are clear enough. Whether subtle or dramatic, the expressions of her hands, her feet, her face and her entire body are assured and eye-catching. And the audience on opening night rewarded her and her companions onstage with a standing ovation.
Molina performs again today at 1 and 9 p.m. Next up for me: the Belarus Free Theatre's Minsk, 2011: A Reply to Kathy Acker.