Article
The Players' Crazy for You
Arts editor Kay Kipling reviews the Players' big musical, Crazy for You.
[caption id="attachment_1028" align="alignnone" width="488"]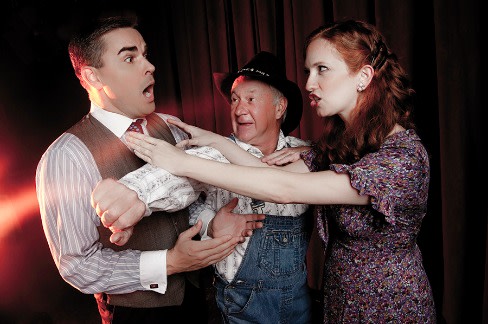 Logan O'Neill, Jay Bowman and Kathryn Parks in Crazy for You.[/caption]
By Kay Kipling
When you think about it, the challenges for a community theater putting on a large-scale musical—and one that requires a lot of dancing as well as singing—are enormous. That's in part because with three area community theaters working overtime to produce shows, often in the same time frame, there's only so much talent to go around.
Luckily for the Players, they snagged some versatile thespians for the current show, Crazy for You. This George and Ira Gershwin musical, with some major tweaking to the original 1930s book by Ken Ludwig, is heavy on dancing as well as delivery of a lot of famed Gershwin tunes, but the cast here, by and large, makes it look easy.
That cast is led by Logan O'Neill as Bobby Child, a New Yorker who's supposed to be a banker but finds his heart lies in dancing on the stage. Torn between his domineering mother (Donna DeFant) and pushy fiancée (Lindsey Nickel de la O), Bobby heads to the wide open spaces of Deadrock, Nevada, to foreclose on an old theater property and promptly falls in love with the only girl in town, Polly (Kathryn Parks). So, naturally, he comes up with a scheme to save the theater by putting on a big show, while assuming the persona of Ziegfeld-like Broadway producer Bela Zangler (who's played by Chip Fisher).
Will the plan work? Will Bobby and Polly get together? Will a blend of showgirls and cowboys tap their way to applause? You betcha.
[caption id="attachment_1029" align="alignnone" width="488"]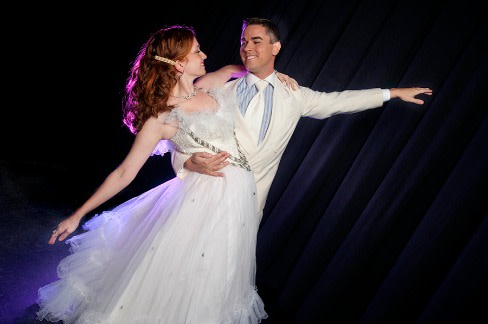 Dance duo Parks and O'Neill.[/caption]
O'Neill and Parks are a nice pairing, both comedically and on the dance floor, with O'Neill especially looking exuberant on numbers like Nice Work If You Can Get It and I Can't Be Bothered Now. (The abundant song list actually springs from several Gershwin shows.) Director Jared Walker and choreographer Kyle Turoff have staged the show to run swiftly and smoothly (thanks also to Kirk V. Hughes' adaptable set design), with ensemble numbers including Slap That Bass and the Act I closer, I Got Rhythm, especially vibrant and fun.
Fisher and O'Neill are also a good comic duo on the mirror-like actions leading into What Causes That?, as both "Zanglers" get drunk. Musical director Joyce Valentine and her orchestra never let the pace flag. And Players artistic director Jeffery Kin gets to score onstage for once as hard-luck saloon owner Lank Hawkins, with the S&M-tinged duet Naughty Baby (with Nickel de la O) a highlight.
With lots of Broadway and Western-style costuming (by Ken Mooney), big dance numbers and sharp comic timing required here, Crazy for You is a big undertaking, but it's one that the Players pull off, and you should enjoy it. Originally set to run through Nov. 3, some shows have been added Nov. 9 and 10; call 365-2494 or go to theplayers.org.