Article
Ringling International Arts Festival Tangram
Arts editor Kay Kipling on the talented duet of Tangram.
By Kay Kipling
The 2014 Ringling International Arts Festival commenced Wednesday evening, with several performances to choose from around the Ringling Museum campus, followed by a party in the courtyard (more on that in a minute).
[caption id="attachment_1741" align="alignnone" width="488"]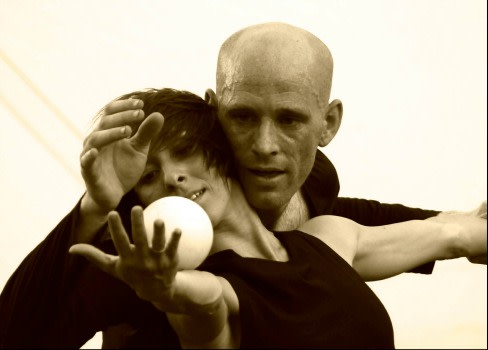 Cristiana Casadio and Stefan Sing in Tangram[/caption]
My ticket for the evening was to Tangram, featuring performers and co-creators Cristiana Casadio and Stefan Sing. Billed as a piece redrawing "the boundaries between classical dance and circus," this was an extended pas de deux—accompanied by an ensemble of small white balls, occasionally juggled by Sing, and often moved around by various parts of the body by both Sing and Casadio.
Tangram tells a story, in its way, of a relationship in various stages, from the first tentative moves (the pair is at first separated by a line of those balls, until Sing lobs one into Casadio's territory) to intimate moments of happiness to competition over possession of the round objects to anger, desolation, and, eventually, a sort of rapprochement. It's actually quite amazing, and certainly compelling, to see what this duo is able to do with just their own bodies, the balls, some occasional music and lighting changes; their choreographed movements are precise, telling and impeccable.
Tangram lasted about an hour, but it never felt too long to me, and I was awed by how smoothly the two worked together. Casadio, in particular, demonstrates a physical talent matched by an ability to convey much in her facial expressions and every move.
[caption id="attachment_1742" align="alignnone" width="488"]
Bolero Sarasota. Photo by Rebecca Baxter[/caption]
Adjourning to the museum courtyard immediately after, there was soon movement of another type on display, with choreographer Larry Keigwin's Bolero Sarasota. Here, locals, mostly probably without much dance training, were led in a dance parade through the walks of the courtyard by some of Keigwin's company's professionals. But whatever the skill levels, it was a lot of fun to see Keigwin's interpretation of Sarasota's character to Ravel's classic score, featuring inflatable pink flamingoes and palm trees, beach umbrellas and towels, unicyclists, skimpy bathing suits and, ultimately, beach balls launched into the air at the same moment as fireworks began exploding behind and over the statue of David. Colorful, pleasurable, and a nice way to start the RIAF week.
[caption id="attachment_1743" align="alignnone" width="488"]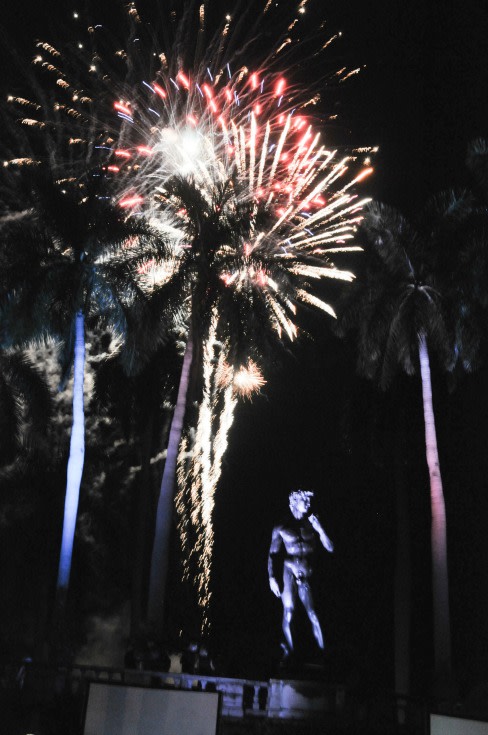 Fireworks at RIAF Photo by Rebecca Baxter[/caption]
More to come on RIAF shows tomorrow.