Article
A Preview of Ringling International Arts Festival 2014
Actor Christopher Lee Gibson explains how a radio drama/graphic novel mashup will entertain at RIAF.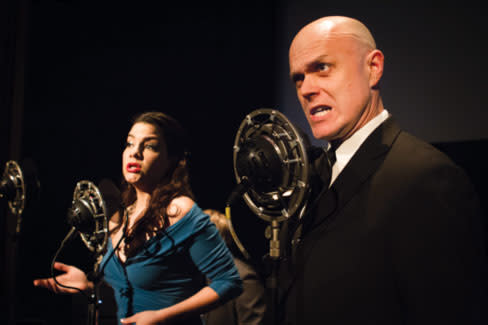 As the old Monty Python shows would have put it, "And now for something completely different." That's what audiences will get during the Ringling International Arts Festival with performances of The Intergalactic Nemesis, Book One: Target Earth, a unique blend of live radio drama (with music) and graphic novel visuals playing at the Mertz Theatre. How does that work, you might ask? We queried actor Christopher Lee Gibson, who essays a host of characters in the fast-moving sci-fi piece (onstage Oct. 16, 17 and 18; 360-7399 or ringling.org for tickets) about just that.
Q. How did this mix of genres come about?
A. The development was a long process. It was originally conceived, 15 years ago, as a radio play that was played in a coffee shop. It was recorded and aired on radio; then it evolved into a stage radio play we toured out of our home base in Austin. When the economy tanked, [co-creator] Jason Neulander came up with the brilliant idea of combining the play with the graphic novel he was working on, and the whole piece underwent a sea change. The play itself had not been geared to children, although it was acceptable for them, but with the new visual appeal, kids just loved it.
Q. That broadened your audience?
A. Right. Radio drama had a narrow appeal, but with the introduction of the comic book we engaged a younger and in some ways more nerdy sci-fi audience, too. No offense meant there; we're nerds ourselves. If anyone is a fan of Indiana Jones or Star Wars, they're going to love this show.
We find that kids hear about the show through school programs, and then a parent or grandparent ultimately brings the kids to see it. The kids are excited, and the parents or grandparents are very grateful. After every show we sign autographs, and a lot of people stick around for that.
Q. I know there are three actors playing a wide variety of roles in the show [which centers on a reporter, her assistant and a librarian dealing with an impending invasion of sludge monsters from the planet Zygon]. Are you the librarian?
A. I am, and in Book One—we actually have three shows in the series—I get the lion's share of the lines. I also play an evil genius, a spy, a couple of robots…in one scene I get to be the hero and the villain both.
Q. Sounds fun but challenging.
A. Exactly. I've spent my life as a professional actor, with the training to do stage plays, but here the vocal training is especially  important. I have to do a substantial vocal workout before every show and then pace myself like a singer, with a certain rhythm, because we get no breaks onstage and it's a pretty rigid schedule as to when we get a drink of water. We're going full-bore out there; I'm sweating within the first five minutes.
For more Sarasota theater news, click here to read our On Stage blog. >>
This article appears in the October 2014 issue of Sarasota Magazine. Click here to subscribe. >>