Article
Singer/Songwriter Meklit Hadero to Perform at Ringling This Weekend
Hadero will perform a selection of songs from her new album, "We Are Alive," to be released in March.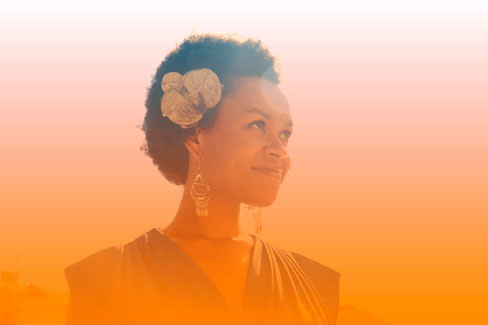 You may recognize Meklit Hadero's name from her stint at the Ringling International Arts Festival three years ago; the singer made waves here for her jazz-tinged songs heavily influenced by her Ethiopian heritage. Now she's back for two days of performances as part of The Ringling's nowHERE New Stages series, where she'll perform songs from her new album, We Are Alive, which will be released in March.
We spoke to Hadero by phone from her home base in San Francisco to find out more.
You studied political science at Yale. How did you transition to your career path as a musician?
When I was at university, I knew that what I really wanted was to understand the complexities of the world; to come up with processes for learning about and analyzing it in a way that was relevant to life—and also to learn to write [well]. Learning to write was the biggest gain from my college education because I use it every day—I've developed a relationship to language that deeply permeates my work.
After university, I moved to Seattle, but even though I loved the west coast, I didn't really like the rain—I felt soggy on the inside all the time. So I decided to move to San Francisco and just give it a try. Once I was there, I met a lot of artists through the Red Poppy Art House who were deeply engaged in creating work relevant to the world, and that allowed me to find a path that was different than being a pop artist or a coffee shop artist. That's when I really started taking music seriously; I was 24 at the time.
How does your Ethiopian heritage inspire your music?
I listen to a lot of Ethiopian music and I go back at least once a year. What I've always loved is the very emotive style of singing that comes out of the traditional music—the emotion is carried on the vibrato. So I try to bring that approach into singing in English. I'm interested in seamless integrations—places where you're like, "Wow, that sounds different, and I'm not totally sure why."
And I'm involved in the Nile River Project, an initiative I originated with a musicologist from Egypt that began while we were thinking about our lack of access to each other's cultures. There's a lot of tension over how the water is shared. We want to use music as a positive vehicle for knowing each other better; it's a real three-dimensional approach to water and music and education and ecological consciousness. Right after I leave Sarasota, in fact, I'm going to Uganda for a residency where I'll be with musicians from across the Nile basin.
Can you describe your creative process?
It's often related to practice. If I'm practicing, I'll have an idea—I'll spend an hour with my guitar, doing my regular exercises, then I'll try something and think, "Oh, that's kind of good; oh wait, maybe that's something." And maybe it turns into a song. Sometimes I get certain phrases with a melody in my head, and I'm like, "Oh, that's a song, let me follow that." In some ways, the more unconscious it is, the better. For me, the most creative time is right when I wake up, when I'm not totally awake. The worst thing I can do is go straight to my email and cut off the natural, healthy swell of creativity that can happen when you're just coming out of dreamland.
You performed in Sarasota as part of RIAF 2011. How did you and the Ringling reconnect for this series of performances?
When I was here in 2011, I was playing a song called Walk Up that's inspired by James Turrell's Skyspace at the DeYoung museum. I was in residency there in 2009 and spent all day, every day writing songs in the Skyspace and doing acoustic performances. So Dwight [Currie, associate director for museum programs] and I really connected about that, because of course at that time The Ringling Skyspace was under construction. And then it kind of blossomed from there.
What can attendees of these performances expect?
They'll be a preview of the album. Audiences will be getting to hear the songs before anyone else. And it's really wonderful to be able to do that in front of audiences as thoughtful, open and curious as we've found the ones in Sarasota to be.
To purchase tickets to one of Hadero's performances this weekend, click here. >>
Click below to watch the music video for Hadero's single "Leaving Soon."
[iframe][/iframe]