Article
Four Tips for Throwing a Summer Party from Jack Dusty and Napa Valley's Newton Vineyards
Four tips for your summer party's from Sarasota's Jack Dusty and Napa Valley's Newton Vineyards.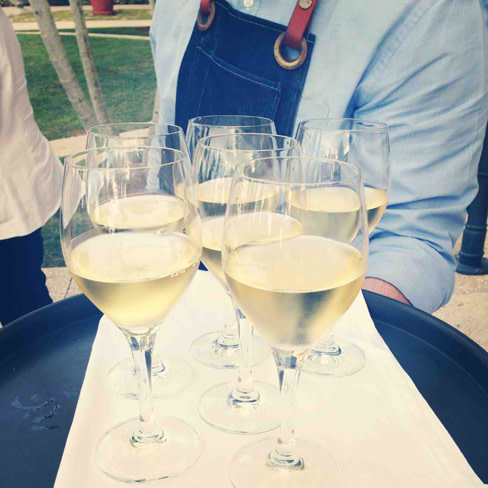 If you're looking for summer dinner party ideas, you may want to take a cue from The Ritz-Carlton, Sarasota, Magnum Wines and Moet Hennessy. Their recent wine dinner, featuring a rousing game of bocce ball and libations from Napa Valley's Newton Vineyard paired with Jack Dusty's seafood-centric cuisine, was the perfect way to kick off Florida's summer season, and we came away with a wealth of tips for hosting our own summer gatherings—as well as a list of great new wines to add to our collections.
[caption id="attachment_1118" align="alignnone" width="488"]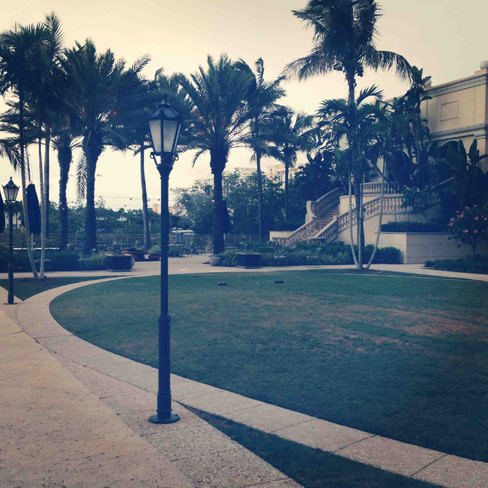 The Ritz-Carlton, Sarasota's bocce court.[/caption]
Tip No. 1: Begin with a game (in this case, bocce)
There's no better ice breaker than a game—and if you've never played bocce before, we recommend doing so with a glass of chardonnay in one hand; you'll loosen up in no time. In this case, the chardonnay was a smooth, buttery, unfiltered one from Newton Vineyards that went down easily and was happily refreshed by servers between each round of the game. As the sun went down over the Ritz-Carlton's bocce court, bathing the entire scene in golden light, all of the guests visibly relaxed.
[caption id="attachment_1119" align="alignnone" width="488"]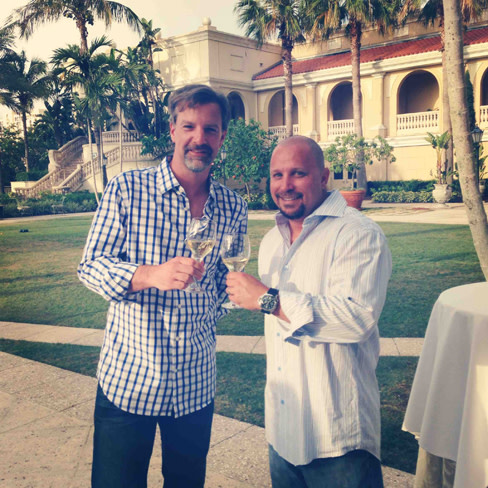 Chris Millard of Napa Valley's Newton Vineyards and Heath Cordes of Sarasota's Magnum Wines.[/caption]
Tip No. 2: Gather everyone 'round one table
There's really nothing that brings people together more than gathering around a table for food. This time, we all took our seats at a long communal table, with the guest of honor—winemaker Chris Millard, whose Newton Vineyard wines we were sampling—sitting near the middle so he had a chance to speak with everyone. And the conversation flowed easily, alternating between smaller pockets of people and the group as a whole. Millard, in particular, was easy to talk to—especially when he spoke about his love of wine, which began after a trip to France in high school.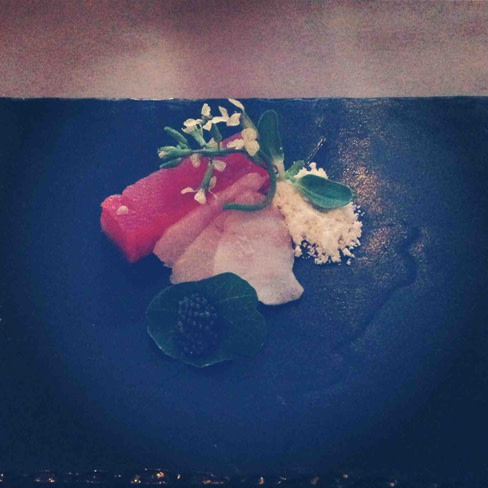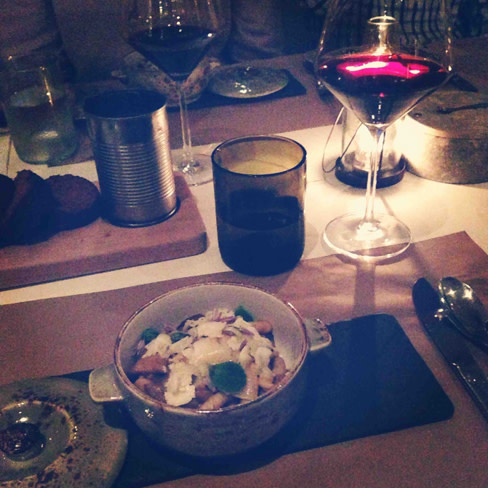 Tip No. 3: Match your food and drink to your setting/theme.
Jack Dusty serves "coastal cuisine," meaning its menu features an abundance of seafood dishes—and that makes sense, since there's a nautical theme throughout the restaurant and a beautiful view of Sarasota Bay from its terrace. So we began with an appetizer of cobia sashimi, smoked watermelon, Mote Marine caviar, salmon roe, tomato gelee, arugula flowers and Meyer lemon powder, and each dish—including the smoked quail pasta course, lamb entrée and chocolate-raspberry mousse dessert—was served on black basalt plates and accompanied by utensils that featured nautical details, like forks and knives with fish fins.
The wines accompanying the dinner were from Newton Vineyard, as well: We tasted a second unfiltered chardonnay with the appetizer (a 2010 vintage; bolder than the first), an unfiltered 2010 merlot with the quail pasta, an unfiltered 2010 cabernet sauvignon and a vintage 1993 cabernet sauvignon with the lamb, and Newton's 2008 Puzzle—a varietal blend of hand-selected grapes—with dessert. Each glass complemented the dish it was served with, but—as Millard said—was certainly bold enough to stand on its own.
Tip No. 4: Let the party linger.
It's summer—the vibe is more relaxed now than any other time of year. Our dinner began with bocce at 6:30 and went on well past 10:30, and all of the guests relaxed in their chairs, sipping wine and enjoying each other's conversation. And when it comes down to it, that's how you know a party's been a success.
If you'd like to try any of the wines mentioned in this post, contact Magnum Wines at (941) 929-WINE or visit www.magnumwinessrq.com
Read about food editor John Bancroft's three favorite summer champagnes in our June issue.