Article
Vintage Sarasota: Entrance to the Ringling Bros. and Barnum & Bailey Circus
Take a look: this is the entrance gate to the Ringling Brothers and Barnum and Bailey Circus ca 1927-1960.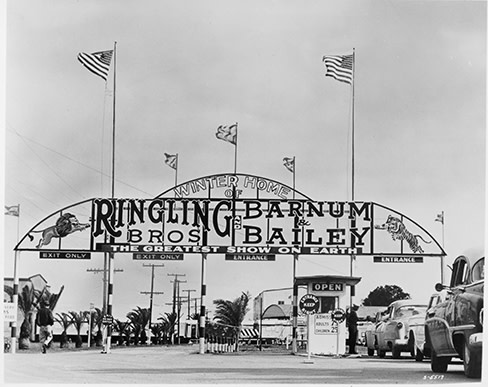 Entrance to the Ringling Bros. and Barnum & Bailey Circus (1927-1960). Regarded as Florida's number 1 tourist attraction prior to Disney, the Ringling Bros. and Barnum & Bailey Circus is billed as "the greatest show on Earth!" Originally, the Ringling brothers, Phineas Taylor Barnum, and James Anthony Bailey ran their own individual circus shows. Following the deaths of Barnum (1810-1891) and Bailey (1847-1906), the Ringlings purchased the Barnum & Bailey Circus and merged the shows into a single event in 1919. The circus presents two tours-- the Blue Tour and the Red Tour--that travel by train every two years, and as of 2004 the truck-based Gold Tour, which presents only a single-ring version of the show. -- Chelsey Lucas
Photo courtesy of Sarasota County Department of Historical Resources.