Article
The Next Generation of Philanthropists
Meet four young people who are embracing philanthropy.
Boomers and beyond may dominate Sarasota's flourishing philanthropic landscape. But don't discount the growing numbers of young people who are rolling up their sleeves and tackling a range of social and civic issues.
Sarasota's next-generation philanthropists are passionate about the causes they believe in. Maybe because they're busy focusing on careers and child-rearing, their nonprofit organizations of choice tend to focus on underserved families.
Case in point: the juggernaut Wine, Women and Shoes fund raiser, which in nine years has netted $1.2 million for Forty Carrots Family Center to help fund hundreds of free parenting classes for at-risk families. The secret to Wine, Women and Shoes' success is a no-brainer, says organizer Minta Getzen: "The important work Forty Carrots does is alluring to mothers. They really get it because they're living it every day."
Everybody agrees that the act of giving is personally fulfilling. ("It's enriched my life far more than I've enriched anyone else's," says Terri Vitale, one of the young philanthropists profiled in this story.) But here's another benefit: When young parents are committed to helping others, they raise conscious kids. "We talk with our friends about how to ensure that our children don't live in a bubble," says Mindy Rollins, co-owner of Black Bird Home Gallery and an active giver with her husband, Wayne. "If you want well-rounded children, expose them to other situations."
Are the young philanthropists we talked to the exceptions that prove the rule? No, indeed, says Vitale. "I am just one of many, many young philanthropists in this community," she declares. "When we go to events and look around boardrooms, they're filled with people with young children. We're all so busy, but they motivate me to do more."
Mindy and Wayne Rollins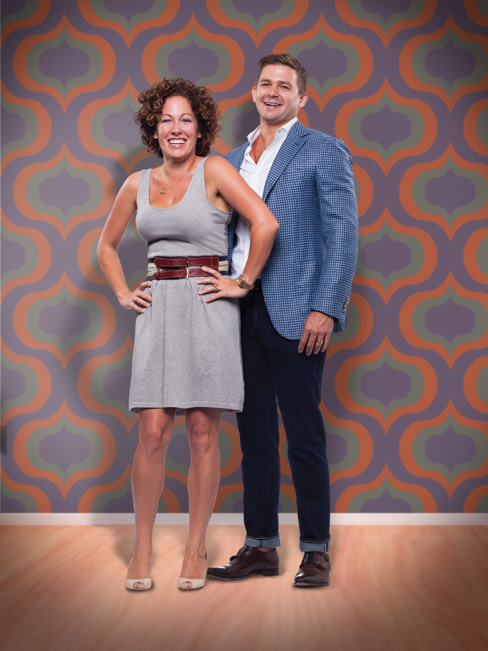 Mindy and Wayne Rollins, both 39, were searching for a progressive small community with big-city culture when they moved here from Los Angeles in 2008. "When we saw Sarasota we thought, 'This is it,'" says Mindy. Busy retailers (they own the chic Sarasota Black Bird Home Gallery) and parents of a four-year-old son and 20-month-old daughter, the Rollinses still carve out time for causes they care about—they've chaired big galas for Children First and Selby Gardens, where Wayne serves on the board. Because they're passionate about exposing youngsters to nature, they also gave a significant gift to the new Selby Gardens Children's Rainforest Garden.
(Wayne): "During school, I worked summers for [the Rollins family business] Orkin. We sprayed low-income housing, and I saw some of the unbearable situations people lived in. We'd always do more than what was expected. That was the first time I saw I could affect somebody with a simple gift."
(Mindy): "We primarily support children's causes. It's profound to realize how the small differences we help make in the life of someone at an early age can significantly affect the course of their lives. "
(Wayne): "We teach our kids that everybody's important." (Mindy): "Our son always stops [in a book] where it says some people are poor, and asks, 'What do you mean, they don't have toys or food?' We explain that we're lucky enough to have the things we need, but some people don't."
(Wayne): "The one thing we don't have a lot of is time. We're a good example of the middle ground you can do when you're 39. I would raise money [for children's causes] all day if I could." (Mindy): "It's selfish. It makes us feel good to be able to influence someone in a positive way."
(Wayne): "It doesn't take monumental money to give back. There are a lot of small things you can do to make a big difference. Find a passion and give your all to it, whether it's time or money."
Minta Getzen
Minta Getzen, 47, is the force-of-nature coordinator of two blockbuster annual events for the young and beautiful set that together have netted nearly $2 million for Forty Carrots Family Center: Wine, Women and Shoes, and the Firefly Gala. She moved to Sarasota in 1990 to help open the Parisian department store and met her future husband, Jim. A commercial real estate investor, he's active in Boy Scouts with their two sons, 11 and 13. "We love the leadership skills the boys are learning there," she says.
"I started taking parenting classes at Forty Carrots when my son was six months old. Then, as a new board member, I was required to visit an at-risk class. [Forty Carrots conducts 700-plus free parenting classes each year.] I sat next to a girl with a son the same age as mine who had the same basic hopes and dreams, that our children be safe, happy and healthy. Only she was 14 years old and a convicted felon. I came away thinking I need to help other girls have access to these classes.
"We have a small family foundation, and every year our children make proposals for projects they wish to fund. They gather the information, create a Power Point and present it to their grandparents, aunts and uncles. They have provided Sea Camp scholarships and books and microscopes for classrooms. We personally deliver checks to Resurrection House and places like that.
"Serve in a way that's most meaningful to you. I was a lousy class mom. I am happier with measurable results, like the year I chaired a gift-wrap fund raiser and we increased profits by 70 percent."
Terri Vitale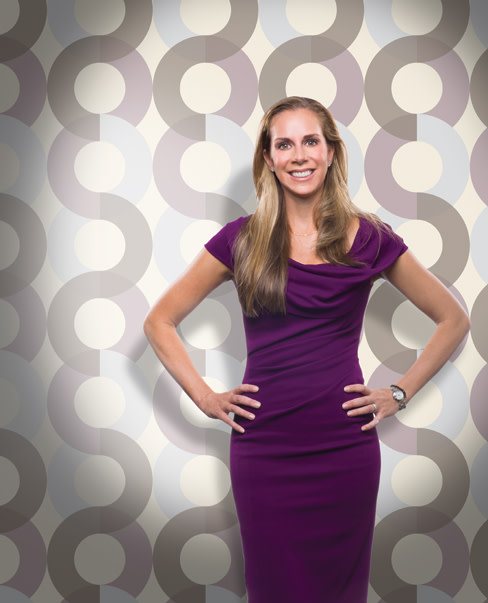 Terri Vitale, 40, is the daughter of basketball broadcasting legend Dick Vitale and his wife, Lorraine. She's on the boards of the Community Foundation of Sarasota County, Out-of-Door Academy and the national Notre Dame Monogram Club. Vitale also works tirelessly with her family to produce the V Foundation Gala, which has raised $10 million over the past eight years for pediatric cancer research. She and husband Chris Sforzo, an orthopedic surgeon, have two children, 11 and 9.
"I grew up in a family that helped others. We were raised with an overriding sense of gratitude. There was always an understanding that, when you weren't going to use your toys or clothes or sports equipment any more, you'd find a better place for them.
"My dad has always been more comfortable giving than receiving. He was the first in his family to go to college; his parents were factory workers who had fourth- and fifth-grade educations. Through coaching, he met families in unbelievably tough situations. My parents believed it was because other people believed in them and gave them a helping hand that they succeeded. They instilled that spirit in us.
"We're working on a big new childhood literacy initiative at the Community Foundation of Sarasota County. In certain Sarasota schools, over 50 percent are not passing the third-grade FCAT. If a child is not a proficient reader by third grade, in later years their incidences of teen pregnancy and dropout rates skyrocket. We're forming partnerships within the community to do better.
"Chris and I are teaching our children about philanthropy by modeling behavior. I hope the way we live our daily lives is an example—caring about the place we live and work."
Click here to read our 2013-2014 giving register.