Article
The Looks of Spring
Fashion I.Q. columnist and blogger Heather Dunhill reports on spring 2013 fashion trends.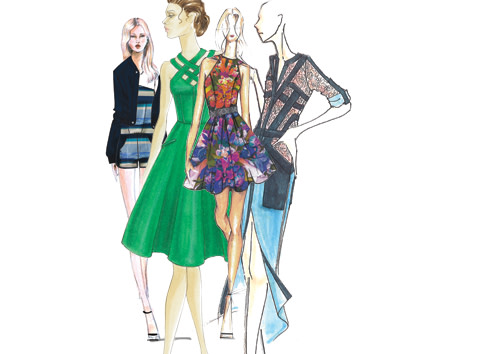 It's spring, which means it's time to refresh and renew your look, even in seasonally challenged Sarasota. Get ready to shed those nubby winter tweeds, fur accents and knee-high boots; their four-month window has closed.
But no need to linger over your cool-weather-gear good-byes. Instead, let's welcome the new, and the spring/summer 2013 runways showed more than a few new trends that adapt well to our balmy weather and the relaxed elegance of our social milieu. You'll be spoiled with choices. It's no continental wardrobe shift, but there's plenty to know to be in the know as we approach the finale of Sarasota's social season.
To help you finish your new spring look, we've asked some local experts about what's fresh and exciting in beauty and overall styling.you'll see their comments on the following pages.
The spring and summer collections tend to feature vibrant hues, and this year was no exception. The tangerine tango of 2012 got a shot of spice and is now a vibrant hot persimmon. It was everywhere on iconic runways, like those of Diane von Furstenberg and Jil Sander; even hotter was emerald-green, which Pantone named "Color of the Year."
It's hard to imagine a hue more perfect for Sarasota, where the Gulf of Mexico is exactly that shade in spring. The emerald color story popped up in all manner of iterations from accessories to ball gowns. I'm loving Valentino's statement-making pointed-toe pump with rockstud stiletto heel, so stylish it could attend any Sarasota soirée. Burberry Prorsum showed the color of the year in bomber jackets, trench coats and a divinely flirty lace dress that cut just below the knee. This shade, which represents growth, renewal and prosperity, can be easily incorporated into your look in the form of a belt or on your fingertips.
Models also sported various shades of white, layered for a soft yet crisp monochromatic look. That's a great look for semi-tropical Sarasota, especially if you add a pop of color with your strappy sandals. Bold brights were as big as whites—another great trend for our sunny resort lifestyle; keep an eye out for confectionery hues like dusk blue, lemon zest and African lilac.
If you're still sticking to the safety of solid colors, it's time to move out of your comfort zone and embrace some of the new prints. They're adding sizzle and style to celebrities like Solange Knowles and Kylie Minogue, and they're a great way to stand out from the endless sea of black at a Sarasota gala. We'll be seeing Hollywood ingénues parading down the red carpet in digital prints such as fractured optical illusions and stylized blooms, from sweet and subtle to devilish and daring. On the other end of the print arc, designers like Marc Jacobs, Michael Kors and Alexander Wang featured jailbird stripes—black and white, maroon and white and other color combos—and technicolor patterns. Print styling tip for the Sarasota siren: Keep accessories to a minimum; let the pattern stand on its own. Go unadorned except for a simple stud earring or a barely there bangle.
Another great way to extend your comfort zone: Don an iridescent skirt or a dress with a rakish cut-out. Metallic is no longer just for holiday parties or formal wear; it's making appearances at offices and social luncheons. If you're new to the look for day, ground the shine with a neutral, like classic camel.
As for the cut-outs, they're not the kind that will make your mother blush; the new cut-outs have subtle sex appeal in an ultra-feminine way. Imagine sheer fabrics, luxe lace and mesh peek-a-boo inserts lightening up heavier fabrics; some artful cut-outs appear at the horizontal hemline, as vertical striping, stencil-like perforations and windowpane cuts. I particularly love the geometric honeycomb effect Vivienne Tam showed in her flirty dress series. I predict we'll see this look attracting the paparazzi at spring parties like Firefly and Pique-nique sur la Baie.
I'm also excited about the modern rendition of the Bermuda short; it's loose fitting with enough coverage for any body type. Bermudas are doing double duty as short suits, which are just brimming with cool and perfectly right for our humid summer climate.Other notable spring trends are oversized ruffles, lightweight leather and the pencil skirt, back in a big way. Another blast from the past: Jason Wu and Nanette Lepore brought back '60s macramé with a coquettish edge. Speaking of comebacks, there's a mod nod to the '60s in the air. Be sure to check out Louis Vuitton's checkerboard pattern; Kristen Stewart was the first to wear it while promoting Breaking Dawn: Part 2 in Tokyo.
And chinoiserie chic may be a new fashion buzzword, judging by the overwhelming number of designers inspired by the Orient. Alber Elbaz, for example, had a genius moment when he wrapped an obi belt under a feminine Lanvin tuxedo. Here's a style so chic and so simple for us to adopt for a black-tie gala; it would be great for the Sarasota Y's May Going for the Gold event, with its Night of the Jade Butterfly theme.What's brilliant about fashion right now is that there truly are no hard-and-fast rules; just follow the trends that work best for your body and express your personality. Just one piece of advice: Get adventurous. Dare to explore new territory while pulling looks off the racks to try in the dressing room, whether it's one of the mesmerizing optical illusions in prints or a chic cut-out dress. You may surprise yourself, and you will definitely up your Fashion I.Q.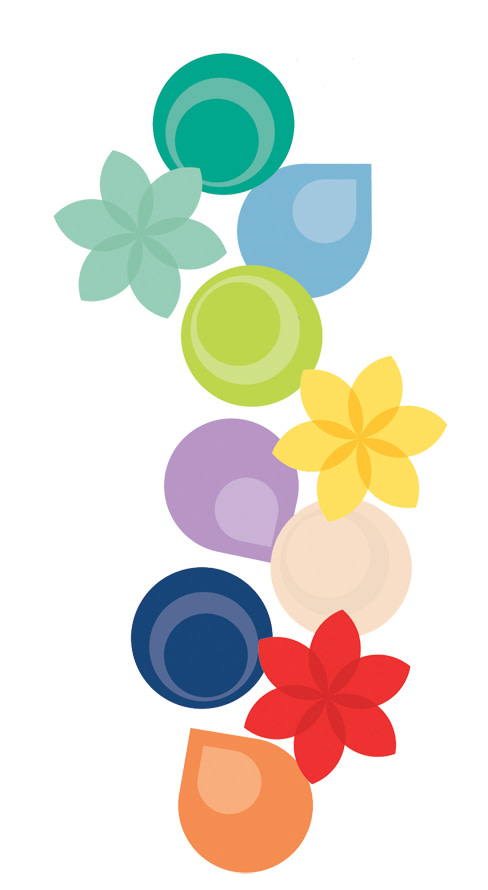 Shades of Spring
A sure-fire way to update your look is to consult fashion's ever-spinning color wheel. Case in point: Updated from 2012, delicate African Violet has replaced the heavily pigmented Bellflower of 2012, just as Margarita has evolved into freshly sprouted Tender Shoots. And, even though Emerald has been named color of the year, keep a sharp eye out for Monaco Blue as spring's go-to color. That's the scoop from color authority Pantone; the company's Spring/Summer 2013 Fashion Color Report compiles extensive R&D collected from fashion industry influencers. Above is Pantone's forecast for the top 10 hues that will dominate fashionistas' wardrobes (and fall's new home decor products) this season.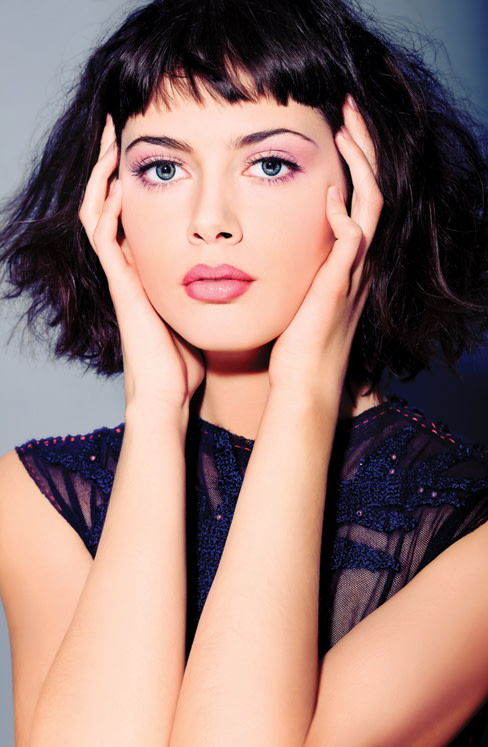 Spring Look
For insight on the top spring trends, we tapped d.cole Hair Design's Colette Olson. Not only does she have an innate sense of scissorly style; she studies runway shows and online sites to find inspiration and the most wearable looks.
If we want a subtle rather than drastic change, what's the one thing to do this spring?
Change your part. Center parts are really in; it makes a dramatic difference without losing length or changing color.
Speaking of color, what's new?
Instead of all of the ends being lighter and blond with the balayage technique, the hand-painted highlights are fewer, internal and more random to create dimension.
The ponytail is my go-to style for warmer weather; any new ways to style one?
Ponytails are lower and looser, tied at the nape of the head. They can be done with a severe deep part on the side or right down the middle or tied into loose knots. And the bun has worked its way down from the tight topknot to the nape and become softer and looser.
What's the story with bangs?
You could follow the Miu Miu spring/summer runway look of short choppy bangs or go with longer sweeping bangs that tuck behind the ear.
Any spring/summer must-have product?
If the hair is healthy, a sea salt spray like Davine's No.14 Sea Salt Primer will add a textured, tousled look.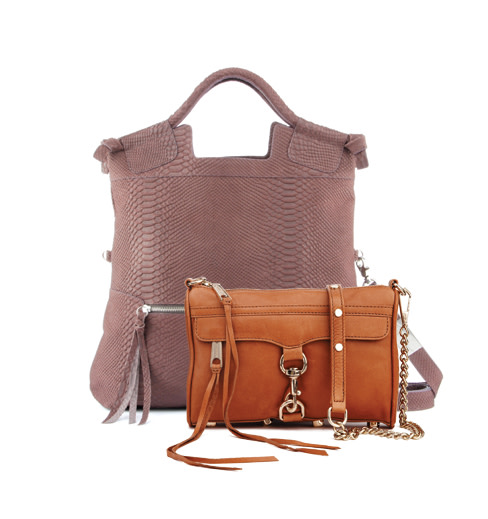 What's Hot in Handbags
Wendy Getchell, owner of Lotus Boutique in downtown Sarasota, has had her finger on the pulse of what's in-style since she began reading Vogue at age 15. We asked Wendy to bring us up to speed on the new handbags.
Tell us about the hottest shapes of the season.
Bags seem to be getting a little smaller. Cross-body and shoulder straps are still big. The Rebecca Minkoff cross-body M.A.C. or Mini M.A.C. is one of the most popular bags in my store. And there's lots more in the way of clutches, but the sizes are varying.
Any new materials/designs surfacing?
I've been seeing more fabric bags accented with leather. In the mid-price range designers are stamping leather for a snake effect. Higher-end designers are using python. There are also great tribal-looking prints and a new silk screening technique on suede.
For black-tie events, what should be in our closet this spring?
A really fabulous clutch in a soft burnished metallic lambskin.
What mistake do women make when it comes to handbags?
They try to make one handbag fit all, and it really doesn't. I'd say you need at least three to choose from.
Do we still need to match our shoes with our handbag?
Absolutely not. It's not horrible if you do—you can, there just aren't any rules against it. I tell my clients that the accessories
you pair with your outfit should look like they're going to the same event.
More handbag advice?
A colored bag can really brighten up your outfit. Pair contrasting hues on the color wheel. For instance, I love lime green with hot pink.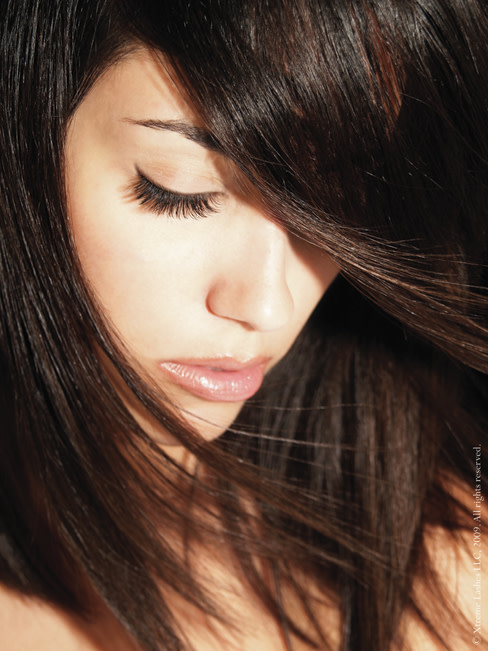 Lengthen Those Lashes.
Five years ago, Shoko Kubota extended her services at Shoko Skincare to include eyelash extensions. They now account for more than 80 percent of her business. She specializes in Xtreme Lashes, the same brand that's chosen by celebs like Molly Sims, Kelly Rowland and Dylan Lauren.
How did lash extensions get so hot?
They make a woman's life so much easier. Lash extensions are natural, yet glamorous, and every woman wakes up looking beautiful. And they emphasize the focal point of the face, the eyes, which most women consider to be their best feature.
Besides the look, what do women like about the lashes?
They're extremely comfortable to wear, to sleep and to live in. And you can take showers, go for a swim and even scuba dive if you'd like.
The big question: What happens to our relationship with mascara?
No more looking for the perfect mascara! There's really no need with the extensions. But there is a special lengthening and volume mascara specifically for the extensions if you want to add more drama.
How long does the process take and what does it cost?
Your initial visit will take approximately an hour and a half. My favorite look is 60 lashes or more per eye. Pricing begins at $95 for a subtle look applied only to the outer corner of eyes and goes up to $350 for absolute glamour of up to 80 lashes per eye. And you'll need to be re-lashed every two to three weeks.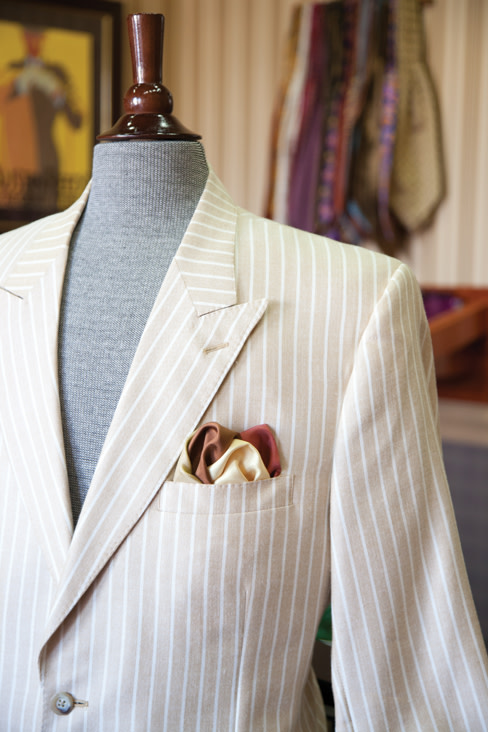 Lighten Up, Guys
Hank Battie believes that fashion has but one  rule—good taste, a philosophy that's driven his Cravats' Custom Clothiers for more than 22 years. We asked for some insights on warm-weather dress.
How does a man's style change when warm weather rolls around?
It's time to opt for cooler, lighter-weight fabrics. For shirts, that means finely woven cotton. For suits, go with light worsted wools; under 10 ounces is considered a tropical weight.
Linen was all over the runways for men. How can you wear it without looking rumpled?
Linen is guaranteed to rumple because it's a naturally a dry fabric. If you're OK with the wrinkles, then it's cool. When linen is blended with another fabric such as bamboo, which is silky, the combination results in a softer fabric that will wrinkle less.
Is a seersucker suit still in?
If you've had one for a while, it's probably time to update it. Seersucker is for a certain guy with a particular sense of style, like the one who wears a bow tie. I especially like it for the Kentucky Derby parties, which are just as much fashion show as horse race.
What are your thoughts on skinny suiting?
Closer fitting suits are in vogue, but don't go overboard. The skinny suit works for very few and it depends on a guy's comfort level in his clothes. As custom clothiers, our focus is always on style rather than fashion.
What mistakes do men make when it comes to warm-weather style?
Don't let summer make a slob out of you; there are many lightweight fabrics to keep you cool and in style. Also, opt for nice sandals instead of flip-flops and pair them with a nice-good-looking pedicure. It's important.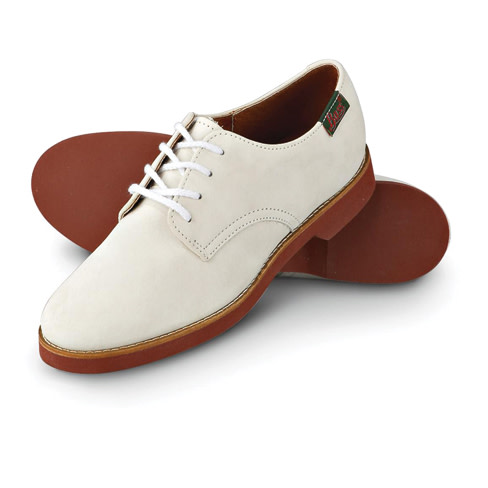 THE WHITE STUFF
A handy guide to keeping your white bucks bright.
White bucks are the epitome of warm-weather kicks, but they do take more care than feeding a goldfish, so you'll need to keep a few tools on hand. And, yes, you really should clean them after each wearing.
Protector spray: Get ahead of the game. Follow manufacturer's directions and apply a suede protector to a pair of new white bucks.
Suede eraser: Use a light hand while applying the eraser to scuffed areas. Some bloggers instead recommend a hard white eraser or Mr. Clean Magic Erasers.
Chalk bag: Fiebing's Buck Bag restores color to white bucks; you pat the bag against the suede.
Suede brush: Brush your shoes after each wear to clean away dirt.
Click here to read Heather Dunhill's Fashion I.Q. blog.