Guide to Beaches
A Guide to Sarasota Beaches
An insider's guide to Sarasota beaches.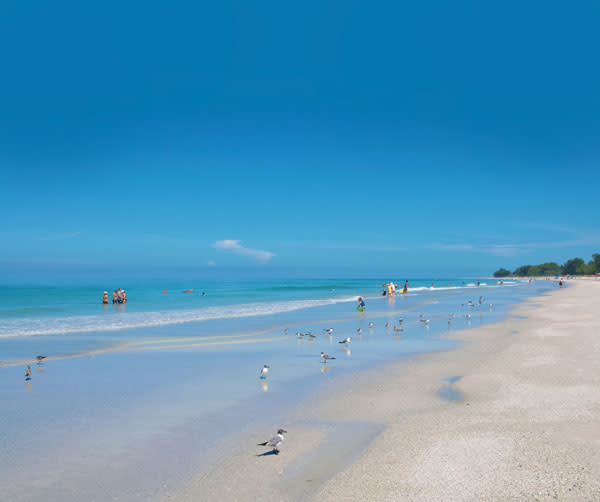 Sarasota's beaches remind me of the Southwest Florida shells my family and I collected as a child. Glossy lettered olives, a kaleidoscope of calico scallops and soft white angel-wings were some of my favorites. Rare and common marine shells shared space with strangely shaped stingray egg cases, small bits of storm-tossed coral and sun-cured seahorses. Each little treasure was unique, yet they all had a common origin—the Gulf of Mexico shoreline, where the waves and the sand form an ever-changing ribbon of beach.
Sarasota is defined by our climate, our culture and perhaps most of all, our world-famous Gulf-front beaches. The more than 35 miles of sandy shoreline from Longboat Key to Englewood has shaped the local lifestyle. Our beaches provide recreation and relaxation for visitors and residents. They're where we go for socializing—and for solitude. They're an inexhaustible source of beauty and home to an astonishing variety of animal and plant life. Serving as natural shock absorbers for tropical storms and cold fronts, Sarasota County's beaches form a dazzling necklace of five separate islands—known as "keys"—and one mainland beachhead. From any of them, you can see tarpon rolling in the morning calm, giant manta rays leaping and diving in the blink of an eye, and graceful dolphins feeding along the sandbars. But the more you explore each one, the more you'll see that each has its own unique character and style. Let's go north to south.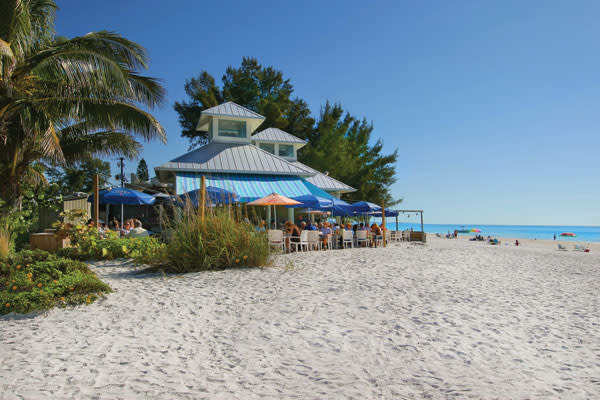 Anna Maria Island 
Anna Maria Island is actually in Manatee County, but it draws plenty of Sarasota visitors. Anna Maria has several popular beaches, including  Manatee Beach, Cortez Beach and Holmes Beach. The largest beach on Anna Maria is named for the tiniest shell—the coquina, a tiny rainbow-colored bivalve that digs itself down into the wet sand after each gentle wave. Coquina Beach is the southernmost point of Anna Maria, just over the bridge from Longboat. Coquina has plenty of beachfront, plenty of parking, lifeguards, concessions, restaurants, picnic area and a nearby boat launch.
At the island's north end, the village of Anna Maria was settled in 1892. George Bean, the son of the first settler, established the Anna Maria Development Company in 1913 with the help of Charles Roser, best known as the inventor of the Fig Newton. Together they laid out streets and built several cottages and a concrete block church, establishing a settlement that is still thriving today. These beaches were exposed to the world in 1948 when MGM brought Esther Williams to Anna Maria to shoot the movie On an Island with You. Today, Anna Maria retains much of the look and feel of an old Florida beach town. Whether you stay for a day or a season, no visit is complete without a trip to the town pier and a beachfront meal at the famous Sandbar restaurant.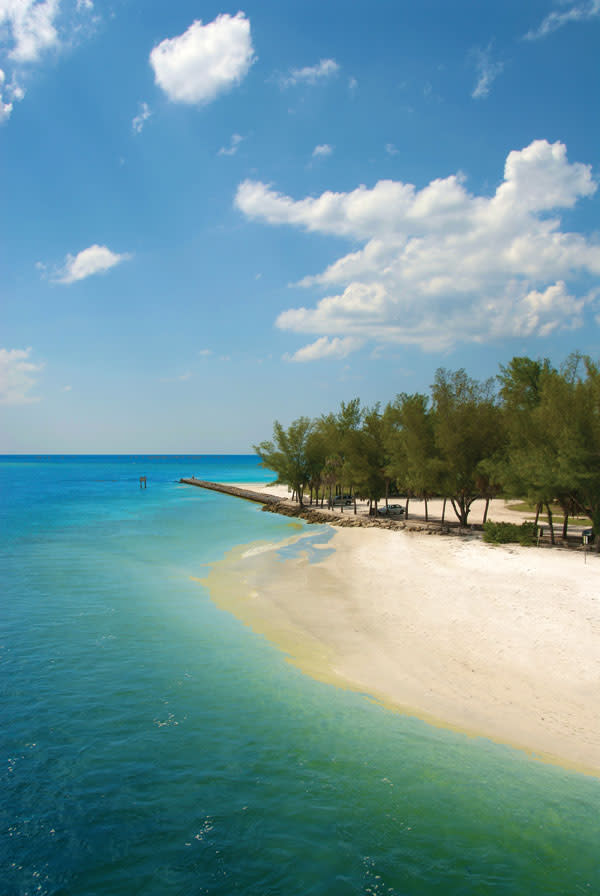 Longboat Key 
Longboat Key's beaches are rich in history. A centuries-old ship's boat has been unearthed from these sands, and they also were the foundation for our first world-class resort, the Ritz-Carlton that John Ringling envisioned in the 1920s before a real estate collapse stopped construction. Once known as Palm Island, then Long Key, and for the last 100 years as Longboat Key, the island was covered by a forest of West Indies juniper and sabal palms, a rich green backdrop to the brilliant white sand beaches that greeted the area's earliest explorers, surveyors and settlers.
By 1910, Longboat Key was the site of farms growing tomatoes and other cold-sensitive crops. The main settlement was the village of Longbeach at the north end of the key, with a popular bathing beach, but the rest of Longboat Key was largely undeveloped until John Ringling began construction of a beachfront golf course and his grand hotel.
While Ringling's dream hotel was never completed, beachfront residences, most of them condominiums, have risen like sandcastles, creating a destination of secluded relaxation. No longer wild and natural, the beach is renourished to maintain a uniformly sculpted ribbon of sand. Beyond the beach, Longboat's plush landscaping and fine restaurants create a sophisticated tropical atmosphere. A few public accesses with limited parking allow visitors to enjoy the quiet and often nearly deserted beaches. No lifeguards or amenities.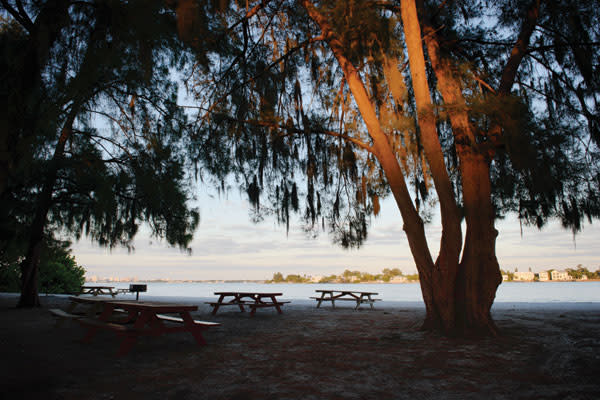 Lido Key
Lido Beach (400 Ben Franklin Drive) offers a tremendous diversity of experiences, from the remote stretch of sand known as North Lido to the popular Lido Public Beach and the über-natural beach at the island's southern point. With the adjacent St. Armands Key shopping district, easy access to downtown Sarasota and several beachfront hotels, Lido has always been a tourist's delight.
It was once known as the Cerol Isles, but John Ringling changed its name to Lido in the 1920s. The Italian name reflects the circus king's fascination with all things European, and his efforts to put Sarasota on the world map. From 1940 through the 1960s, Sarasota's premier beachfront destination was the Art-Deco-style Lido Beach Casino, with its enormous concrete sea horses facing the waters of the Gulf. In the 1960s Lido hosted the contestants of the Miss Florida Pageant in their one-piece Jantzen swimsuits. Lido Beach, which is tremendously popular with locals as well as visitors, has lots of parking, concession stand, restrooms, lifeguards and a swimming pool.
The secluded southern point of the island is the home of Ted Sperling Park, also known as South Lido Beach (190 Taft Drive), one of Sarasota's most popular eco-tourism destinations. Nearly surrounded by the Gulf, Big Pass, Sarasota Bay and the Brushy Bayou estuary, this nature park is famous for kayak tours through enchanting mangrove tunnels. There are strong currents in the water at the pass and no lifeguards, so use caution. 
Siesta Key 
Sarasota's most famous and most popular beach is Siesta Beach (948 Beach Road). Not only does Siesta boast the area's oldest maritime landmark, an outcropping of limestone ledges known as Point of Rocks, this beach is world-famous for the fine white, 99 percent pure quartz sand. In recent years, a variety of polls and experts—including "Dr. Beach," Dr. Stephen Leatherman—have named it the country's best beach.
With its gentle profile and iconic sand, Siesta has delighted visitors and residents for over 100 years. While Sarasota's first public "bathing beach" was on Big Pass, the opening of the Bay Bridge in 1917 and development in the 1920s shifted the beachfront attention to the long, sweeping Gulf-front crescent of sand that forms Siesta's now-famous beach. Stretching from Siesta Key's Village to Siesta Public Beach and southeast to Point of Rocks, this gently sloped shoreline serves as a sandy version of Central Park, attracting early-morning beach walkers and summer beach runners. Siesta is the place for beach volleyball tournaments, sand sculpture contests, including the annual Siesta Key Crystal Classic in November, and New Age-style festive Sunday-evening drum circle. While the sand itself can't be improved upon, Siesta's beach amenities, from restrooms to concessions, have just been completely updated. There are lifeguards and a big—but often full—parking lot.
Just a few miles south of Point of Rocks is Siesta Key's Turtle Beach (8862 Midnight Pass Road). Turtle Beach is a hidden jewel, tucked away at the end of Siesta, and reflects an earlier time, with a beachfront campground and a launch for small fishing or pleasure boats. The beach has a much steeper profile than gently sloped Siesta—explaining its popularity with surfers—and the sand is coarser and contains tiny bits of shells. A long-favored nesting ground for sea turtles, it got its name from early settlers. Restrooms and outdoor showers, but no lifeguards or concessions. 
Casey Key
Casey Key was named for Capt. John Casey, who served as an ambassador during the Seminole Indian Wars. His assistance in preparing one of the first official maps of Florida likely led to the island bearing his name. The southern portion of the key was platted in the 1920s as Treasure Island. Perched on top of the island's primary dune, Casey Key Road twists in and out through lush vegetation, allowing gorgeous views of the Gulf beach and setting sun. While most of the island is protected by a conservation district, prohibiting multifamily construction, the southern end of the island includes an entire village of beachfront resorts and Nokomis Public Beach (100 Casey Key Road), with a full complement of amenities, including lifeguards. North Jetty Beach (1000 S. Casey Key Road) is a favorite local fishing destination with a bait shop, concession stand, lifeguards, restroom, volleyball and horseshoe courts.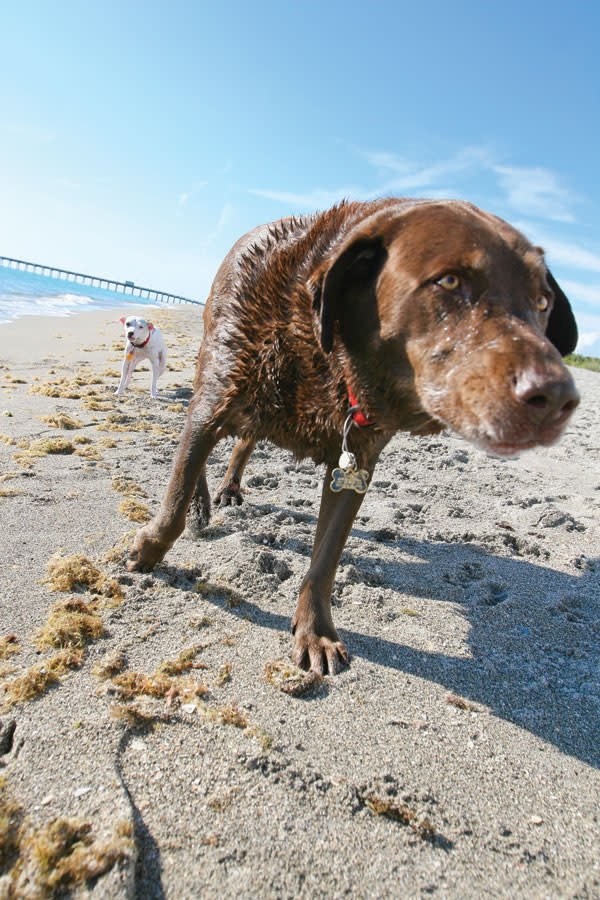 Venice
Venice Beach (101 The Esplanade) is unusual because it's not on a barrier island; instead the mainland comes right up to meet the Gulf. A mainland beachhead is rare on the Gulf coast, and Venice Beach has another unusual feature as well: an enormous number of fossilized sharks' teeth. These iconic, triangular teeth help define this beachfront community and are ubiquitous in logos, signs and events. Other unique attributes of Venice Beach are the rock jetties that reflect waves just right for surfing, the county's only Gulf-front fishing pier and a downtown just a short walk from the beach. There are lifeguards, picnicking, restrooms, volleyball.
Just south of the pier, the community's canines have a place to swim and play (in a grassy, fenced-in area) at the Brohard Beach and Paw Park (1600 Harbor Drive S.; restrooms, picnic tables, no lifeguards.)
Caspersen Beach at the south tip of Venice (4100 Harbor Drive) is one of the area's most natural beaches and one where less gloriously equals more. With almost two miles of nothing but palm trees and beach sand, Caspersen retains the grandeur and romance of Old Florida. A dune-top boardwalk provides a striking view of a quiet sunrise or a magnificent pastel sunset. Another special feature of Caspersen Beach is the connection to the Venetian Waterway Park and The Legacy Trail, allowing convenient bicycle access for beachgoers. Restrooms and picnic area, no lifeguards. 
Manasota Key 
The county's southernmost beaches on Manasota Key are a world away from Longboat, Lido and Siesta. Heavily laden with wave-pulverized fossils, the sand displays a tone from gray to black. Adjacent to historic Englewood, the beaches of Manasota attract the largest number of nesting marine turtles on the west coast of Florida, and the hot, dark sand incubates the eggs in a shorter than usual timeframe. Manasota's beaches are rich in history, containing prehistoric burial grounds and the 1860s Gulf Ridge homesite of Capt. Joseph Leach, one of the first settlers of a barrier island on the southwest coast of Florida. The name "Manasota" is a combination of Manatee and Sarasota, and was given to the key by a Maryland-based timber company that set up a nearby sawmill with the same name. Over the years, Manasota Key's beaches have attracted visitors and residents looking for a setting of nature and privacy. The key has attracted a number of famous performer-residents, including Dan Rowan, Donna Summers and Mel Tillis. One of the area's best-kept secrets, the Sarasota County portion of Manasota Key is almost entirely residential. One exception is the historic Manasota Beach Club, styled after an old-time, upscale but rustic New England resort, where visitors return year after year for sunshine, meals in the dining room and socializing with old friends.
At Manasota Beach (8570 Manasota Key Road) visitors can arrive by car, via the north bridge, or by boats along the Intracoastal Waterway, docking at boardwalks that wind through the mangroves. Lifeguards, picnic tables, restrooms and boat ramps. Blind Pass Beach (6725 Manasota Key Road), also known as Middle Beach, includes the Hermitage Artist Retreat, a series of cottages including a beach home built in 1902 by Swedish immigrant Carl Johanson. It now serves as a retreat for specially invited artists from around the world.
Like the treasures in my family's shell collection, each of our beaches is beautiful and interesting, and like colorful jewels, they each have a special brilliance that sets them apart.