Article
Authentic Florida Valentine's Day Cookies
Just in time for Valentine's Day: Festive Authentic Florida cookies.
I admit it, I'm obsessed with Florida. So, for Valentine's Day, I just had to make Florida sugar cookies. I love the simple taste of buttery, sweet cookies topped with yummy icing. The fun is in the decorating. So delightful, so Florida! You can purchase the cookie cutter from an online company (link below).
Prep Time: 15-20 minutes
Refrigerator Time: 3-4 hours
Baking Time: 8-10 minutes
Yields: 18-24 small cookies or 12-15 larger cookies
Ingredients:
1 cup butter (2 sticks), room temperature
2/3 cup sugar
1 egg, room temperature
1 teaspoon vanilla
½ teaspoon salt
2 ½ cups sifted flour
2 cookie sheet pans, parchment paper
Directions:
1. In a mixer, cream together:
1 cup butter
2/3 cup sugar
2. Then, beat in 1 egg
3. Add ½ teaspoon salt
4. Add 2 ½ cups of sifted flour (use a sifter)
6. Mix all ingredients until blended
7. Roll into a flat disc, cover with plastic
8. In refrigerator, chill dough 3-4 hours
Next:
1. Take the dough out of the refrigerator for 20-30 minutes, let sit
2. Preheat the oven to 350 degrees
3. With a rolling pin, roll out the dough on a floured mat ¼" thick
4. Use a cookie cutter to cut the cookies or form your own
5. Place on cookie sheet with parchment paper (avoids cookie bottom from burning)
6. Bake 8-10 minutes until barely browned (I found if the cookies were more than ¼-inch thick, you'll need more time)
7. Place on wire racks to cool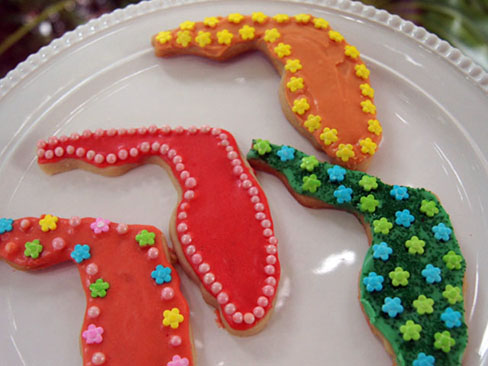 Frosting Your Cookies
Ingredients
¾ cup of sifted powdered sugar
1 tablespoon butter, melted
1 tablespoon milk
½ teaspoon vanilla
¼ teaspoon lemon juice
Directions:
1. Melt butter, combine all ingredients. Beat until smooth.
2. Add food coloring to the mixture. Add cookie decorations.
Recipe adapted from The Ann Clark Ltd., www.AnnClark.com. The Florida cookie cutter can be ordered from same website.
Robin Draper is the founder of AuthenticFlorida.com, a travel and living website devoted to the simple pleasures for Florida living. To receive weekly ENEWs updates for "real" and "authentic" travel, including recipes, Florida authors, artists and home decor, sign up at AuthenticFlorida.com