Article
Authentic Florida Fall
Fall is in the air. In most areas of the country, there is an obvious change of season but in Florida, fall arrives in much more subtle ways.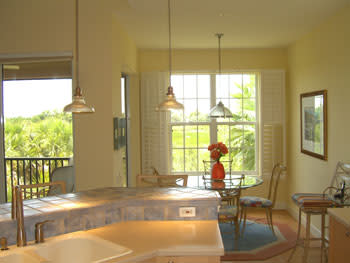 F

lorida's Beautyberries
Fall is in the air. In most areas of the country there is an obvious change of season as leaves begin to change colors and drop from the trees. The air becomes crisper and cooler and sweaters come out of the closets. But in Florida, fall arrives in much more subtle, less obvious ways.
You really have to know what to look for to observe the seasonal change.
An early season cool front pushes through bringing drier air and (almost) cooler temperatures. The rainy season comes to a close and the skies take on a richer, more intense bluish color. The days grow shorter as the sun heads south, the angle of the light changes and shadows lengthen. It is time to get outdoors.
Play Outdoors
The biggest change will be the lower humidity. If you want to go outside to play this is an ideal time of year – swimming, tennis, golf, running, biking, walking, equestrian riding – you name it. It's time to take full advantage of the shift in seasons.
Go Bird Watching
Birds from the north are beginning to fly to Florida, and points south, for the winter. Now is an especially good time to begin looking for hawks and other birds of prey as they return to build their nests. And they are just one species of many birds arriving.
Butterflies, Wildflowers and Beautyberries
As the heat subsides and you get outdoors, you will notice butterflies popping out amongst the flowers flitting around in the fall blooms. Florida is blessed with many fall wildflowers. The best place to see wildflowers is along the hiking trails of our local and state parks. Purple muhly grass begins to blanket the area, especially on back roads, adding color to the grasslands that have begun to transform from lush green to vibrant amber. Also adding a touch of purple, and a sure sign of fall, are the bright beautyberries growing under shady trees along the roadsides and trails.
Get Fresh at the Farmers Market
Mild weather in Florida allows two growing seasons for produce, fall and spring. While it is too cool up north, local farms here are bringing in fresh lettuces and harvesting our fall vegetables. Beautiful crops of broccoli, zucchini, squash, peppers, herbs, and other delicious veggies begin to fill the tables at local markets.
The Fish are Biting
During hot summer months, fish can be lethargic, just like humans. But as the milder weather moves in, fish activity increases. Knowledgeable charter captains are always ready to take you out. Fall is the best time for the prized saltwater red fish. Big schools will push onto the shallow flats by the hundreds.
Get Out There
It's time to open the windows and let the fresh air in. Whether enjoying a milder morning on the lanai or going outside to play, let us remind ourselves how wonderful it is to enjoy our authentic Florida.
For more Florida travel and living ideas, visit Authentic Florida. Be sure to sign up for the free E-News, a weekly newsletter featuring the latest on Florida travel, food and living.