Article
The Other Waterfront
Want to buy Sarasota waterfront real estate but can't afford the prices? Bob Plunket finds some surprising deals.
You're thinking of moving to Sarasota and your dream is something on the water. You feel it would be good for your soul, the way that people do. The beach would be best, with its constant reminder of the infinity of the universe. But some nice bay would be OK, too, with all the birds you can watch while, as the realtors put it, "you enjoy your morning cup of coffee from your beautiful new deck."
Then you actually start looking at what's available and you quickly realize that the only waterfront you can afford is a pond so small that it's impossible to believe that an alligator lives there—which he does. Or a creek in your back yard that never quite looks as pristine or picturesque as you thought it did when you purchased the house.
Yes, millions have been here before you, and the good stuff is taken. When resales come along they have a hefty premium tacked on. And what passes for prime waterfront is often too close to a busy road or hemmed in by other houses.
So you settle.
Or do you? If you don't have to be downtown every day, if you don't have to drive home from plays and concerts four nights a week, if you don't mind living next to colorful neighbors—or no neighbors at all—then you can still find places where true Florida waterfront still exists at a price maybe even you can afford.
Let's take a look at several of these places. Some you've probably heard of, others are off your radar. Some have an economical edge to them. Others are spectacularly beautiful and totally unspoiled.
This is the Other Waterfront . . .
Terra Ceia and Snead Island
These two pieces of land are on the western edge of Palmetto, near the entrance to Tampa Bay. When it comes to waterfront that's stood the test of time, nothing quite fits the bill like Terra Ceia and Snead Island. This is where the Calusa Indians settled thousands of years ago, back when you had the pick of everything. Indian mounds still dot the area. Later, the bays and inlets were the hiding grounds of pirates. There was plenty of room to get lost.
There still is. This is a semi-rural area, still full of citrus groves and celery farms. Both communities are pretty much completely surrounded by water, so there is mile after mile of waterfront, much of it still empty, much of it part of a nature preserve. Some of it is less than ideal—a scraggly shoreline and brackish water—but other parcels are fresh and pleasant. Many homes have the area's signature view—the Sunshine Skyway Bridge off to the north in the far distance.
People who live here tend to be fishermen and boaters, though not in a country club sort of way. Old-time Floridians will feel comfortable here, and a healthy appreciation of Cracker culture is a definite plus. One of the big events of the year is the Mullet Smoke-off (protested by PETA last year for the traditional mullet toss).
In the past 30 years or so, a typical Terra Ceia/Snead Island home has evolved. It's built on pilings, three or four stories high, in what is called the Key West style: lots of porches and verandahs, painted a pastel color with white neo-gingerbread trim. Lots are large, often five acres or more. Those directly on the water have a long dock over the mangroves. Depending on how deluxe your version is, expect to pay from $300,000 up to more than a million.
Homes not on the water include vintage farm houses, Florida ranches, an upscale gated community or two, and a big golf community with high-rises and villas plus single-family homes called the Terra Ceia Bay Golf and Tennis Club. There are nice condos here in the low $100s, and many have beautiful views.
Terra Ceia and Snead Island are a bit off the beaten track. Sarasota can be a long drive (I'd allow 45 minutes), because there is no direct route. Likewise, to get to St. Pete, which you can almost see, you have to drive all the way back into Palmetto. Still, the area has many St. Peteians, so many that it is considered one of that city's upscale suburbs. The big appeal is being able to raise a family in an old-fashioned, countrified setting. And the smoked mullet, of course.
Braden River
We all know the Manatee River. It's hardly the "other" waterfront, as it's the first place white pioneers settled back in the 1840s. Today the mansions that line its banks in both Bradenton and Palmetto remain prime—and pricey—real estate.
But head a little farther east. On the north shore, Ellenton has a lot of inexpensive waterfront, some in old retirement neighborhoods, some in pleasant old mobile home parks. And then there's the Braden River. It's actually a tributary of the Manatee, and it runs south from about 27th Street East down to a big reservoir (Ward Lake) and then meanders over to Lakewood Ranch.
The Braden River lacks the grandeur of the Manatee. It's broad enough, certainly,
but the channel is filled with islands, streams, sandbars and silt to the point where it's half river, half wetlands. It's not everybody's idea of prime waterfront, but it does offer a waterfront way of living, with boating, privacy and atmospheric ancient oak trees. Local artists love it there, and painter Craig Rubadoux lived on its banks for many years.
There are so many nooks and crannies and dead ends and private dirt roads that it can be hard to get a handle on what the Braden River is like. But to get a sample, head for Lincoln Road, which can be reached via Tara, a relatively recent planned community.
After several miles of new homes, a golf course and carefully manicured landscaping, you suddenly hit a meandering street bordering the river. It's one of the purest examples of Old Florida left.
There is a hint of the fish camp to the area, but the would-be eyesores only serve to add to the charm. You'll see an old pick-up truck covered with flowering vines, decaying outbuildings, even an old Quonset hut. The housing stock is eclectic, to say the least. There are charming old cabins and some not so charming ranch homes; they were built back when this area contained the retreats of redneck sportsmen. Newer homes are much larger and fancier; some of them are priced up to half a million.
To get an idea of the possibilities the area has to offer, take a look at the home for sale at 6720 Quonset Road (which I suspect may be quite near the Quonset hut.) It's set up as an upscale vacation rental, too small for a family (two bedrooms, one bath) but perfect for a couple that likes to kayak and bike. One look at the view and you can immediately see the area's attraction. (By the way, the home is priced, nicely furnished, at $225,000.)
For all its lazy, isolated beauty, the Braden River is right in the middle of everything. S.R. 64 crosses it, as does S.R. 70. You're five minutes to Lakewood Ranch, five minutes to the Interstate. Several upscale gated communities have been built there recently, but there remains room for a lot of development. This would be a good place to buy land and build. Just make sure your view is protected and that the unspoiled land you're looking out on is a nature preserve, not a future Walmart.t suddenly stopped, and the result is a lot of pleasant homes that just missed the tear-down craze.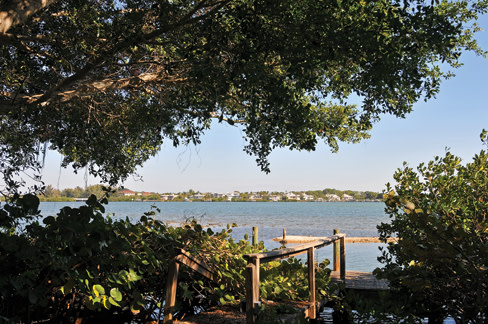 Dona Bay and Roberts Bay
These are the two pretty bays you drive over on U.S. 41 on your way down to Venice. You hit Osprey, then Nokomis, then Dona Bay, then Roberts Bay. (Lyons Bay is down there, too, but not on the highway.) They both have a nostalgic, old-fashioned look. The boom was just starting to take over the area when it suddenly stopped, and the result is a lot of pleasant homes that just missed the tear-down craze. Many have classic water views. For some reason the water seems a little bluer down here, and sailboats are everywhere you look.
Prices are quite a bit lower than Sarasota, and you can find nice waterfront for under a million. If you want a fancy gated community, check out the Eagle Point Club, which has newer, Key-West-style homes.
It was developed by the Palmer family as a fish camp over a hundred years ago and is pleasantly atmospheric. Houses that are right on the water are well over a million, but the others can be considerably less expensive—$700,000 or so.
Other homes in the area are pure Venice—supremely comfortable, unpretentious and beautifully maintained. Look for some of the older examples that can still be found—1930s English cottages, 1920s Spanish, mid-century modern. If they aren't on the water they can be quite inexpensive, and you can find something very nice for under $200,000.
Things change down here when you get east of 41. The bays narrow, more mangrove islands appear, and the homes become much smaller. This is "working-class waterfront." You see a lot of chain link fences, haphazard landscaping, even some old trailers. There are some newer bigger homes, but the general feeling is that this is where the plumber lives.
Lucky plumber. He's got waterfront property, with a boat dock, access to the Gulf, great fishing and a view—maybe of some picturesque foliage, maybe of another trailer. And if you're the sort of person who can pull this lifestyle off, you can get it for under $200,000.
Above: a low-scale, older home with a pretty yard on Dona Bay; from left, fire pit and chairs on Roberts Bay; an egret surveys the neighborhood.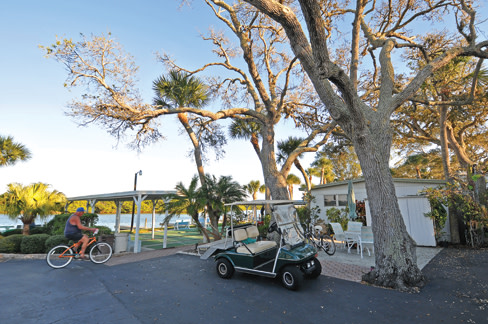 Englewood Beach
If you're getting disappointed that what you really want—something right on the beach—isn't being included, well, it's time to move a little southward toward Englewood Beach. When I first moved to Florida 30 years ago, I hated towns like Englewood Beach. It was the most unexciting place imaginable. Old people living in frugal retirement, content to do little more than sit in the sun and rest their weary bones. Well, it's still exactly the same and now I love it.
The retired people are still there but they're being joined by newcomers. You'll see families, teenagers hanging out, kids playing and snowbirds who enjoy a classic little beach town lifestyle. This is the sort of town where daily life revolves around when you're going to walk to the store and get an ice cream cone.
Englewood Beach is the southern half of Manasota Key, a barrier island famous as a hideaway for reclusive rich people—including singers Bobby Vinton and the late Donna Summer.
The zoning—and county; we're now in Charlotte County—changes halfway down, and the change is dramatic. The million-dollar estates and ancient oak canopies vanish and are replaced by beachfront condos, little cottages, stores and restaurants, and one of the nicest trailer parks in Florida.
The beach here is famous. It's not quite the pure white sand of Siesta, but it's got better waves and is less crowded. For several miles it's lined with low-and mid-rise condos built mostly in the 1970s and '80s. The premium units, large and with direct unobstructed Gulf views, go for up to $750,000.
But there are many less expensive ones that start in the $200,000s. Your water view will probably be from the balcony with your head tilted at a certain angle, but so what—you're right on the beach and you're living in a resort town. And if you're willing to walk a block or two, you can get an even better deal, often with a very nice bay view.
There's no pretending that Englewood Beach is convenient to Sarasota. It's not. The drive can take an hour during the season. But as a pleasant, affordable place to live with a nice beach and all the conveniences for daily living—not to mention the mystique of Manasota Key—it's hard to beat.
A note about prices. There is very little on the market these days. If you're seriously interested in property in any of these areas, you're going to have to keep your eyes open and pounce when the right thing becomes available. Do your research, know exactly what you're looking for, and then grab it the minute it's listed for sale.
Click here to read Bob Plunket's Real Estate Junkie blog.