Sponsored Content
Bad Architecture is Your Worst Enemy
Why furniture alone can't make a room, and five ways to solve that problem.
Bad architecture is your worst enemy, but good architecture can be your best friend.
What does that mean, you ask?  Well, I recently came across a quote in the Wall Street Journal by Holly Hunt (founder of a large design brand) that stopped me in my tracks.  She described the biggest decorating challenge as "dealing with poor interior architecture—furniture doesn't really help. It's like putting on perfume when you need a shower. There's nothing worse than drywall and carpet."
She is so right!  Decorating is not the end-all-be-all for your home.  As interior designers, we at Chic on the Cheap focus on much more than the furnishings.  We can transform a blank slate into a beautiful space by implementing strategic architectural principles and details.  It might include removing walls to create flow and rhythm, or adding beams to a ceiling.  The potential of your bland rooms is limitless.
If you don't believe me, read the top five tips below and check out the before and after section of the gallery on our website: chiconthecheap.net/before-after
1. Turn a flat ceiling into a vaulted, voluminous showstopper.  This will really change the look and feel of any home.  Have you seen an eight-foot ceiling lately? Yawn.  But I bet you're not bored by this transformed space we recently completed.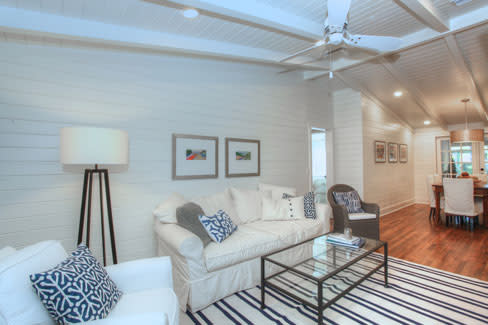 2. Add moulding details from floor to ceiling for some drama.  This could be as simple as half-round trim painted white or it could be paneling below a chair rail. If you're designing on a budget, this will get you a lot of interest for a small investment.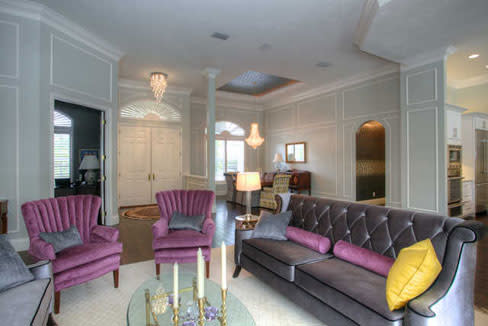 3. Install a non-conventional door for visual interest.  In lieu of a swing door or a pocket door, add a wall-mounted track and hang a sliding "barn"-style door.  We just did this at a beach condo (see below), but it can work in a rustic cottage as well. This fancy-looking door will be the envy of all your other interior doors.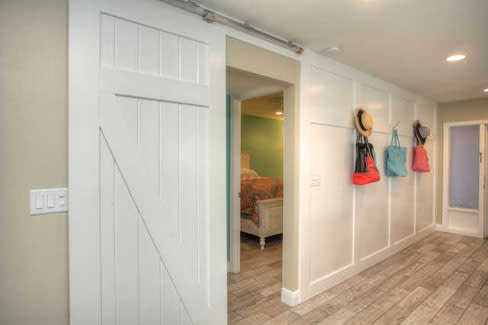 4. Design built-in bookcases to add personality.  This is an old-school trick.  Bookcases have been around since practically the beginning of time.  And sure, you could go buy one from Pottery Barn, but there's something special about wall-to-wall, floor-to-ceiling, one-of-a-kind cabinetry.  You can even incorporate a window seat like we did in this nursery.  Even babies deserve good design!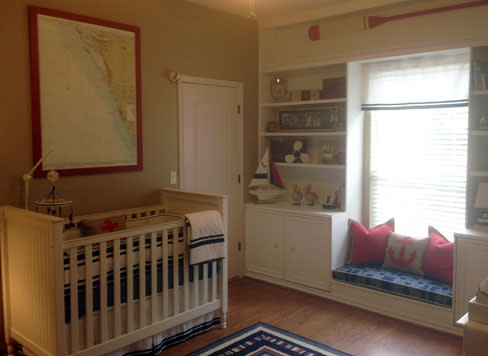 5. Add a unique mantle around your fireplace to reinforce your style.  Yes, we live in Florida where it's warm 350 days of the year, but many people still request functional fireplaces.  Whether you have a traditional style or are very contemporary, you can reinforce that style when you install a custom mantel.  Why do a pre-fab fireplace surround when you can do something like this Longboat condo's mantel?
Tastefully yours,
Jill Geisdorf, RID, LEED AP
Interior Designer at Chic on the Cheap