Sponsored Content
Making Mom Happy Through Interior Design
One Chic on the Cheap interior designer takes on a big challenge.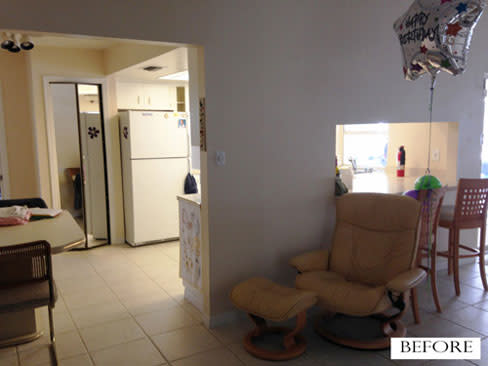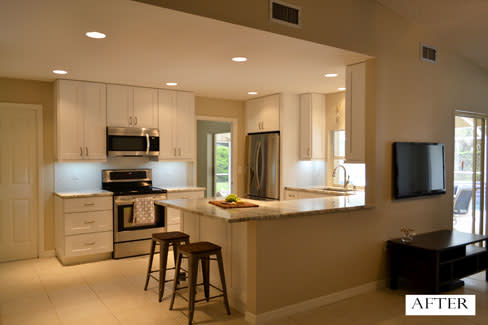 If you're a fan of our Facebook page, you know that I've been giving my mom's kitchen an overhaul. My parents built the house in 1979, and I have many fond memories of its large kitchen—food fights, birthdays, even my brother-in-law asking for my sister's hand in marriage all happened there. When my mom said it was time for a change, I knew she was serious.
She had one particularly challenging request—one that limits the majority of Sarasota kitchen renovations; one that keeps a space from reaching its full potential. "What could it be?" you ask.
She was unwilling to change the floors. Ugh.
If you've ever remodeled your kitchen, you know what I'm talking about. If the room's floors do not continue underneath the cabinetry, you have a really tough time changing the footprint of the space.
Still, at Chic on the Cheap, we apply many strategic design ideas while we're working with our clients. Below are five ideas that can be put into action in your own home (or your mother's home!) to make a kitchen a more functional and beautiful space. And if you'd like to see more before and after photos of this particular project, visit chiconthecheap.net/before-after.
1. Plan on ordering extra floor tiles. Thank goodness my dad was a planner. When my parents remodeled their home's floors many moons ago, they kept about a dozen extra tiles. This was the project's saving grace. If you ever replace your flooring, keep a few extra pieces—you never know when you (or the next owner) might need them. For this project, this allowed the appliances to move and afforded the addition of an eat-in bar.
2. Take out a drywall pantry and add storage with floor to ceiling cabinetry. By eliminating the space taken up by studs, you gain approximately eight inches of width. No, it doesn't sound like a lot, but trust us—it is. Additionally, the more cabinetry you have, the larger the kitchen looks. It's kind of an optical illusion, like wearing vertical stripes. Using more cabinetry makes your kitchen look bigger; wearing vertical stripes make your waistline loo smaller.
3. It's not a secret: We love granite. It's virtually indestructible. The traditional way to finish granite is a high-polished and shiny sealer. But did you know there are other options? For example, you could try a leathered option if you like texture. This technique grinds down the soft and hard spots in the granite differently, leaving it with a beautiful, leather-esque look. And we've found a few key benefits—for example, since it has texture, it camouflages cookie crumbs and makes level one granite look totally unique. Double bonus!
4. Give the gift of fresh flowers year-round. There are a few flowers that, even a year later, will look the same as the day you bought them. A small bouquet of craspedia or pussy willows will stand the test of time.
5. Upgrade the lighting. Fluorescent dome lights were wildly popular in the '70s, and removing this feature and making the ceiling one level will make the space look larger and current. Recessed LED can lights are the newest technology and provide great ambient lighting. Adding under-cabinet lighting will provide a second layer of lighting, as well as direct illumination of the work surface. We include this feature in 100 percent of our kitchen remodels.
Tastefully yours,
Jill Geisdorf, RID, LEED AP
Interior Designer at Chic on the Cheap