Sponsored Content
What Does Your Bathroom Say About You?
Five ways to make your loo a little more looky.
If the kitchen is the heart of the home, the bathroom is the pinky toe—often neglected, void of nail polish…er, I mean, paint and pizzazz. But just because it's not where you spend the bulk of your time doesn't mean it has to be boring. Take the opportunity to create a master bath that's a retreat from your hectic schedule. Show off your wild side in a powder bath. At Chic on the Cheap, we tell our clients to take a leap of faith and make a statement; to not let their bathrooms be an afterthought.
Below are five ideas from our Sarasota interior decorating playbook. Go to www.chiconthecheap.net for even more bathroom images.
1. Everyone and their mother (including mine—sorry, Mom!) has a beige guest bathroom. If your guest needs to use the loo, give them a visual treat. Show off your inner drama queen by covering the walls in an exciting material. It could be floor to ceiling marble or wallpaper, or it could be laminate wood flooring from Ikea. That's an inexpensive way to make a bold statement.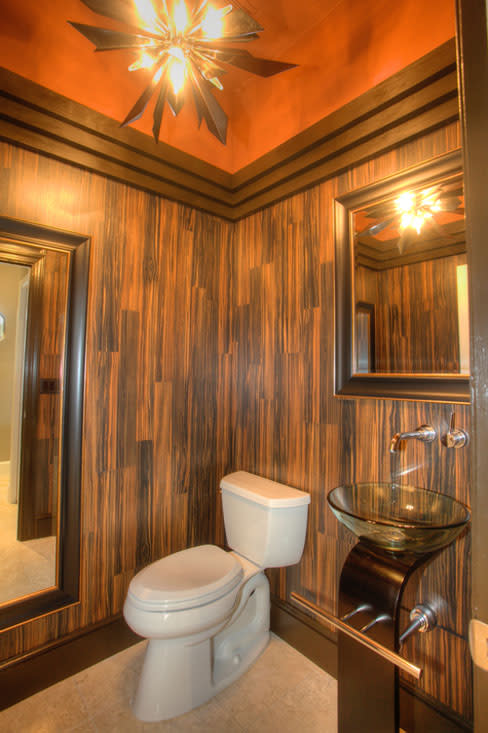 2. Want something luxurious, but don't have a monster interior design budget? Carrera marble is more affordable than you might think. There are a few local stores—like Floor and Décor, Lowes, and Home Depot—that sell this product at a reasonable price. Carrera marble says timeless elegance; it just looks like money. If you want to show off your sophisticated side, use this material everywhere—including the sinks!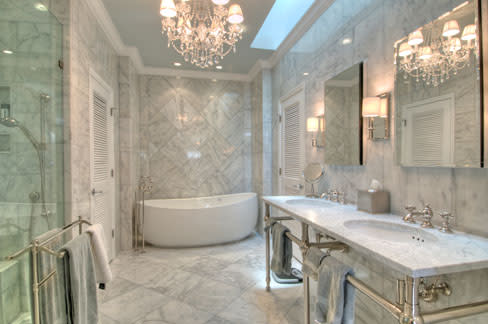 3. Mirror, mirror on the wall…why are you so boring? For a simple update, swap out that builder-grade sheet of mirror for a framed mirror with pizzazz. You'll be pleasantly surprised by the transformation your bathroom can undergo in just a matter of minutes.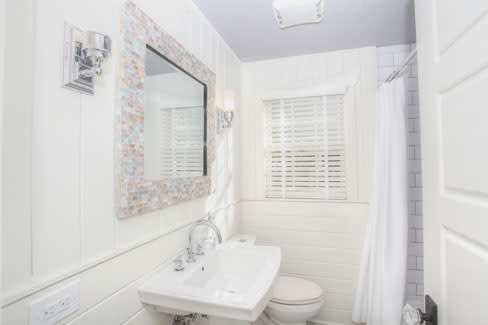 4. Just because the vanity is where you hide all of your beauty secrets doesn't mean it has to be dull. Take cues from your surroundings and utilize unusual materials—a repurposed antique washbasin, a vanity made from industrial pipes or even one crafted from branches. You'll have the most avant-garde bathroom on the block.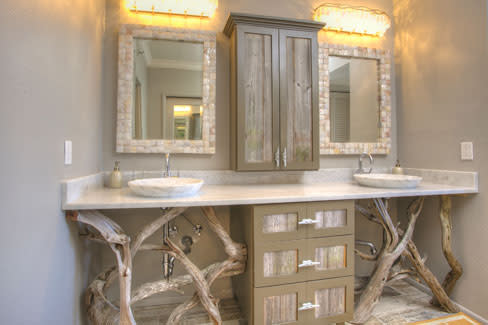 5. The bathroom ceiling is another opportunity to make a statement. Add wallpaper for an unexpected punch of personality, or add crown molding to separate the ceiling and the wall and complete the look by painting the walls a complementary color. Do you entertain? Your bathroom will be the talk of the party!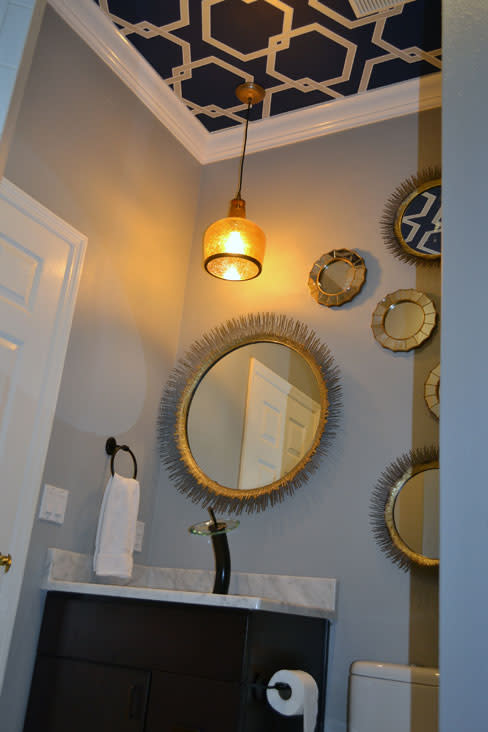 Tastefully yours,
Jill Geisdorf, RID, LEED AP
Interior Designer at Chic on the Cheap