How We Rank
How Sarasota Rates Nationally and Statewide
How Sarasota ranks, from sunshine and seniors to health and happiness.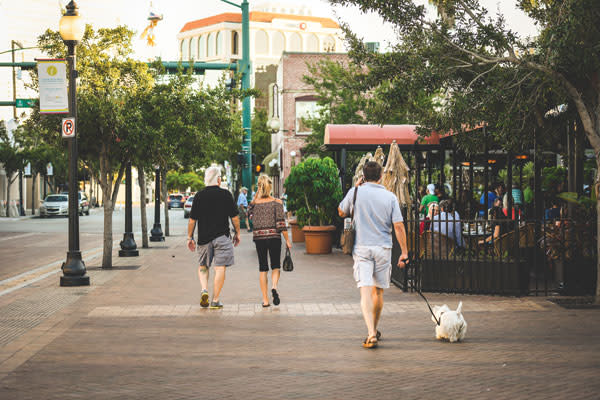 PEOPLE
Population
14th
There are 387,140 of us here, making Sarasota among the biggest of the 67 counties in the state.
Age
29th
With lots of retirees and more coming every day, Sarasota has a median age of 52.5, making us one of the oldest counties in the entire nation.
Seniors
3rd, 2nd, 1st
Sarasota ranks third among Florida counties for its percentage of residents 65 and over; second for those 75 and over, and is No. 1 for the percentage of 85-plus citizens.
Lack of Diversity
4th
Sarasota is overwhelmingly—90.2 percent—white, the fourth-whitest county in all of Florida.
Growth
18th
The construction cranes may have tipped you off. North Port-Sarasota-Bradenton is attracting legions of new people, placing it in the top 20 fastest-growing metro areas in the country. (The Villages, Fla., is first.)
EDUCATION
Student Performance
2nd
Sarasota prides itself on having good schools and students, and the stats bear that out. When it comes to K-12 student performance in Florida, Sarasota is second only to Martin County among the state's 67 counties. (Manatee ranked 22nd.)
Best High School
24th
Pine View School for the gifted, a Sarasota County public school, outscored most of the nation in U.S. News and World Report's ranking of "gold medal" high schools.
College and Advanced Degrees
10th
The adults here are well-educated, too; Sarasota ranks 10th in Florida for those 25 and over who have bachelor or higher degrees.
Bookworms
2nd
And they keep getting smarter—74 percent of locals have library cards, the second-highest percentage in the state.
QUALITY OF LIFE
Sunshine
11th
The Tampa Bay region enjoys sunshine for 66 percent of our days, making us the 11th-sunniest region in the nation. (Phoenix, Ariz., is first.)
Health
8th
Factoring in quality of life and longevity, Sarasota is among the healthiest counties in the state. It's third in clinical care and 12th in healthy social and economic factors.
Commute Time
Despite all our complaining about traffic, we have the eighth shortest drive time to work—21.6 minutes—in the entire state.
Philanthropy
2nd and 3rd
The Gulf Coast Community Foundation, with $274 million in assets, and the Community Foundation of Sarasota County, with $273 million in assets, are two of the largest community foundations in the state, reflecting residents' passion for improving health, welfare and the arts in the region.
Culture
52nd
According to a study that examined 182 regions in the country, Sarasota's arts and cultural industry accounts for $180,917,904 in spending. That's more than the entire state of Nebraska.
Arts Jobs
60th
In the same study, Sarasota's 4,579 full-time jobs in the arts put us in the top third—especially impressive for a city our size. (We rank right between Dallas and Durham.)
Happiness
1st
Beaches, sunshine, culture and recreation—what's not to smile about? No wonder a national survey of large communities found that folks in North Port-Sarasota-Bradenton ranked No. 1 in well-being.
WEALTH
Personal Income
34th
People in North Port-Sarasota-Bradenton receive an average of $49,863 a year from wages and other sources—only 33 other communities in the United States have a higher average personal income.
Poverty Rate
57th
Sarasota has a low poverty rate among Florida counties—10.5—compared to the state's average of 13.8 percent.
Opportunity
75th
But poor children growing up in Sarasota are less likely to make their way out of poverty than their counterparts in most of the country. Out of the 100 largest commuting zones in the United States, Harvard's Equality of Opportunity Project ranked us 75th when it came to poor children's adult earnings.
Affordability
6th
Sarasota's ratio of median household wealth ($58,216) to its cost of living ($22,465) means our residents can afford to live here more easily than is the case for people in most other Florida communities.
Wealthy Newcomers
2nd
Sarasota is attracting the wealthy at the second-highest per capita rate in the country—only mega-wealthy Naples to our south ranks higher.
Million-dollar-plus Homes
19th
In October, Sarasota had 364 homes on the market listed at over $1 million, placing it in the top 20 luxury home markets in the nation. (New York City ranked No. 1 with 3,300 homes over $1 million.)
Ritzy Rides
6th
From successful real estate agents to well-heeled retirees, drivers here outpace most of the state in their ownership of Mercedes, Lamborghinis, Lexuses and other costly cars.
VOTING
Registered Voters
13th
Of the 67 counties in Florida, Sarasota is in the top fifth of total number of registered voters—respectable, considering we're 14th in the total number of people living here.
Turnout
14th
And Sarasota voters show up, too, to the tune of a 58.9 percent turnout in the 2014 general election—and 75.21 percent in the last presidential election in 2012. That puts them again in the top fifth of Florida counties.
CRIME
31st
Among the state's 67 counties, Sarasota's crime index per 100,000 people ranks right about the middle.
DESTINATION WEDDINGS
86th
A popular spot to tie the knot, North Port-Sarasota-Bradenton registers on the national map when it comes to the number of weddings it hosts.
PROPERTY TAXES
10th
Sarasota's 14.5627 property tax rate places it among the lowest in the state. (Walton has the lowest.)
DRINKING
2nd
Based on number of bars and liquor stores and how often people talk about drinking on social media (maybe not the most scientific measures), Sarasota was named the penultimate "drunkest city" in the state (second only to Key West; Bradenton was fifth).