Article
Venice Museum Celebrates John Nolen Plan
Rollins College professor Bruce Stephenson takes us on a walking tour to highlight enduring features of the plan.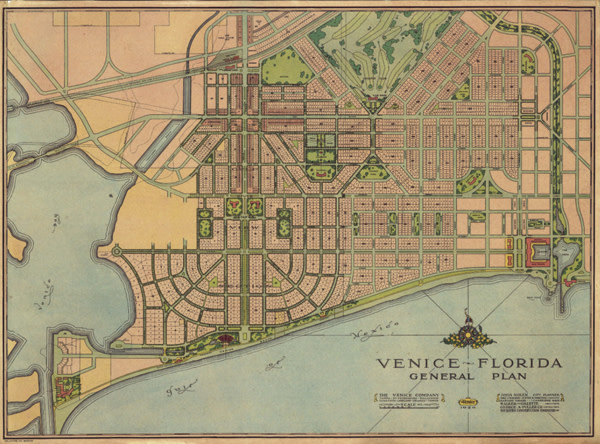 Walking with Nolen
A new exhibition at the Venice Museum and Archives celebrates the acclaimed downtown plan John Nolen created nearly a century ago. Rollins College professor Bruce Stephenson (author of the new John Nolen: Landscape Architect and City Planner) leads walking tours with his students to point out the enduring features of the plan. We asked him to highlight five stops on the tour.
The Civic Center, today the site of City Hall. Nolen located the civic center on a site offering a view of the Gulf and designed a parkway running to the water, thus connecting government and the center with Venice's most outstanding natural feature.
The Scenic Reservation. This is where the parkway—now Venice Avenue—meets the Gulf of Mexico. Instead of the condos that were later constructed, Nolen envisioned a hotel and a park with an amphitheater. A student of the Italian Renaissance, he wanted to highlight the arts and nature.
Interior Greens. Nolen designed four park-like spaces and pathways, connecting them in the four quadrants of the historic part of downtown so that public green spaces would be integrated into neighborhoods in an orderly and pleasing way.
Ponce de Leon Park. This well-crafted little park melds with nearby homes, sidewalks and street trees to create an  uplifting design that  enhances the beauty and value of the neighborhood.
The Mall. The site of the old Kentucky Military Institute, the Mall, with shops below and residences above, is a prototype for mixed-use New Urbanism, illustrating principles of balance, order and imagination that encourage pedestrian activity.
JUST SAYIN'
"Go camping. If you sleep in a tent you'll soon realize how little you need in life to be happy." —Civic leader and philanthropist Carolyn Johnson, sharing life lessons in her speech accepting the SCOPE Boundary Crosser Award this fall.