Article
A Day in the Life of Johnson the Pit Bull
Spend a day with stray pit bull "Johnson" at the Animal Rescue Coalition's new spay and neuter clinic.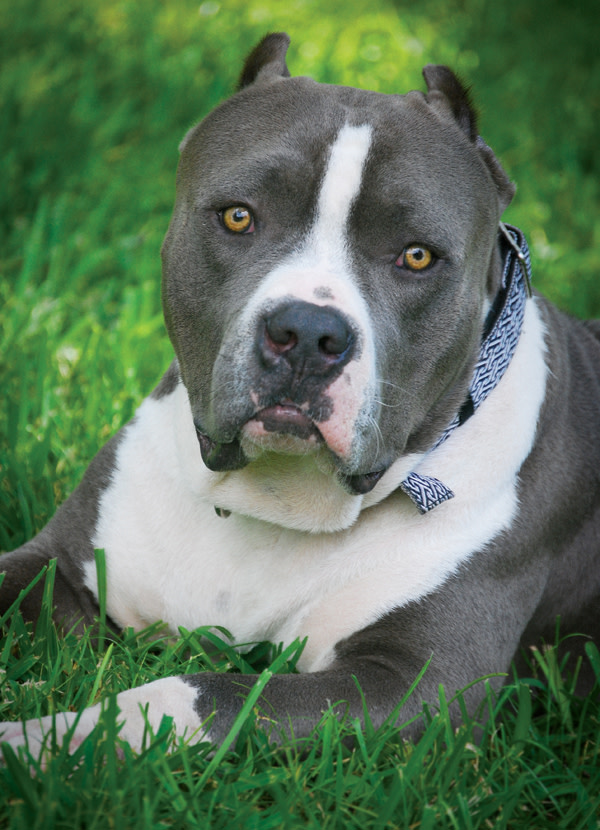 Every year, thousands of unwanted kittens and puppies are born here. Many will live short, brutal lives—neglected, abused or destroyed by animal services. Young Johnson, who was found roaming the streets of south Sarasota, could have faced a similar ending. Ill and infested with heartworms, he was brought to the county animal shelter. Sick—and therefore unadoptable—animals are usually euthanized, but the Animal Rescue Coalition (ARC), which works to stop the killing of adoptable pets and to reduce animal overpopulation, paid for his medical care. Then Johnson was transported to ARC's new, state-of-the-art clinic, which will provide free or low-cost neutering and spaying to some 7,500 animals a year.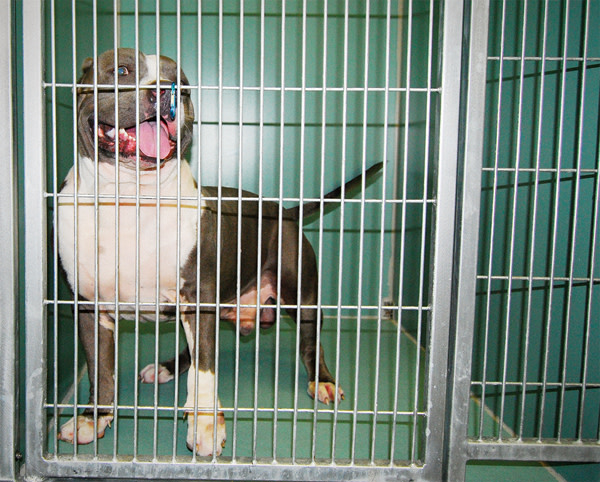 8:01 a.m. Sarasota County Animal Services brings Johnson to the clinic and he's placed in the kennel area. "Here comes this massive dog, built like a tank—we thought he'd be so aggressive," says executive director Gisele Pintchuck. "Instead, he has the sweetest disposition, and so calm, not a sign of stress."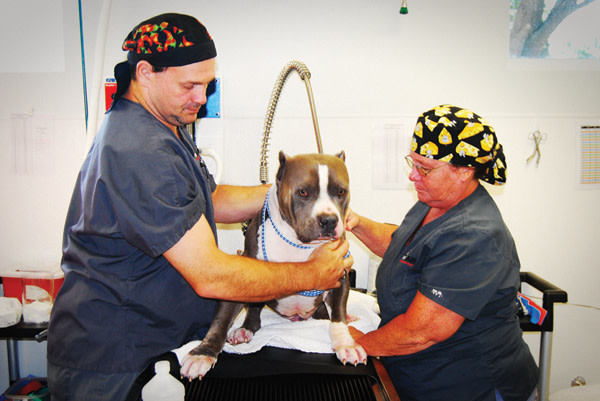 8:47 a.m. Johnson gets prepped by ARC vet techs. The clinic is part of the national Humane Alliance, which provides a detailed model for high-volume spay and neuter clinics—right down to where to place each instrument—and software that enables efficient scheduling and yields in-depth analysis of every aspect of operations.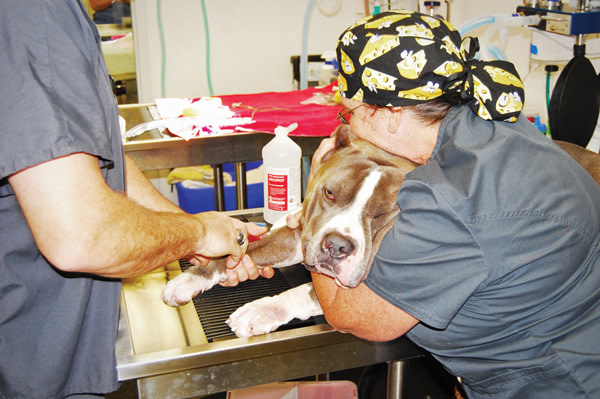 10:53 a.m. On the prep table, Johnson receives local anesthetic and the incision area is shaved and sterilized. He'll remain under anesthesia throughout the surgery.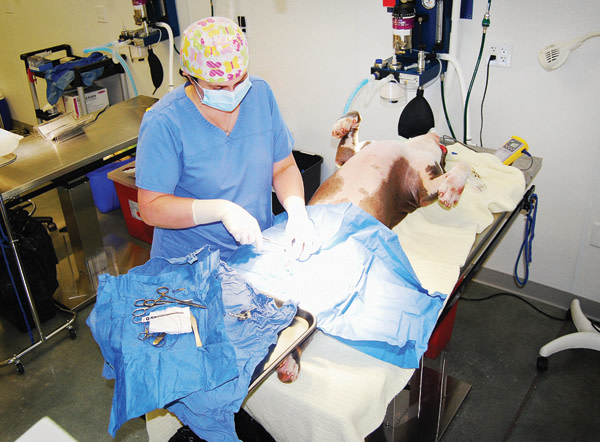 11:10 p.m. It takes medical director Dr. Lisa Tipton about 15 minutes to operate on Johnson, who weighs 70 pounds. (A small cat might take three minutes.) Because of the clinic's efficient design and procedures, Tipton, the clinic's only vet, can perform 25 to 30 surgeries a day.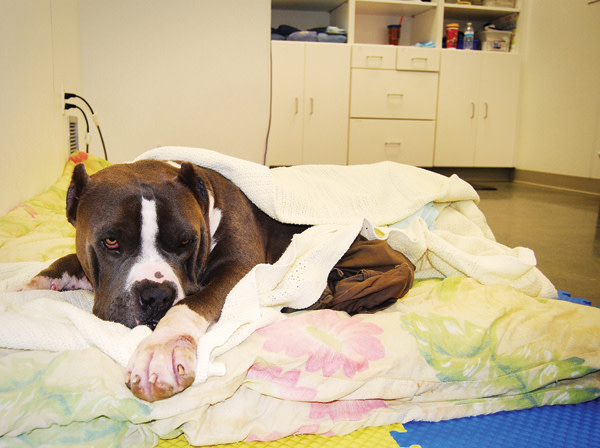 11:26 p.m. Still groggy, Johnson is placed on "the beach," a large, heated pad where he's kept wrapped in a warm blanket. The staff will monitor him closely until he's recovered enough to go back to the kennel.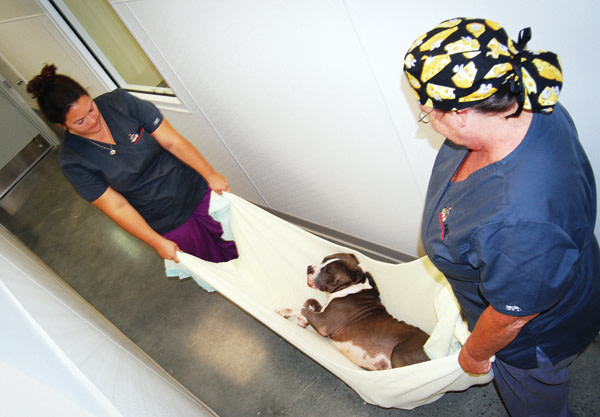 11:43 p.m. Johnson is carried back to his kennel, where he'll doze and relax until animal services transports him back to the shelter, where he'll be picked up by the family who's been fostering him during his heartworm treatment.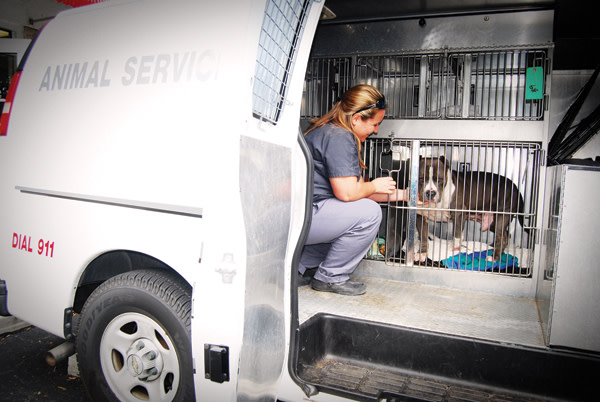 3:32 p.m. Animal Services staff picks up Johnson and the other animals who came today for surgery. Pit bulls can have a tough time getting adopted, but now that Johnson is getting healthy and has been neutered, his chances have improved.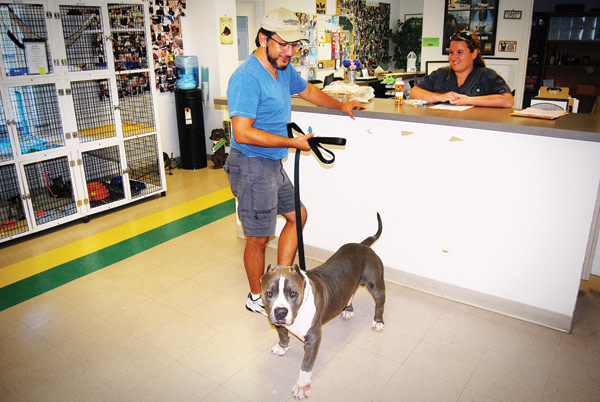 4:01 p.m. Jose Retana arrives to take Johnson home from the shelter. "We fell in love when my daughter saw Johnson's picture on Facebook," he says. They decided to foster him because they believe pit bulls deserve adoption. "They need love and can be loyal, sweet companions," he says.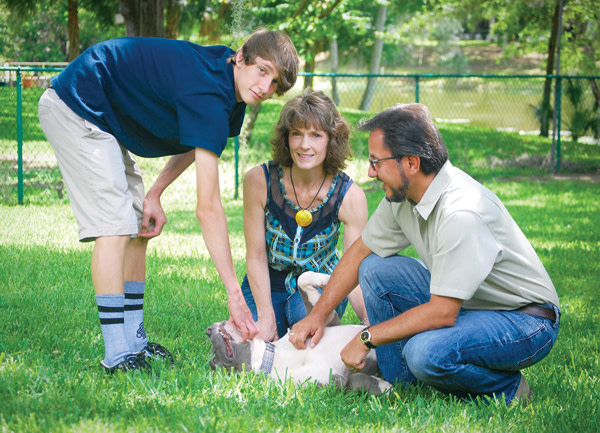 7:13 p.m. Johnson has been home a few hours, and the Renatas realize they don't want him to ever leave. They're naming him "Tiny." "We gave him a chance and he's given us so much more in return," says Jose. "And neutering him was right. There are too many Tinys out there in the world."