Article
Four Sarasota Collectors Show Off Their Favorite Cars
These are the darlings of their garages.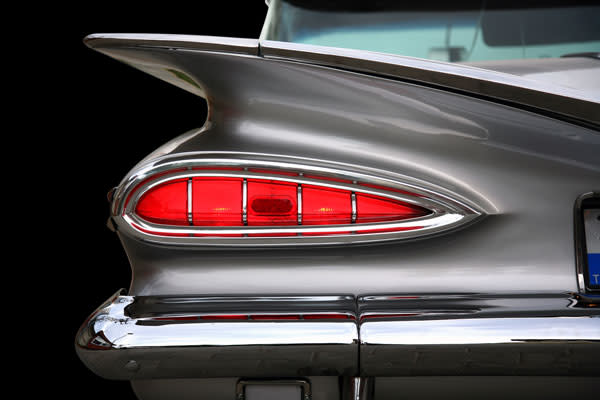 In Southwest Florida, collecting rare automobiles is a passion, and often money is no object. Meet the men whose love for cars knows no limits. Plus: auto exhibits to browse, and insights into the instinct to acquire.
In this land of top-down weather and toy-loving retirees, cars are an integral part of the lifestyle—driving them, collecting them, fixing them, dreaming of amassing even more. "From Naples to Tampa, this seems to be the classic car capital of the country," says Mike Lombardo, owner of Venice's Ideal Classic Cars. "Seems like everyone you meet, there's another guy that has 40 cars."
These enthusiasts form a warm and welcoming community. There are dozens of local car clubs—from the Suncoast British Car Club to the Sarasota Café Racers—not to mention near weekly car shows in settings like St. Armands Circle or Main Street Lakewood Ranch, where you can wax nostalgic for your grandpa's Packard or ogle a six-figure stunner. It's not at all surprising to see, especially on sunny Sundays, a pack of 20 or more antique automobiles cruising together, day-tripping to Myakka or Manasota Key just to conquer the road and grab a burger with like-minded gearheads.
Consider this our ode to Southwest Florida's automotive indulgences. We asked some collectors to describe the darlings of their garages and visited Southwest Florida's top classic car museums. Fasten your seat belts—and start your engines!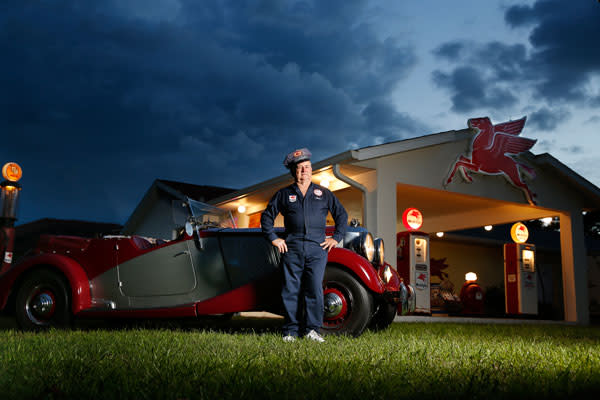 David Lamming: 1936 Railton Tourer
David Lamming began helping out around his father's Brighton, Mich., service station at 8 years old. Now, 67 years later, that service station lives on—as a replica in Lamming's Englewood back yard, where he stores and services his 13 classic cars, including a stunning 1936 Railton Tourer that it took him 25 years to track down.
Lamming bought his first antique car, a Model A Ford, at 25, but his heart belonged to Detroit's iconic Hudson company. Today he owns seven Hudsons. That's what made the Railton so appealing: The British-made car, which was only produced for seven years, was built on top of a Hudson chassis. "They were very fast—quite a race car in their day," he says. "They pretty much used them all up racing. Most people have never heard of [Railton]—even Hudson people." Lamming finally purchased his Tourer from a collector in South Carolina; he believes there's only one other like it—in England.
Lamming's home service station includes tools and a hoist, but the Railton's Hudson pedigree keeps it out of the shop and on the road. As a member of about a dozen antique car clubs, Lamming takes frequent day and weekend trips with other enthusiasts. "I don't drive my family car hardly at all," he says.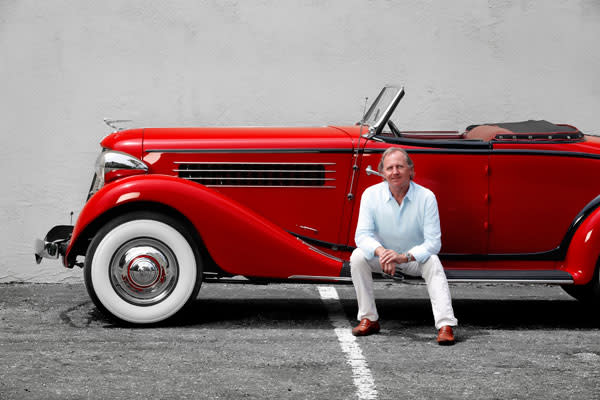 Martin Godbey: 1935 Auburn 851 Cabriolet
"We don't like average, us car guys," says Martin Godbey. The British-born Godbey developed his passion for prominent cars as a child in Indiana roaming his uncle's Lincoln Mercury/Studebaker dealership. The first collectible he bought, sometime in his 20s, was a 1956 Cadillac Coupe deVille in salmon pink. Before long, he was selling one car just to buy another. "I knew I'd buy more," he says. "The fun of it is buying the next car."
Now 60, Godbey runs Vintage Motors of Sarasota, which he opened in 1989, as well as the adjacent nonprofit Sarasota Classic Car Museum, a 58-year-old landmark that he purchased in 1997. Counting both dealership and museum, Godbey oversees more than 150 cars, many of which he takes out on the weekends—especially nice days—just to cruise.
"It's a passion that doesn't go away," he says. One of his favorites is this 1935 Auburn 851 Cabriolet. "It's one of the prettiest cars made," he says of the American-built Auburn, valued at around $150,000. "It's a two-door, long and swoopy, with the rear-mounted spare tire. The way they painted the colors on the body lines is very tastefully done. It's a classic."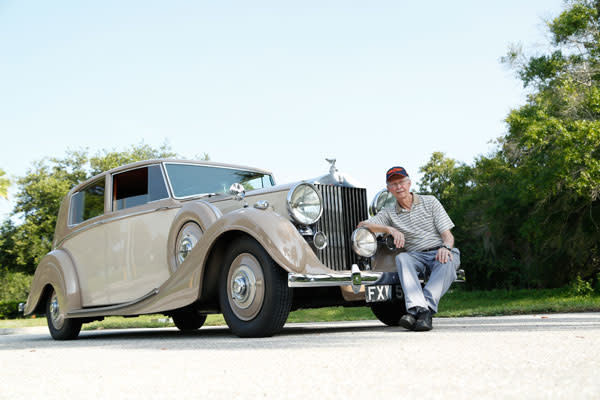 Norm Sinclair: 1939 Rolls-Royce Wraith
Norm Sinclair has just one collectible car, but it's a beauty: a 1939 Rolls-Royce Wraith, one of just 491, made only four years after Sinclair, now 80, was born. The model represented "new" design features like independent, coiled front suspension, an upgraded transmission and quieter engine.
Sinclair, a school teacher originally from St. Louis, kept his car passion idling during his career. But when he and his wife, Lois, retired to Venice, he purchased a 1933 Rolls-Royce and immersed himself in Rolls-Royce magazines and local antique car clubs. "I'd read all about how good [the 1939] was," he says, and so when he discovered one from that year in Bradenton in 2005, he negotiated a swap.
Restoring it has been a joyous learning experience. "The Rolls-Royce Owners Club—they're wonderful," he says. "These people write great articles, with photos and step-by-step instructions." Sinclair tackled the rewiring first. Last April, he drove the car to a national meet in Orlando—mainly to get the judges' notes for what he needed to improve.
Still, mechanics are secondary to the road. "The worst thing you could do is never take it out," he says. "It's got a good sound to it. It needs to be used."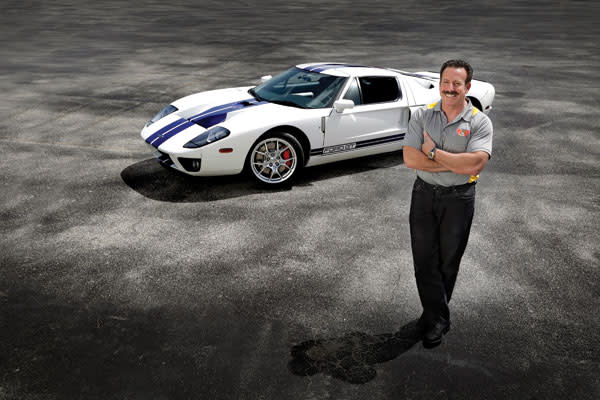 Mike Lombardo: 2006 Ford GT
"I was one of those little kids that loved cars," says Mike Lombardo. For 35 years, he owned, operated and eventually sold a group of dealerships in New Jersey. Then, in 2010, just six months into his Sarasota retirement, he started a new venture with 15 or so classic cars in a 6,500-square-foot space—a "man cave" complete with a bar, where Lombardo tinkered with his automobiles while welcoming curious visitors. "That was my favorite part," he says. "People would come in and walk down memory lane."
Now, Lombardo, 53, oversees more than 100 cars—including his personal collection, some of which aren't for sale—at his 30,000-square-foot Ideal Classic Cars in Venice, a free museum that doubles as a dealership. "If you don't sell some, you can't buy a new one," he explains. "That's why we call it 'the ever-changing car museum.'"
This 2006 Ford GT caught his attention upon its release, when the cars were selling for more than the MSRP. The design is an almost perfect replica of the GT40, a dominant 1960s racer that Lombardo considers "the only American super car." The GT40 was 40 inches tall; this model is 41 inches.
"In America, part of your freedom is owning an automobile," he says. "As much as I like the foreign cars, I lived the American dream. I wanted a piece of it."
Museum Quality
Antique automobiles abound on the Suncoast, many of them on public display in these classic car museums.
Ideal Classic Cars
2224 S. Tamiami Trail
Venice, FL 34293
(941) 966-1900
This 27,000-square-foot Venice showroom (which doubles as a dealership) displays more than 100 cars, trucks and motorcycles from the 1920s to the 1970s, with free admission. And because ICC also offers consignment services while continually purchasing and selling vehicles, owner Michael Lombardo calls it "the ever-changing car museum." Lots of memorabilia available in the gift shop, too.
Muscle Car City
3811 Tamiami Trail
Punta Gorda, FL 33950
(941) 575-5959
Hot rod lovers, rejoice: a whopping 99,000-square-foot museum dedicated to the muscle car era from the early 1950s to the '70s—more than 200 in all. Think Camaros, GTOs, Chevelles and the like. A great place to see styles evolve from year to year. Among the models represented over multiple years, owner Rick Treworgy has at least one Corvette per year from 1954 through 1975. There's also a parts shop and a 1960s-style diner.
The Revs Institute for Automotive Research
2500 S. Horseshoe Drive
Naples, FL 34104
(239) 687-REVS
Home to the Collier Collection of more than 100 historically significant automobiles spanning 1896 to 1995—declared the finest sports car collection in America by The New York Times—the Revs Institute also collects and displays a library of historical documents and automotive memorabilia, making it a destination for historical scholars as well as passionate car buffs. (In fact, there's even a Revs program at Stanford University that fosters academic study and appreciation for the art and engineering of cars.) Docent-led tours provide a wealth of insight into the collection.
Sarasota Classic Car Museum
5500 N. Tamiami Trail
Sarasota, FL 34243
(941) 355-6228
Rotating exhibits feature antique, exotic and one-of-a-kind models as well as historical specimens like John Ringling's Rolls-Royces and John Lennon's 1965 Mercedes-Benz—more than 75 cars in all. Dedicated to displaying automobiles as well as telling the history of the car, the SCCM plans to soon create a large-scale timeline exhibit spanning the 1885 invention of the car to modern day. The adjacent Vintage Motors dealership has an impressive selection, too.
Tampa Bay Automobile Museum
3301 Gateway Centre Blvd.
Pinellas Park, FL 33782
(727) 579-8226
This Pinellas destination is inspired by the art and science of cars, focusing on creative designs and engineering feats. The 12,000-square-foot museum exhibits cars alongside explanations for their historical significance and how each one's design, mechanics and materials helped shape the evolution of the automobile and played a role in more than 100 years of human history.