Article
Car of the Decade: The Jaguar F-Type Convertible
Jaguar roars back.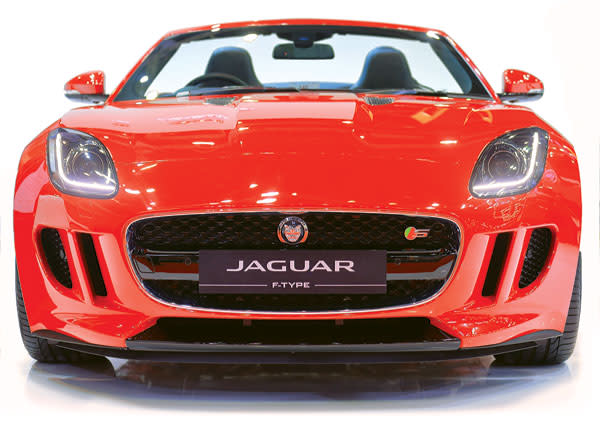 I have long had a soft spot for Jaguars—the cars, not the cats—and not because I am a masochist delighted to turn the ignition key (or, these days, press the start button), and have nothing happen, or to see my convertible's power top freeze in the up position, or to have the headlights fail on a moonless night—little torments that lovers of the British marque have endured for much of its long, glorious and famously flawed history.
These days, according to research firm J.D. Power, Jaguar—now owned by India's Tata Group, but still built in the U.K.—has boosted its quality significantly. Whatever the reality, my infatuation has little to do with that, but much to do with a weakness for automotive beauty.
When I was in high school in New Jersey in the 1960s, an acquaintance worked at a body shop specializing in foreign sports cars, a rarity at the time. One day, he let me sit in the driver's seat of a 1961 Jaguar XK-E roadster that had just been repaired. With a hood that stretched out to Montana, a voluptuous and sinuous body, and chromed wire wheels, the British racing green roadster was preposterously, achingly lovely. I was smitten and remained so through the years, as I got to experience Jags both good and bad in a journalism career that included some bouts of auto reviewing.
The XK-E still ranks just behind the 1963 Corvette and in front of the 1957 Mercedes 300 SL Gullwing among my favorite cars of the 20th century. In the 21st, Jaguars' designers have again joined the ranks of the best. That's why the current F-Type convertible was an easy choice when the editor of this magazine asked me to name my favorite vehicle of the past decade.
The essence of the F-Type is its mating of undiluted luxury and uncompromised power. The then-top-of-the-line supercharged 495-horsepower V8 model I test-drove for a week in 2014 could hit 60 mph in 4.2 seconds and reach a top speed of 186 mph. The two-seater braked and handled superbly (although the suspension was a bit too stiff), while cosseting me and my companion in a cockpit filled with an acre of creamy leather and a forest of top-grade wood trim. It was a red, rear-wheel drive, eight-speed-automatic, rolling piece of art.
The current equivalent—the model R—looks the same, but boasts all-wheel-drive and a 550-horsepower engine that can propel it to 60 in 3.9 seconds. Its base price is $106,450, but anyone injudicious in selecting options can easily push the tab past $125,000. (The least expensive F-Type convertible, with a perfectly adequate 340-horsepower V6 and six-speed manual transmission, starts at $68,100.)
Is the F-Type as heart-stopping as the XK-E, which the late Enzo Ferrari is said to have declared the most beautiful car ever produced? No. But in my view, it looks better than anything else around today, even some exotic sports cars that can cost two or three or four times as much. In fact, in an era of $54,000 Kia K900s, the Jag almost looks like a bargain.
Contributing editor Rich Rescigno is a former editor at Barron's. His "The (Multi-) Millionaire Next Door" in our March 2014 issue won a first-place Charlie award for in-depth reporting from the Florida Magazine Association, and he's a finalist for best feature story and best investigative reporting in the Society of Professional Journalists' 2015 Sunshine State Awards.