Article
What's Blooming in the Ringling Gardens?
Learn what's in bloom for spring with Authentic Florida while we tour Sarasota's Ringling Museum Gardens.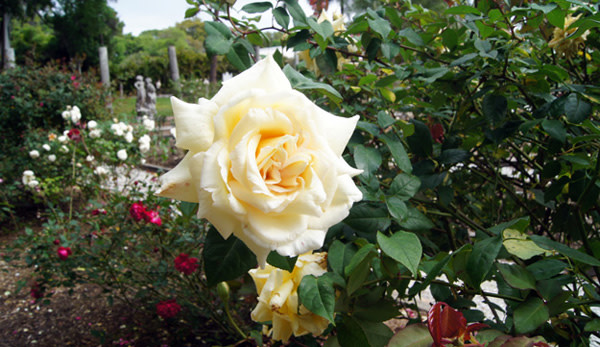 Sarasota's John and Mable Ringling Museum of Art covers a 66-acre complex of cultural and historical treasures including gardens, an art museum, circus museum, theatre and a stunning 1920's-era mansion. Known for its lush landscape, spring is in bloom with some special delights.
John Ringling, of the Ringling Brothers Circus fame, was one of the wealthiest Americans during the 20th century. In 1911, after visiting friends, he purchased 20 acres of waterfront property on Sarasota Bay. Spending winters in Sarasota, Ringling and his wife Mable, built Ca' d'Zan, a massive Venetian Gothic waterfront home.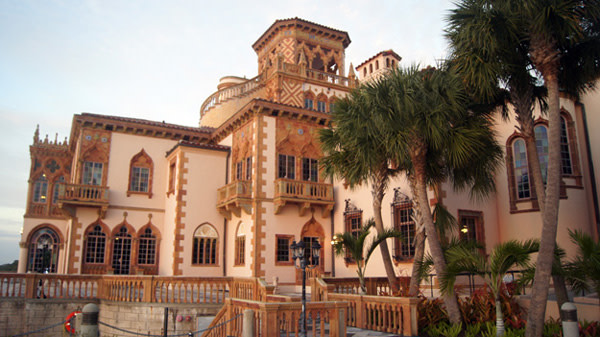 While traveling through Europe in search of talent for his circus, John Ringling also became a significant art collector. He amassed an enormous European art collection of paintings, sculptures and art objects that are on exhibit at the Ringling Museum of Art.
While John was travelling on business, Mable dedicated herself to the interior furnishings of the Ca' d'Zan and its surrounding gardens. Her first project was a formal Rose Garden. She was inspired by the grand European gardens and planned a circular setting with a central gazebo. More than 1,200 roses - old garden roses, hybrid teas, floribundas and grandifloras are just a few of the varieties found here.
Mable also honed her gardening skills while developing one of her favorite places to relax - the Secret Garden. North of the Ca' d'Zan, the Secret Garden is a retreat for those seeking solace. Bromeliads, succulents and other Florida-friendly plants offer a peaceful setting, and in fact serve as the final resting place for the couple.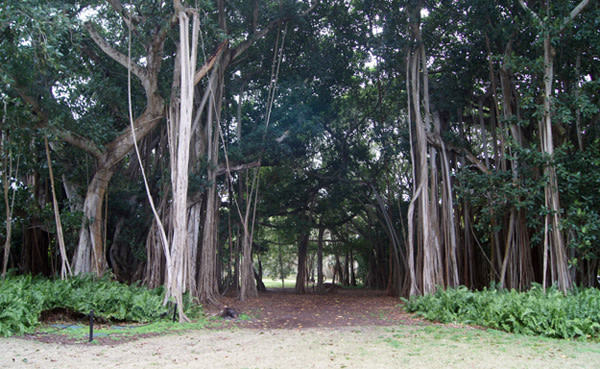 The spacious grounds are filled with banyan tree groves, (dating back to the Ringling era), 650 native Sabal palms (the state tree), slash pines (well suited to Florida's sandy soil), southern live oaks, and mango trees (tropical fruit) – all found in Florida.  But you'll also find some unusual and interesting plants – the Allspice Tree (the allspice origin) native to the Caribbean; the Bo Tree (thought to be sacred); the currently blooming Bombax Tree (known as the Red Silk Cotton Tree) and rows of Royal Palms that flank the walkway to the Ca' d'Zan.
The majestic Ringling Museum of Art, a huge rectangular building with a pink exterior, is designed to resemble a European palace. Displayed in the museum are Italian and Flemish Baroque master paintings amassed by Ringling. The interior is a Renaissance-style courtyard with porticos, open space, geometric designs and water features to calm the soul.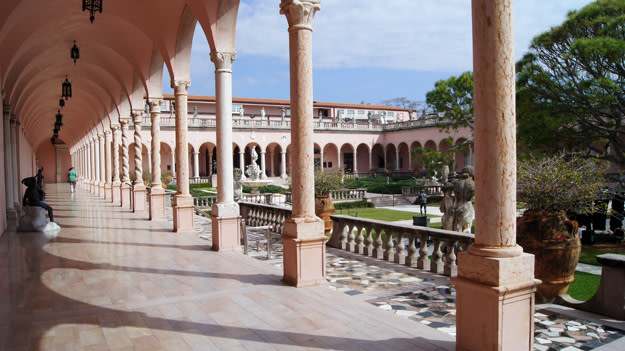 Three terraces adjoined with stairs embrace the architectural symmetry of the Renaissance period while fountains and sculptures give way to a true classic European garden. On the west end of the courtyard towers a cast of Michelangelo's David flanked by royal palms and terracotta pots overflowing with bougainvillea. This is an iconic Sarasota photo opportunity.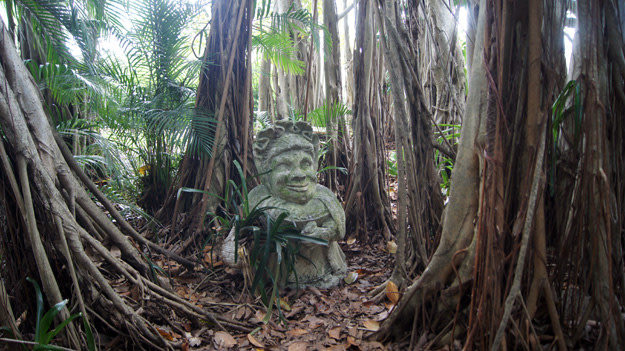 Visitors who prefer a bit of whimsy may favor the smaller Dwarf Garden. A pathway winds through small Italian limestone statues of comedic characters, surrounded by bamboo stands, subtropical plants, bromeliads and orchids.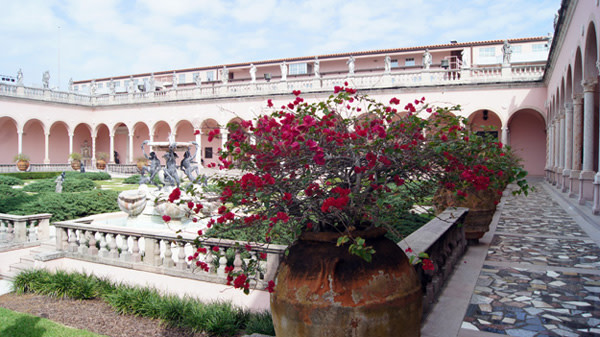 So what's in bloom? This month, the vibrant Bougainvillea is in full bloom, while the African Tulip tree is brilliant with orange flowers and the Trumpet Trees are yielding yellow and gold flowers.
"But the biggest flowering display of roses in Mable's Rose Garden appears in early April followed by the blooming lavender Jacaranda tree and the red Bottlebrush trees that attract hummingbirds. Don't miss the Shaving Brush Tree that blooms with neon purple flowers in the late April," reports Ringling Landscape Superintendent Kevin Greene. And if you love Florida friendly trees, Greene reminds visitors to "walk the Millennium Tree Trail with over 100 different trees representing 30 species that are either native or Florida friendly".
The Ringling Gardens are free to visitors and there is on charge for the Museum of Art on Mondays. Ninety-minute guided Bayfront Garden tours are available through April 25, 2015.
To receive Authentic Florida's free ENEWs, featuring travel and living updates, delivered weekly, sign up on the home page Authentic Florida.
Robin Draper is a Sarasota native who writes about real, Authentic Florida travel, recipes, authors, artists and living topics. She is a member of the Society of American Travel Writers and the Florida Outdoor Writers Association. Authentic Florida received 2015 Blog of the Year and Best Travel Blog at the Sunshine Awards in Orlando.