Article
Ned Davis Sells Stock Market Research Company
After an immensely profitable sale, Ned Davis is no longer running his stock market research company, but he's happier than ever doing the data analysis he loves.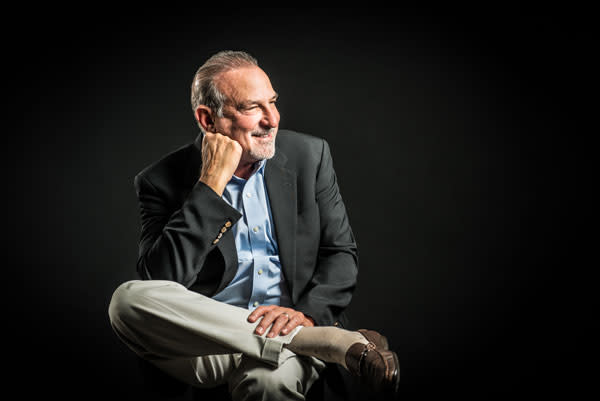 In an alternative universe, Ned Davis would have stayed in his hometown, Nashville, stuck with the family business—a chain of ladies' clothing stores started by his grandfather—and given up his true calling, much as his father had before him.
"My dad had graduated Vanderbilt law school when his father died and he was needed by the [family's Davis Shop clothing stores]," Davis, 69, says in his Venice office of that long-ago choice his father had had to make. "He wasn't into fashion. He should have been a lawyer; he'd have been a great lawyer." As a young man, Davis was determined not to make the same mistake, and although he was not sure what he wanted to do, he knew exactly what he didn't: "[Ladies fashion] was the one thing I was sure I didn't want to go into."
Instead, in 1979, Davis found his way to the southwest coast of Florida, where he started a stock market research company—Ned Davis Research—that allowed him to pursue his passion for sorting through economic data to find trading signals. Through the Dow Jones' ups and downs and the ever-evolving communications technology he used to connect with his far-flung clients, Davis grew his company from five employees to well over 100, eventually becoming a major player in his field. In 2011, Davis sold his business to the European financial publishing company Euromoney for an estimated $130 million. In addition to its Venice headquarters, Ned Davis Research now has branches in Atlanta, Boston, San Francisco and London, and more than 1,000 institutional clients around the globe, including such heavyweights as Fidelity and Schwab.
"I'm wealthy," Davis admits. "I was pretty certain I was going to have a lot of money, but I had no dream about this." But though the fruits of his labor have translated into wealth on a scale that the consummate forecaster says even he could not have forecast, his passion for researching the financial markets has never been mainly about the money. Instead, say those who know him, he's driven by a hunger for knowledge and understanding that continues even now that he could easily never show up for another day of work.
 * * *
Davis's early path to success was far from direct. At the University of North Carolina, where he did his undergraduate work, he toyed with the idea of studying medicine before majoring in French because, he says, "It was the easiest thing to graduate in." He dropped out of the Harvard M.B.A. program because its focus on management didn't mesh with his interests in business and economics. Back home in Nashville, Davis spent the next 12 years
in the research department at the storied investment bank JC Bradford & Co., where he honed the technical analysis skills and trading theories that would become the foundation of his company.
"At JC Bradford, I was making great [stock market] calls, [but] for 10 to 12 years, I wasn't making any money," Davis recalls of those days just before he left the firm to come to Venice, where he had a friend in business. "Since starting this company in 1980, we haven't had a losing year."
The trim and youthful Davis certainly could have driven off into the proverbial sunset after the Euromoney deal—perhaps in his Tesla; the gregarious, bearded Southerner is an unabashed car aficionado. But these days he's still doing what he's always done—working—even though he jokes that his title has changed from "president" to "employee" (officially he's the senior investment strategist). He does have incentive to continue working: The Euromoney deal is structured over six years and has been estimated at between $112 million and $170 million, based on performance. They're now at the workout's midpoint, and Davis estimates the final figure will likely come in at the mid-to-lower end of that range.
He says he is spending more time with his family: his adult children, daughter Evan, 31, and son Brody, 29, from his first marriage, and his two younger boys, Dylan, 13, and Connor, 11, with wife Meghan of 15 years. And he's doing a little more of his self-proclaimed "bad" golfing and spending more time on his ranch on the Myakka River, where he's been designated the official "firewood collector" by his family. Still, Davis puts out his market newsletter—the Hotline—three days a week, just as he has for nearly four decades. A tiger cannot change its stripes; aside from his continuing investment in the company that bears his name, working is what he knows.
"I've always liked business; I like coming to work," Davis says. "I'm very happy. I don't want to retire." Asked if his wife would say he's found a better work-life balance since selling his company, he offers a sly look and admits, "probably not."
Today, Davis is sitting before a set of three monitors in his office at the Ned Davis Research headquarters, having just discussed some ideas with his son Brody, his trading partner in Los Angeles. The company doesn't see many walk-in visitors, since what it sells isn't passed over a counter: Ned Davis Research produces and sells data-driven analysis. Any hunch or question a client might have about the future movement of a market sector—how the price of gold might affect the bond market, for example—Davis's analysts will tackle
by poring through the historical data and then providing an array of theories and scenarios.
"It's not [about] being right or what I think," David explains. "We set up indicators and tell people, 'This is what the indicators are saying.'"
Like a prospector, Davis mines through mountains of data to find nuggets that may hold the secrets of market trends. "Handling data is such a nasty business," Davis explains. "Data's like garbage. You have to wash it and clean it and check it. We were about the first to take research and put it on the computer and make it objective. Pretty much everyone's got the technology now, but people aren't competing with us because they don't want to do the dirty work."
The dirty work at Ned Davis Research goes along at a quiet, thoughtful hum; a librarian would feel at home here. The offices occupy an entire strip mall along the Tamiami Trial that Davis has purchased and repurposed to help attract IT and research talent; one of the buildings is now a fully outfitted employee gym. Finding people with the analytical and computer skills needed for this work has always been "tricky," Davis says, but the company has a history of hiring locally, drawing from the region's universities, as well as nationally and from many foreign countries. In the past, information was relayed to customers around the trading world via phone and fax; an in-house print shop was the heart of the operation. The print shop is long gone; nearly everything is now done via the Internet.
Even in a casual stock-market conversation, Davis's desk quickly becomes covered with charts. He stands, one of the charts in his hands, and taps his finger at different data points on the page, quizzing the listener on what the chart means. Here is this man's passion—data charts—laid bare.
"Right now, we're overweight in the stock market," Davis says of how he's been investing his personal money. "We've been going up for five years and stocks are not cheap on an absolute basis. Is the market overvalued? Yes. I'm not really comfortable, but that's where we're at."
Davis grins and stops himself, realizing he's gotten a bit excited.
"This brings me a lot of pleasure," he admits.  "The markets are fascinating. One year, you are an expert on oil. The next year, you are learning all about housing. The next year it's Ukraine, the Middle East, Ebola, because that's affecting the market. In this business, if you like to learn, you're learning something new every day."
A self-described hands-off, Ronald Reagan-style manager, Davis credits his staff for much of the company's success. Even in the deal with Euromoney, he let his board and past CEO handle the negotiations. "I don't think it's a great management style. But it did set a tone: quality and customer service," he says. "[Today] the clients won't see me and they don't really care."
As to the marketing that was necessary to grow the business, Davis has never seen that as his forte. "I try to stay out of marketing," he says. "We have a sales force."
A collector of quotes, Davis has a sense of humor about the fickle nature of the forecasting field. In one of his books, Being Right or Making Money, he quotes Mark Twain in the opening pages: "It's difficult to forecast, especially when it's about the future." Then he tells a joke about a rich man who wants to be more intelligent and visits a doctor for a brain transplant. The doctor offers the rich man three types of brains: lawyer brains for $5 an ounce, doctor brains at $10 an ounce, and stock-market guru brains for $250 per ounce. The rich man asks, "Why are stock-market guru brains so much more expensive than those of doctors or lawyers?" The doctor replies, "Do you have any idea how many stock-market gurus it takes to get an ounce of brain?"
Of the "Nine Rules of the Ned Davis Research Group" outlined in the book (see below), perhaps the most important to success of his business over the years is the one that most easily translates to life: "Remain flexible." One of Davis's early hires, for example, the company's senior research assistant, Loren Flath, didn't know the difference between a stock and a bond when he came on board.
Flath, 63, has now spent 30 years at the company; he helped keep Ned Davis Research on the cutting edge of technology through all the wild changes of the past decades. In the late '80s, Flath moved the company into Unix and rewrote all its proprietary software in the computer language C. By 1996, Ned Davis Research had its first website; today, it maintains data centers in Brandon and in Virginia.
"I worked in fisheries research for the University of Michigan on a Gambia River project in West Africa; I lived there for a year," Flath explains. "My wife and I came back from Africa and stayed with my dad in Sarasota. I just stumbled onto this job. [At that time, the company] was two houses across the street from each other. I got interviewed in a master bedroom. I had my suit on; Ned had on his boat shoes and shorts. I had no idea what I was getting into. The [Gambia River] research was computer based; [we studied changes over time in] zooplankton populations and [used] statistical techniques. It all translated well to financial markets."
Essentially, he says, "This whole business is about fear and greed and various ways to measure it." He adds that some "very good calls" helped the company get national attention.
"There was a big deal in 1987, 10/19/87 [Black Monday]," he says. "We had gotten customers out of the market the prior month; Ned was quoted in the Wall Street Journal. [After that], a whole bunch of assets came in. We went from $50 million to $300 million. We have a lot of indicators, a lot of perspective, a huge historical database. You can see things in our charts that you're not going to find anywhere else."
Flath is just one of the core employees who have been with Ned Davis since the company's early days and have benefited through an employee stock option plan. Of his former boss—the company will soon welcome a new CEO via Euromoney—Flath says, "Ned's been a completely different person ever since the sale, much happier. It's like all the stress disappeared, the stress of running a business. He can concentrate on what he does best. This really is his life. He's so good at understanding and putting together complex economic scenarios. I can't imagine there are a whole lot of people on the planet who do what he does. He's like a savant."
One of the company's longtime clients, David Kotok of Sarasota's Cumberland Advisors, says the research his firm purchases from Davis helps his investment decision-making. "We manage hundreds of millions; Ned Davis is one of the research services we use. They're high-class, first rate," Kotok says. "They offer guidance that enables investors to stay in trends longer than human nature would allow. It helps me extend positions to greater maturity, to cut losses and take smaller losses."
"We've had a lot of competition, hundreds of newsletters, thousands," Flath says. "But our product has always been the best. Ned's reputation is for being on the right side of markets for the right reasons. He's very risk averse. I don't think any of our customers have ever had to sit through a really bad mistake. That's why people keep coming back to us."
Of the sale, Flath says, "The Euromoney offer came via an email. We hired a firm to see what we could get in the open market, to find the best match we could. Ned never really celebrated the sale. I just took his photo and we moved on. He's under contract and he produces as much as he ever has. It's his nature to never sit back."
"[The clients] are paying me for my own education," Davis grins and says. "It turned out to be perfect for me."
The Nine Rules of the Ned Davis Research Group
Don't Fight the [Ticker] Tape The tape provides a stop-loss for "should-be" beliefs. The trend is your friend. Go with Mo (momentum, breadth thrusts, signs of churning). Listen to the cold, bloodless verdict of the market. (Pay special notice to indicators on the leading edge of the market like volume, new highs or lows, the Dow utilities, bonds, relative strength.) Moves with a lot of confirmation are the healthiest, and huge moves are often global in nature.
Don't Fight the Fed Remain in harmony with interest-rate trends (rates dropping is good; rates rising is bad). Money moves markets. Stay in line with monetary trends (money [minus] economic demands equals liquidity left over for financial markets). Economic strains: Inflationary pressures lead to Fed tightness (up commodities, up gold, down dollar, rising real interest rates). Economic ease: disinflation leads to Fed ease.
Beware of the Crowd at Extremes Go with the flow until it reaches a psychological extreme. At that point, it pays to take a contrary approach. Liquidity and psychology are inversely related. Extreme optimism equals low cash. Extreme fear equals high cash.
Rely on Objective Indicators Rather than using gut emotions to determine the supply and demand balance, use the weight-of-the-evidence approach (computer-derived mathematical measurements).
Be Disciplined Our mandate is to follow our models, forcing us to be disciplined. Our benchmark or anchor composite model determines core invested position.
Practice Risk Management We are in the business of making mistakes. Winners make small mistakes; losers make big mistakes. We focus on a risk management strategy to keep mistakes small.
Remain Flexible Indicators change and data is revised. Scenarios change. Review models on an objective and timely basis.
Money Management Rules We are more interested in making money than being right. Be humble and flexible (be ready to turn emotions upside down and thus be open-minded). Let profits run, cut losses short. Think in terms of risks, including the risk of missing a bull market. Buy on the rumor, sell on the news.
Those Who Do Not Study History Are Condemned to Repeat Its Mistakes Go back as far as possible. Use bull, bear, and neutral cycles.
Contributing editor Tony D'Souza wrote "Going Nowhere," about downtown homelessness, in our January issue.