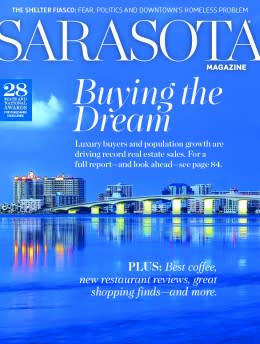 FEATURES
Ilene Denton reports on the real estate revival in the town's top neighborhoods. Plus, Bob Plunket looks at Southside Village in transition, and analyst Jack McCabe scrutinizes our market.
Comic novelist Tim Dorsey explores the funkier sides of the legendary Tamiami Trail, from dark cocktail lounges to scary skunk apes.
We all love to drink it, but what local cup is really the finest? Our java judges decide in a "cupping" of the best beans in town. By Megan McDonald
Sarasota's growing homeless problem is on everyone's minds, but plans to solve it seem DOA. Investigative reporter Tony D'Souza looks into how and why we lost our way.
DEPARTMENTS
Pam Daniel on the homeless impasse.
Heat Index
People, issues and events on our radar, including top tickets, Carol Tisch's shopping finds, chef Judi Gallagher's hot dish, Heather Dunhill's Fashion IQ —and more.
Loren Mayo discovers dreams aplenty at the Dream Makers Ball.
Mr. C's trip to Venice—the one in Italy—reminds him a lot of home.
An award-winning cancer diagnosis tool from a local student, and the way to make your New Year's resolutions work. By Hannah Wallace
Luxury Home
Ilene Denton visits an architect's midcentury modern treasure. Plus: design trends from Marsha Fottler.
Food and Wine
Food critic Marsha Fottler savors the new mall with meals at Seasons 52 and Sophie's. Plus, Dana Johnson of Bradenton's Sugar Cubed.
Illustrator John Pirman's view of the John Ringling Bridge.